Modular homes aren't built under HUD supervision, manufactured homes on the other hand, are. The confusion between Modular and Manufactured is common since they are both prefabricated constructions, but taking a closer look, we can see that they share more differences than similarities. Modular homes are built under the same standards and regulations as site-built homes, and are not HUD approved because they are required to follow the regulations established by the state and local code from where they are constructed.
While modular homes were born as a construction technique improvement applicable for site built (or stick built) homes, manufactured homes were conceived as portable houses or "Mobile Homes". However, with 22 million people living in manufactured homes [1] the industry is now regulated and every manufactured home is expected to hold legal documentation issued by the Federal Manufactured Home Construction and Safety Standards, which includes:
Certification label or HUD tag
Serial number
Data plate
Title or Deed
Both Manufactured and Modular homes are strong and durable, the fact that modular homes aren't HUD approved doesn't entail that they are not regulated nor safe. Neither an HUD approved home is for that reason less safe than those regulated by the state and local codes. When building a new home we have the chance to choose what kind of construction best fits our needs, but to do so we should understand the advantages and disadvantages of HUD approved manufactured homes.
The confusion between Modular and Manufactured. Why Modular Homes don't have an HUD tag
Both Modular and Manufactured homes are prefabricated constructions, meaning they are built off-site in a factory-like environment. The confusion between Manufactured and Modular comes from the fact that they are both prefabricated structures, though the similarities end here.
The first difference between the two starts in the factory where manufactured homes will be built entirely and in one whole peace, while modular homes will be constructed per parts or modules, hence the name modular. Each module is built and completely finished in the factory and transported to the site to be assembled together with the other modules to construct the totality of the home. It is viable for the Modular home to be built per parts since once on site it will be placed and secured on the permanent foundation, which brings in another important difference between modular and manufactured: foundations. Manufactured homes are thought to be mobile structures so they are always built on a fixed steel chassis where the house is laid on. This permanent steel chassis stabilizes the totality of the manufactured home in a similar way a foundation does. And even though it can be attached to a variety of supports including a permanent foundation [2] it is originally designed to be placed on wheels.
But the difference that we are mainly looking for here is under what legal standpoint are these two types of construction built. Modular homes are considered constructions under the same category as site built homes and therefore are required to stick to the local and regional building codes, as any other permanent construction. While manufactured homes are built to the Manufactured Home Construction and Safety Standards (HUD Code) [3]. Since manufactured homes are originally designed to be mobile constructions and not to be fixed to a permanent foundation in a particular spot, they are not required to stick to any state or local codes but are instead regulated in a national level by the Federal Manufactured Home Construction and Safety Standards: the HUB Code [4].
Mobile Homes, are often part of this naming confusion, since the terms "mobile home" are commonly used to refer to manufactured homes. However, the HUD separates these terminologies and defines mobile homes as those manufactured constructions built before 1976, since it was on June 15, 1976 when the HUD enforced this regulation to all manufactured homes. Therefore, mobile homes built previous to 1976 are not HUD approved [5].
Modular homes are built under the same standards and regulations as site-built homes
Contrary to Manufactured homes, modular homes aren't built under a national standard home building code like the HUD Code, and don't follow one particular modular building code, even though to simplify the understanding it is often assumed that modular homes follow the regulations stablished by the International Code Council® (ICC). While many states and governments will integrate the ICC into their building standards, each one of them will still modify and adapt it to fit their own needs. Therefore, the regulations to which a modular home builder has to construct the house will depend on its location and won't be based on one single standardized code [6].
Certainly, the similarities modular constructions share with manufactured homes often bring differences in the interpretation especially in those states where manufactured homes are extensive and modular construction is still in its growth. As Georgia's Department of Community Affairs explains, often the requirements for a construction to be qualified as "modular" don't fulfil the regulations, which causes a number of building permits to be refused [7] To avoid this issue or to simply simplify the issuing of modular homes permits, some states count with an additional supervision agency. Florida for example, supervises modular home constructions from the Department of Community Affairs (DCA), who similarly to manufactured homes will offer a sticker containing the Florida DCA logo and a serial number [8]. Similarly to Florida, New Jersey participates in an Interstate Compact for the Construction of Modular Buildings, and labels modular homes with the Industrialized Buildings Commission (IBC) to show that the building meets the participating States Codes. Still, modular homes are always expected to adapt to the standard (state and local) building codes as well [9].
Every manufactured home is expected to hold legal documentation
In order to assure the quality, durability and affordability of manufactured homes, the U.S. Department of Housing and Urban Development dictates some Federal Construction and Safety Standards, commonly referred as "HUD Code" for the design, construction and installation of manufactured homes [10]. These standards regulate things such as energy efficiency, durability, transportability, quality, HVAC performance, plumbing and electrical systems. All these requirements are represented in a series of legal documents which even though are required, often carry confusion within them:

Certification label or HUD tag
The HUD tag certifies that the house has been HUD approved. Every HUD approved manufactured home will display a red metal plate of approximately 2×4 inches (or 5×10 cm) with silver text on the exterior of the home.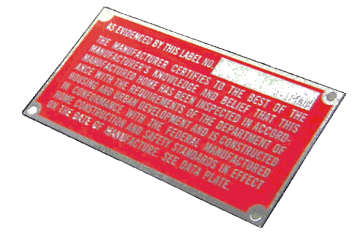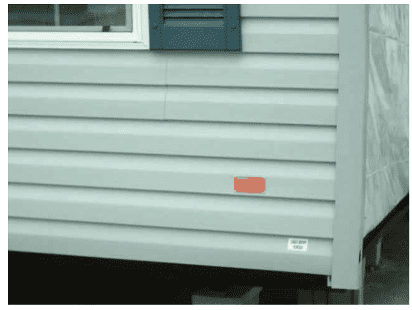 fig.1 Certification label                            fig.2 Certification label affixed on the house
The HUD tag is expected to show the certification label number stamped on it, consisting on a series of 3 letters and 6 numbers [11]. The label number certifies that the home has been inspected before leaving the factory and therefore meets all the HUD requirements [12].


Serial number
The serial number refers to the house identification number. With a series of letters and numbers, it identifies the manufacturer and the state in which it has been manufactured. This number is clearly displayed in the Data Plate as well as stamped on the steel chassis.
Even though the serial number is popularly known as VIN number, the HUD considers that all numbers issued to the manufactured homes build post 1976 are Serial numbers and not VIN numbers. The VIN number is the serial number associated to a vehicle and therefore issued by the Department of Motor Vehicles, not the HUD [11].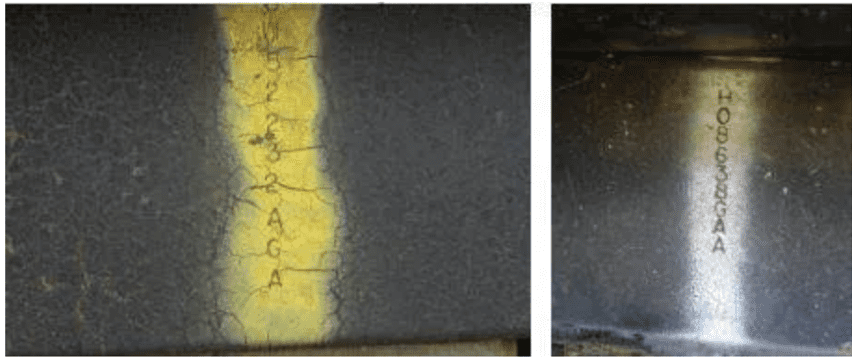 fig.3 Serial Number stamped into the steel chassis
Data Plate
Despite its name, the Data Plate is a sheet of paper also known as compliance certificate, containing the detailed information about the manufactured house such as the manufacturer, date of construction, serial number, model number and the HUD label number. It also contains the inspection agency's information as well as construction information such as roof and floor maximum loads and wind or zone details [11].
Even though the Data Plate is presented as a sheet of paper that is usually affixed in the house inside a cabinet, closet or electrical panel, we should ensure its legibility and it should never be removed. The absence of the Data plate might keep you from financing, selling, improving or repairing your home [12]. In case your Data Pate is found missing you should request a replacement, you might qualify for obtaining a new one by contacting the In-Plant Primary Inspection Agency (IPIA) and the manufacturer [13].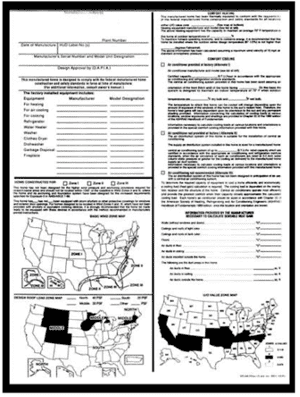 fig.4 Data Plate
Title or Deed
A Title or a Certificate, is a legal document proving that you are the owner the manufactured house. As opposed to modular homes and site built homes which are considered real state property, manufactured homes are treated as personal property since they are seen much like an automobile than a site built house [14].
The title is usually issued by the retailer from who you purchase the home, however not all states require the seller to obtain this certificate for you, so always check with them to verify. Obtaining a title is particularly important in manufactured homes since:
It is used to proof the ownership of the house.
It is required in order to be approved for a mortgage because it gives the lender a lien, which allows them to ensure that you will pay back while giving them a legal claim over your home until the house is completely paid. If you are paying for the house yourself without a mortgage, you will still need to obtain a title for the house.
To locate the house in a land that doesn't belong to the owner of the house.
To locate the house in a manufactured home community the title will be needed.
However, there are some situations in which the title won't be necessary:
If as the manufactured home owner, you are planning to convert the home into real property or real state.
If you purchase a manufactured home that is permanently placed on a property and classified as real property.
Since manufactured homes are considered personal property, the title is specific to the manufactured house alone, separated from the land. However, as in the two situations mentioned above in which the title isn't needed, when the home is permanently placed in one specific location it becomes part of the real state and it is no longer considered personal property [14]. In this case the buyer obtains a Deed instead of a title, which is a document proving the ownership of the property, including both the land and the house. Modular homes are always considered real state and therefore the certificate of ownership obtained is that one of a deed [15].
Advantages and disadvantages of HUD approved manufactured homes
When we decide to build a prefabricated house the doubt of Manufactured or Modular is likely to arise. While the final look of the house can be very similar, there are some technical differences that can help determine if a HUD approved manufactured home is the good choice for you:
Mobility: Manufactured homes, even when placed on permanent foundation lay on a steel chassis that holds the whole house. This fact makes the transportation of the totality of the house feasible, which means that in the future, you will be able to move the house to a different location if you wish. A modular home, on the other side, is built as a permanent construction and once assembled on site it is unmoveable.
Manufactured Home Community: Purchasing a manufactured home allows you to live in a manufactured home community. Living in these communities has a number of benefits that you might be interested in, such as quality of life at an affordable price, more living space, maintenance staff, community amenities and neighbourhood rules [16]. If these are some benefits you are looking for, then a HUD manufactured home could be a good fit for you.
Non manufactured area: Some areas prohibit the placement of manufactured homes in their land. If the area where you wish to live doesn't allow you to place a manufactured home, modular or site built might be a better choice for you.
Extreme weather: Modular and site built homes are required to stick to the building code defined by the state and local government, as opposed to manufactured homes which follow a general standard code set for the whole United States nation. When building in a location where extreme weather is likely to occur such as areas where hurricanes are common or areas with heavy snowfalls in winter, the specific requirements for that house construction to be able to withstand those situations might not be included in the HUD Codes [17]. In cases where the weather is extreme and the house might be damaged when restricting to the Federal requirements it is recommended to either opt for a site built or a modular home, or certify that your manufactured home retailer is expanding the HUD code to fit in the necessities of that particular location.
Both Modular and Manufactured homes are durable, resistant and built to a minimum standard of quality; whether you prefer one or the other is more of a personal choice. However, even though, the two offer a safe house to live, since the HUD code regulates the requirements for manufactured homes in a nationwide standardized scale, some locations that are prone to extreme weather might require stronger regulations than the one offered by the Manufactured Home Construction and Safety Standards (HUD Code).
References