Modular homes in the past had a bad reputation for being an 'ugly' and cheap alternative to traditional housing. As they seem to have been mass-produced in factories with a box-like appearance that can be built 'just' within a week – the impression on many homeowners has not been that 'great'. However, in the last decade – architects and designers have seemed to master the industry of modular designing. Thus, introducing a new era of prefab construction with awe-inspiring, sustainable, energy-efficient and beautifully designed modular homes that absolutely leave a 'wow' factor on the observers.
These modular, factory-built homes have the potential to be built in the most astonishing and amazing designs and meanwhile, be placed anywhere – on the beach and water or desert, mountain cliff and even on a tree (like a tree-house, yes! That is possible too). Since modular home provide over-the-top advantages – there are various opportunities to mold them in the most innovative ways: that you may have never imagined! So, let's have a look at these "cool" modular home designs that will make you want to ditch your existing homes and apartments.
A-Frame by Bjarke Ingels
With an area of 180 square feet, this micro home designed by Bjarke Ingels is absolutely worthy of admiration. Built from prefabricated, flat-packed modules – the off-grid structure can be delivered anywhere in the world – within a six month time period. Also named A45, the striking façade of the structure exhibits a steeply pitched roof with angled walls to create a dynamic looking structure.

Picture by Matthew Carbone
Soaring to a height of 13 feet (or 4 meters), the home creatively uses a timber frame, subfloor, wall modules and floor-to-ceiling glass window to maximize the penetrating natural light while making this tiny room look even more airy and spacious. The home is well-equipped with a small built-in kitchen and shelving, a magnificent stove fireplace and a cedar-wood bathroom. This interior space has been designed in a cozy Scandinavian style prioritizing utmost comfort and an exotic natural vibe.
This designer also promises a sustainable lifestyle: the modules constitute 100% recyclable material along with four raised concrete piers to give extra support while making the house an evergreen option in the wildest of places.
Solar Powered Modular Home by RoosRos Architecten: The Petit Place
Designed by a Dutch Studio, this tiny cube house is all you want if you are planning to lead a healthy and sustainable life. Ranging from 270 square feet to 10,000 square feet, this home offers an open space living plan with subsequent living, working and playing zones. One of the most remarkable characteristics of the house is its thoughtful yet creative façade.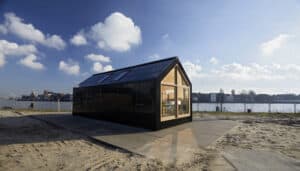 Picture by Christian Fielden
These modular home constructed by assembling multiple pentagon-shaped modules into a long-form of shot-gun style homes. Also incorporated is a well-insulated grid of wooden squares and solar panels which generate about 9,000 kWh energy per year – a whopping three times more amount than required in a generic similar home! Thus, creating a futuristic vision and a sustainable lifestyle for you.
The home's roof, exterior and floor have been well insulated using ISO Flax. It is a breathable material with water and windproof qualities, which makes the home a strong and durable solution. The ample natural lighting and elements of Biophilia indoors make this home a product of wellness. Easy-to-build and assemble, these homes provide utmost flexibility during construction and can be easily placed – simply anywhere!
Dreamy Accessible Dwelling Units (ADU)
Companies like KOTO and LivingHomes have introduced an affordable yet innovative solution to generic style modular homes while providing housing opportunities where needed.
These tiny and compact structures can simply be built anywhere and absolutely within no time! Limited to 14 feet in width and an overall 400 square footage, these space plans offer open plan living with the ultimate sustainable and energy-efficient materials. On the whole, the design style is modern and contemporary with a number of possibilities for customizations. These homes have distinctive wooden exteriors that fit in appropriately around a lush, green backyard.
The LEED-Certified construction of these homes ensures effective HVAC and lighting systems with additional extension units that can be used for rental purposes. Quite easy to install, the transportation truck directly places the prefab units on the site – thus, overcoming any hassles. Very efficiently are the bedrooms, kitchen, living room and bathroom compacted in this space – thus, also leaving enough room to breathe and circulate. It is unbelievable how innovative add-ons to the structure can make it more livable and flexible.
Loft Cube for Loft Cube GMBH, Munich, Germany
Can you imagine your tiny home being lifted by a helicopter and placed on a site of your desire? LoftCube by Werner Aisslinger has a perfect modular home solution for all those who wish to carry their homes wherever they feel like – even with their car or maybe helicopters, or for someone who admires sustainable architecture. These homes are light-weight and can be easily set up in approximately 3 days.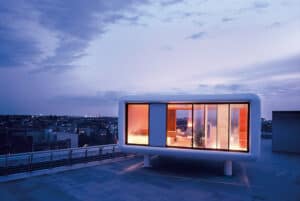 Courtesy of LoftCube GmbH
With floor-to-ceiling windows on all four sides, there is plenty of natural lighting penetrating through the glass and falling on the interiors – enhancing them even further. At night, the opposite happens – glow from inside brightens the outdoor surroundings. These mobile solutions can be placed on rooftops, lakes, countryside or be even used as a floating home rising on prefabricated piers holding the structure.
Similarly, the interiors of these homes are quite unique. Custom-designed according to your needs with an open plan living and walls flourished in natural materials and stark white hues making it look comfortable, cozy and much spacious. This mobile pod with large windows is a perfect example of futuristic architecture.
LivingHomes, Los Angeles, California
It is not always a given that the modular homes have to be regular rectangular designer boxes, instead, they could look just like traditional homes and still be 'prefabricated'.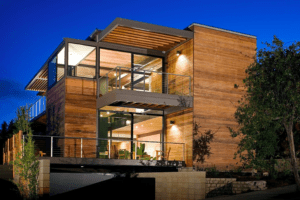 One such classic example is the proposed home in Los Angeles by Living Home that features four bedrooms, a living room, bathrooms, kitchen and even patios and balconies. You will be surprised to know that aside from these functions, the building is also built keeping in mind these six guidelines: Zero water, zero energy, zero waste, zero emissions, zero carbon and zero ignorance.
The canopy features a solar photovoltaic panel which tends to produce more energy than required. Similarly, the home is built with recyclable and sustainable materials with an appropriate insulation value to keep the structure energy-efficient and well-packed. From floor slabs to the staircase and the roof, all the assembled structures are sustainable and mostly follow the LEED and WELL standards for healthy living.
Live on a Boat – Aquatic Retreat, China
Floating on water, these boat rooms occupy an area of about 50 square meters with a boat-like appearance placed on the lakeside. Equipped with skylights, there is plenty of natural light flourishing through the interiors and also a pleasing sight for the users to enjoy the sunlight, sky and shadows. This is not a home, instead a resort that offers magnificent views of the surrounding hills and lake.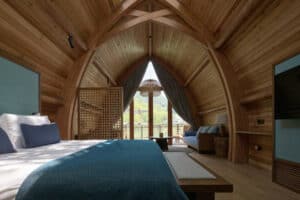 The nose of the structure has floor-to-ceiling glass French windows and an oversized balcony that stretches over on the lake for the guests to enjoy. The frame and structure of the building are noteworthy: timber frames for the superstructure and steel piped piles for the bottom of the lake supporting the entire structure. All of the elements are prefabricated in a factory and then later assembled on the site.
These designs are definitely bound to leave you awestruck. Now that you see, modular homes are much more than 'mere' concrete or timber boxes – instead, they could be equally creative and innovative. From aesthetics to functionality and even sustainability – modern modular homes could be your all-in-one stop. Yes, they are the 'new cool', so it is time to give up on the myths to absolutely picture your upcoming modular home. Dream it and you can absolutely have it.