Some modular home companies choose to use roof trusses to build slopped roofs. Even though truss roofs offer a traditional-looking roof design, their construction process is quite modern: they are prefabricated structural elements that highly simplify the construction of the roof. Using trusses to raise modular home roofs grants numerous advantages to this type of construction. 
Benefits of roof trusses in modular construction:  
Saves construction time
Easy to install
Lower cost than traditional rafters
Higher quality and strength
Building a modular home's roof with prefabricated trusses offers impressive design flexibility. Though the truss concept is constantly evolving, some manufacturers are further developing this technology to grant modular homes even more advantages. 
Roof design possibilities with trusses
A truss is a structural element formed by different triangles that is designed to support the roof's load. While all trusses use a triangular web to create the structure, the overall shape of the truss can be designed in multiple shapes depending on the necessities of each project. Modular homes are, in most cases, built with the most common truss profile, referred to as regular truss. Regular trusses have the typical triangular shape of a gable roof and are built with the dimensions and angles required for each modular home.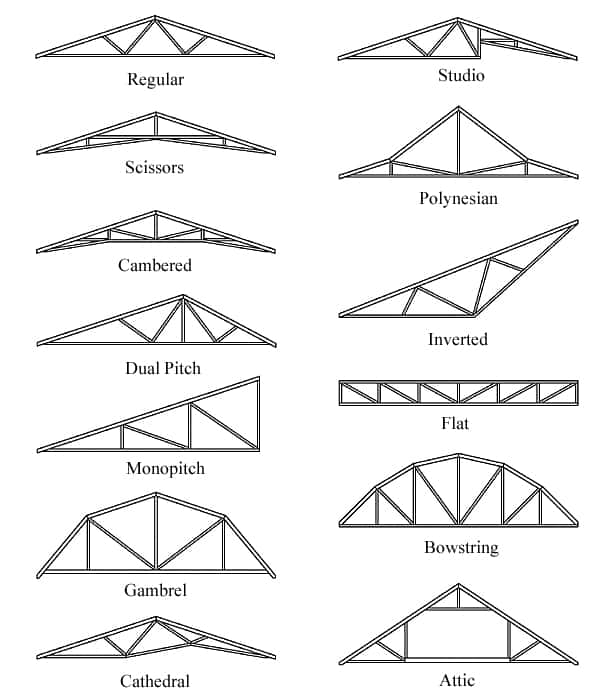 Advantages of building the modular home roof with trusses
A slopped roof built with trusses looks just the same as a slopped roof built with rafters. However, choosing to raise the roof of a modular home with trusses offers numerous additional advantages. Trusses are prefabricated structural elements that are built and installed as a single piece highly simplifying the construction process.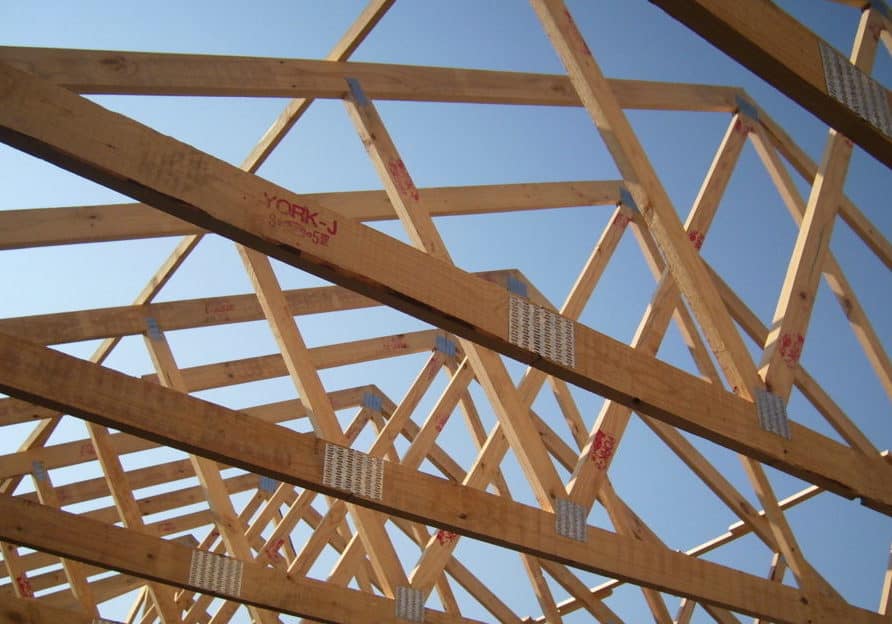 Saves construction time
While a roof built with rafters needs to be raised one piece of timber at a time, a truss already incorporates each one of the necessary timber elements. Raising a roof with a truss saves enormous time since it is installed as a single structural element.
Easy to install
Being a prefabricated structural element, trusses are easy to install, especially by modular home manufacturers. Since modular homes are built in a highly industrialized environment, the building space is already equipped with the cranes and lifts usually required to install the trusses. With the necessary technology, building a roof with trusses becomes a simple procedure. 
Lower cost than traditional rafters
Building a roof with trusses can be up to 30% cheaper than constructing the same structure manually with rafters [1]. Trusses can be sold at low prices when purchased in large amounts, which most modular home manufacturers do since the same truss dimension can be used to raise a significant number of modular homes. 
Higher quality and strength
The shape and design of trusses offer the ideal distribution of forces, ensuring the strength and resistance of this structural element [2]. Every truss is designed by engineers and built in a factory-like environment following a mechanized procedure that certifies that every truss will satisfy the necessities of each modular home project. 
The evolution of trusses
The modular industry is evolving fast and while using trusses to raise slopped roofs is already a step forward, some manufacturers are progressing even further. For example, the Canadian manufacturer Royal Homes has designed a foldable truss. This system reduces the height dimensions typical of the module's transportation since the module is delivered with a folded roof that will only be extended once on-site [3]. 
The modular home manufacturer Method Homes, together with Skylab Architecture, are exploring different possibilities to utilize the highly efficient triangular design of the truss in different structural elements. They have built some triangular modules with this technology and have achieved highly efficient structures with enhanced flexibility [4]. 
References:
Fig. 1.  Roof trusses. Different types and styles The barn Toolbox https://www.barntoolbox.com/roof-truss-types.htm
Fig. 2. Prefabricated trusses DAR Design A Roof https://www.dezignaroof.co.za/products/prefabricated-trusses