It isn't required for a modular home foundation to be made of concrete, though this is the most common material choice today. Modular homes are required to be attached to a permanent foundation: a sturdy, long-lasting base to which the house lays permanently. While we often associate a permanent foundation with concrete, other materials can also offer good quality, durable modular home bases.
Different materials used to build modular home foundations:
Poured concrete
Concrete blocks
Steel
Wood
Stone
Each one of these material options can offer a good quality foundation to a modular home. Choosing one over the other usually depends on the project's necessities, material availability, overall cost, and the architect's preferences. 
Modular home foundation materials
Poured Concrete Foundations
Concrete is the most common material used nowadays to build modular home foundations since it is sturdy, affordable, and long-lasting. It is the most versatile foundation material since it can be applied in the form of a concrete slab to lay a horizontal base for the modular home to lay on; in the form of a basement buried right below the house; or as a pier and beam or pile foundations if the land requires it. 
In most cases, poured concrete is reinforced with steel bars. This offers an even more resistant foundation with some flexibility which highly reduces cracks and damages to both the foundation and the modular home. While concrete is a resistant material, it is still essential to install this foundation in a way that the water is properly drained because over time, if water accumulates it will filter and deteriorate the foundation [1].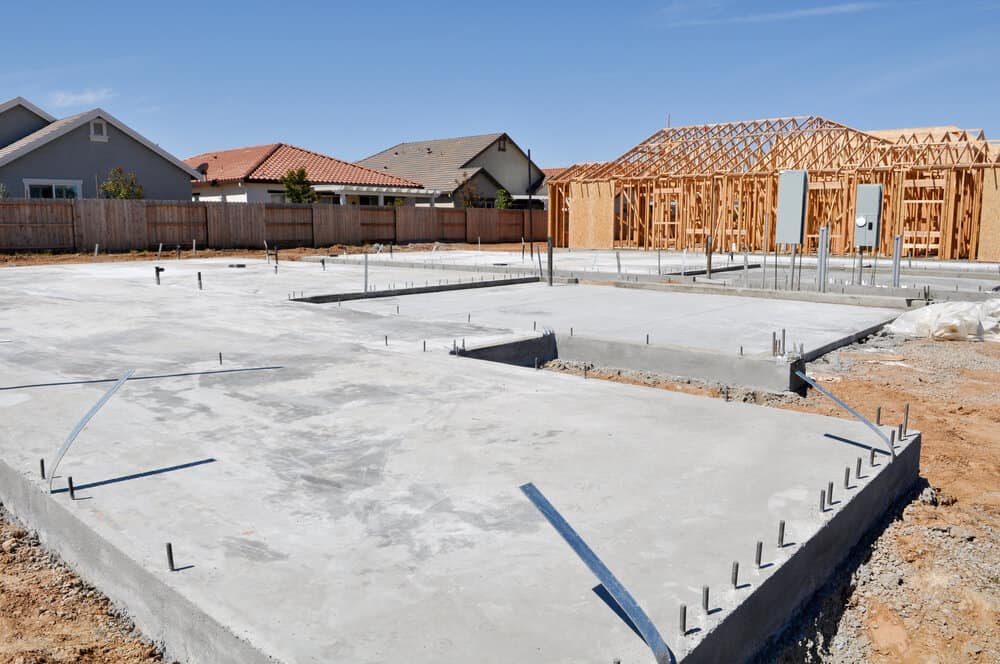 Concrete blocks used in foundation
While concrete blocks are made of concrete, we classify them as a different material because they work in quite a different way. These are closer to bricks, installed in the form of a masonry wall rather than a solid block. This foundation material is fairly common given that is quite easy to install and when properly reinforced it can offer quite a sturdy foundation.
When concrete blocks are placed like bricks using mortar only to join the blocks, it forms a foundation that is quite weak. However, it is possible to reinforce them by connecting the blocks vertically with steel bars using the block's holes. To get the steel bars to work together with the blocks in a sturdy and flexible structure, the space around the bars is filled with mortar.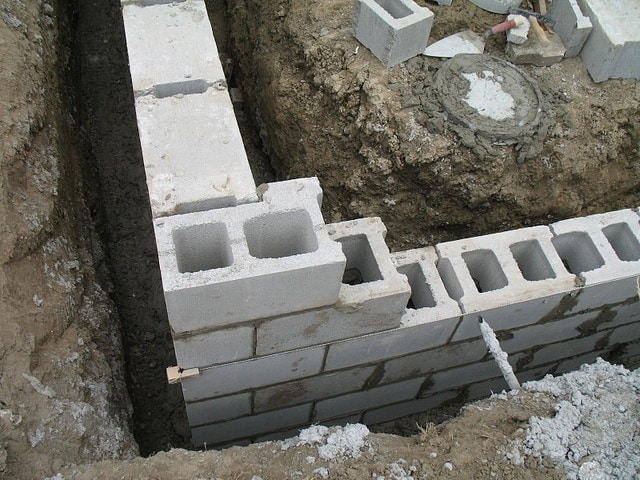 Steel as a foundation material
Steel foundations are quite common in the modular industry, especially to create a sturdy base for modular homes that are placed in challenging topographies. In these situations, steel is used in the form of piles or piers and beams, elevating the house from the ground in a way that creates a flat surface for the modular home to rest on. 
Steel is also a good material choice in hurricane-prone areas and it is generally utilized to build elevated piles that raise the house a whole floor over ground level. Though also deep steel piles can be built as a modular home base in case the soil is to weak at the surface. Most of these foundations could also be made of other materials such as concrete, though while steel is more expensive than concrete, it often offers a better outcome in the long run [2].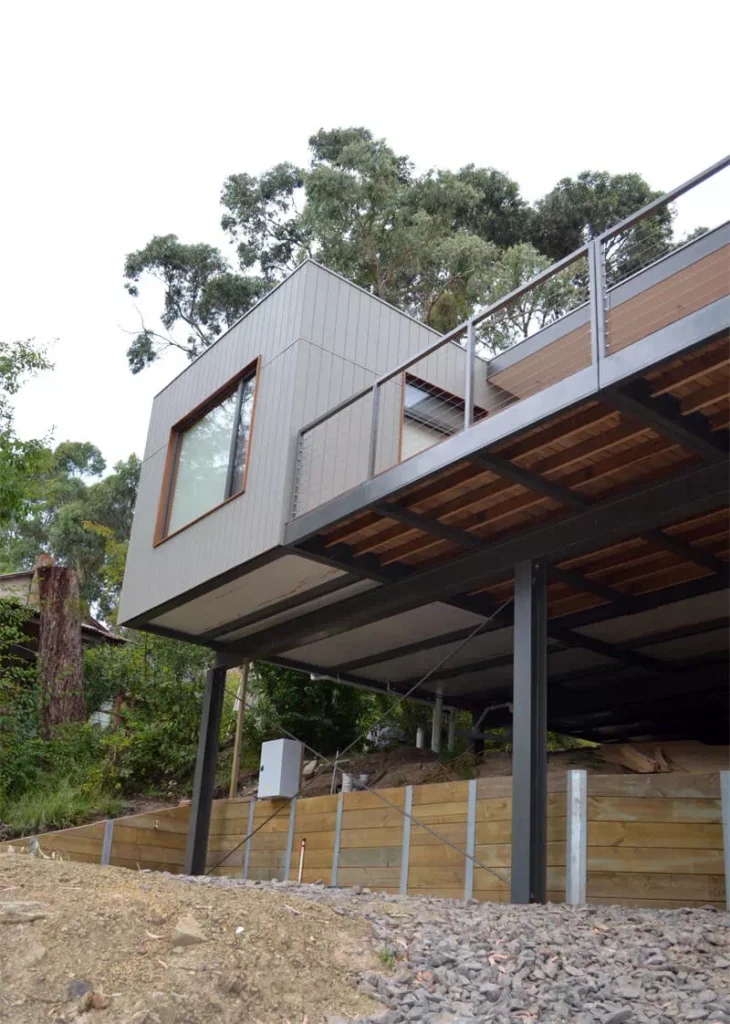 Wood foundation
Wood was a very common foundation material some years ago, especially in the 1960s since at that time the technique of pressure-treating wood with preservative chemicals was developed [3]. This type of foundation is relatively easy to install and affordable in areas that are abundant in timber. However, being an organic material has its negative side: it can rot. 
Wood foundations won't always last as long as concrete, but when properly treated and installed they can be just as good. Generally, wood foundations are installed over a bed of rook to ensure proper drainage of the water and keep the wood dry. Additionally, to ensure the longevity of these foundations, the wood is treated with salts to keep termites, bacteria, and fungi away. Wood foundations are most commonly used in cold areas to build basement foundations since they offer a sense of warmth [4].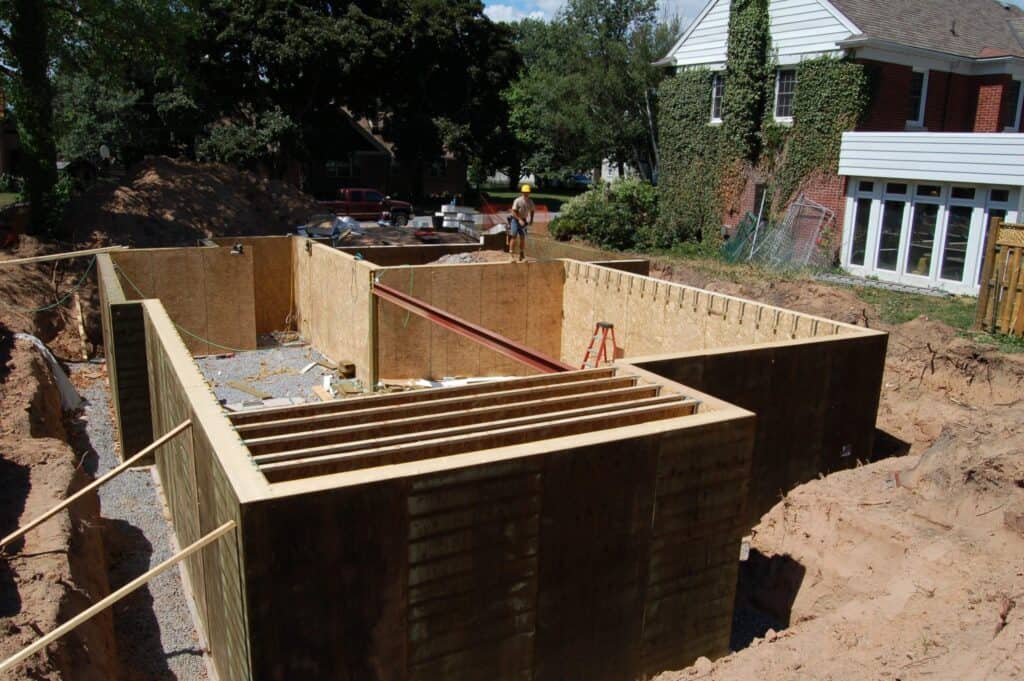 Stone Foundation
While stone foundations aren't very commonly used in modular structures they offer a strong, long-lasting and, in most cases, affordable solution. This foundation is traditionally done with undressed stone, though it can also be used with recycled materials such as broken brick or concrete [5], which makes it a really good recycling solution. Given that the construction sector is responsible for as much as 40% of the waste generated [6], building with recycled construction materials is a really environmentally smart choice.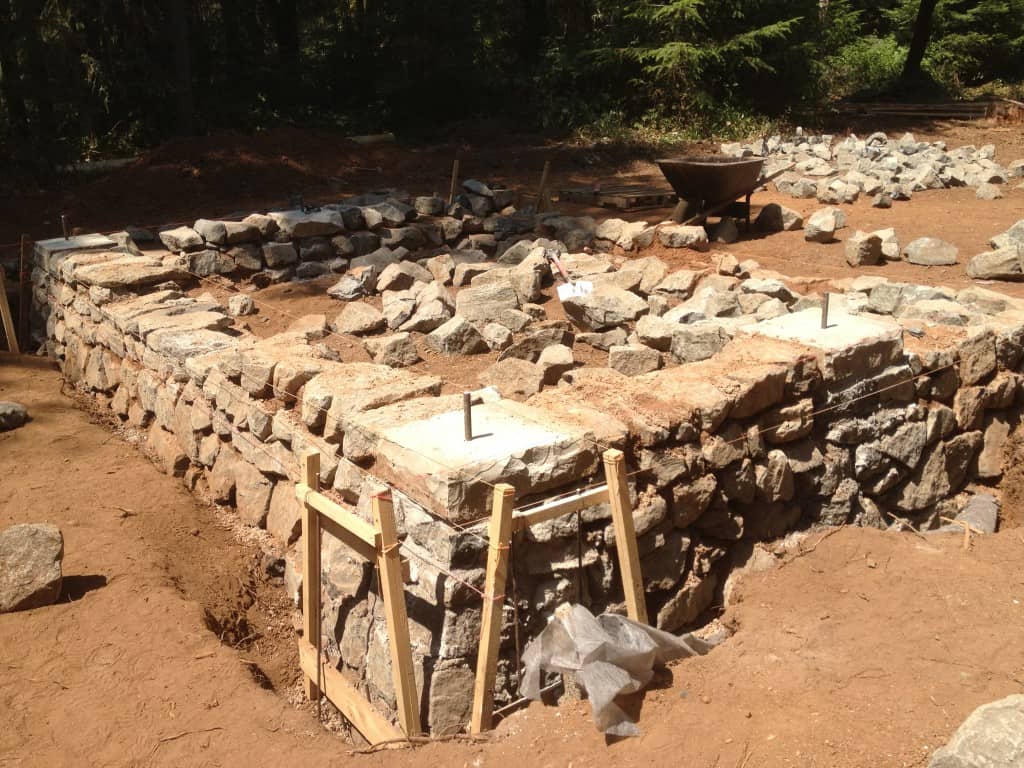 References:
(2018, August 27) Is Concrete Waterproof JK Industries, Inc.https://jkirestoration.com/2018/08/is-concrete-waterproof/
#dirtnerd (2021, September 10) Are concrete or steel piers better for my foundation? Perma Pierhttps://permapier.com/blog/are-concrete-or-steel-piers-better-for-my-foundation/
Gromicko, N., CMI® and Shepard, K. Permanent Wood Foundations InterNACHI https://www.nachi.org/permanent-wood-foundations.htm
Don Otto A wood foundation… How long can it last? DPO Constructionhttps://www.dpoconstruction.com/documents/a-wood-foundation.pdf
Stulz, R. and Mukerji, K. Appropriate building materials: A catalog of potential solutions, ITDG Publishing, 1981
Silva Urbano, D. S., (2015) Environmental footprint of modular building solution using LCA approach Instituto Superior Técnico, Universidade de Lisboa, Lisboa (Portugal).
Fig. 1. Slab on Grade Foundation and Pier and Beam Foundation Ram Jack https://www.ramjackokc.com/articles/slab-on-grade-foundation-and-pier-and-beam-foundation
Fig. 2. (2016, March 22) Concrete Block Foundation Vs Poured Concrete Foundation Maple Concrete Pumping https://mapleconcretepumping.ca/concrete-block-foundation-vs-poured-concrete-foundation/
Fig. 3. (2018, August 21) How to purchase land for a modular home Modscape. https://www.modscape.com.au/blog/3-factors-consider-purchasing-land-future-modular-home/
Fig. 4. (2022, September 16) Wood foundations: preassure-treated panels are warm, dry and easy to build Bailey Line Road https://baileylineroad.com/structural-insulated-panel-basement-sips/
Fig. 5. Building a Stone Foundation This Cob House https://www.thiscobhouse.com/building-a-stone-foundation/