There is a wide variety of kitchen design options available for modular homes, just as many as there would be with any other traditional construction. Modular homes are built off-site, though their unique building process rarely represents a design limitation. A modular home can be fully customized to design your dream kitchen. Still, if you want to build a unique kitchen that is designed just for you, make sure to buy a custom modular home rather than a predesigned one. Predesigned modular homes will offer a reduced choice of layout, materials, styles, and colors.
If you are building a modular home, our collection of 10 kitchen ideas can help figure out which one feels like your dream kitchen.
| | |
| --- | --- |
| Kitchen Ideas | What we like the most about them |
| Farmhouse Kitchen: a modern rustic design  | It is practical and comfortable with a modernized traditional calming aesthetic. |
| The popular transitional kitchen | The perfect combination between classic and contemporary. |
| Functional industrial-looking kitchen design | A raw and honest highly functional kitchen |
| Dark sophisticated luxurious kitchen | Elegant extravagance. |
| All-white bright kitchen | The brightest choice |
| Kitchens with a pop of color | Happy spaces with a touch of personality. |
| Retro-inspired kitchen with checkerboard tile floor | A trendy look with a retro feeling.  |
| Japanese minimalism inspired kitchen | The perfect balance between the simplicity of minimalism and the calmness of the Zen aesthetic. |
| Inspired by the beach: The boho coastal style kitchen | Beach vibes in a relaxing and bright environment. |
| Kitchens opening to the outdoor space | Create a sense of amplitude and bring the indoor life out. |
Given the industrialization of the modular home construction process, some manufacturers might show limitations on what can be built. Contact your preferred manufacturers to get to know the design possibilities and choose the one who offers the flexibility of building the kitchen you desire. 
Farmhouse kitchen: a modern rustic design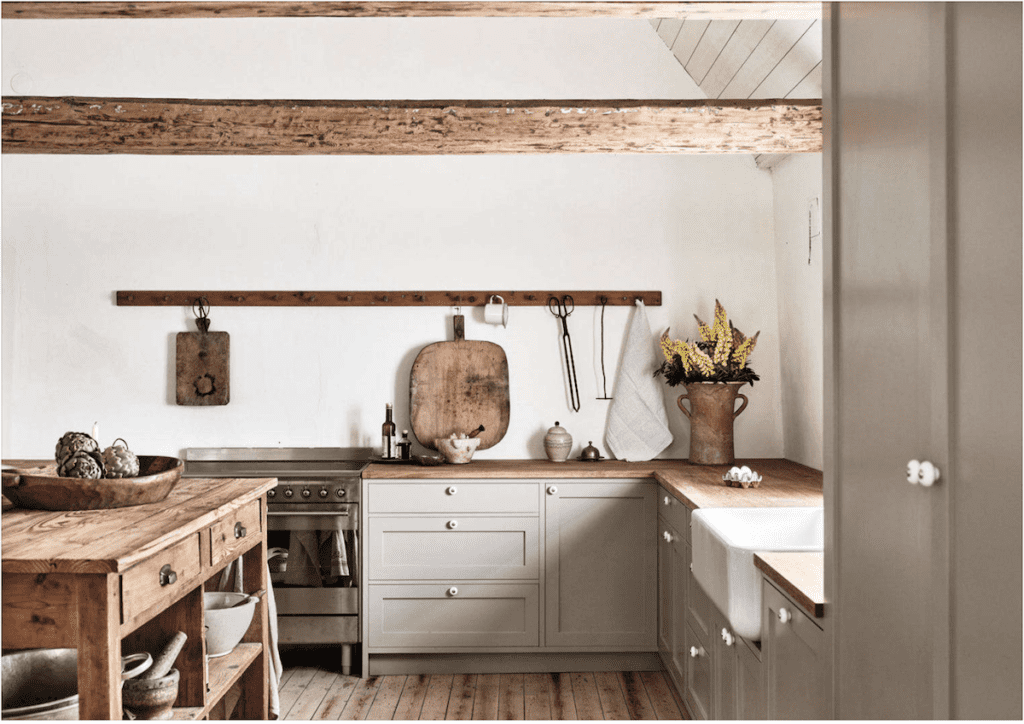 The farmhouse style kitchen is a very popular decor style inspired by the traditional farmland kitchens whose main design goal is to be highly functional. While function remains an important aspect in these designs, the farmhouse style has been beautifully modernized to achieve a calming aesthetic. One of the main materials used to build these kitchens is a naturally finished wood that is carefully balanced with different textures of neutral and calming colors. This design is warm though intentionally clean and simple to meet a minimal approach to design. This style might be a good choice for your new modular home if you are looking for a functional yet cozy environment.
The popular transitional kitchen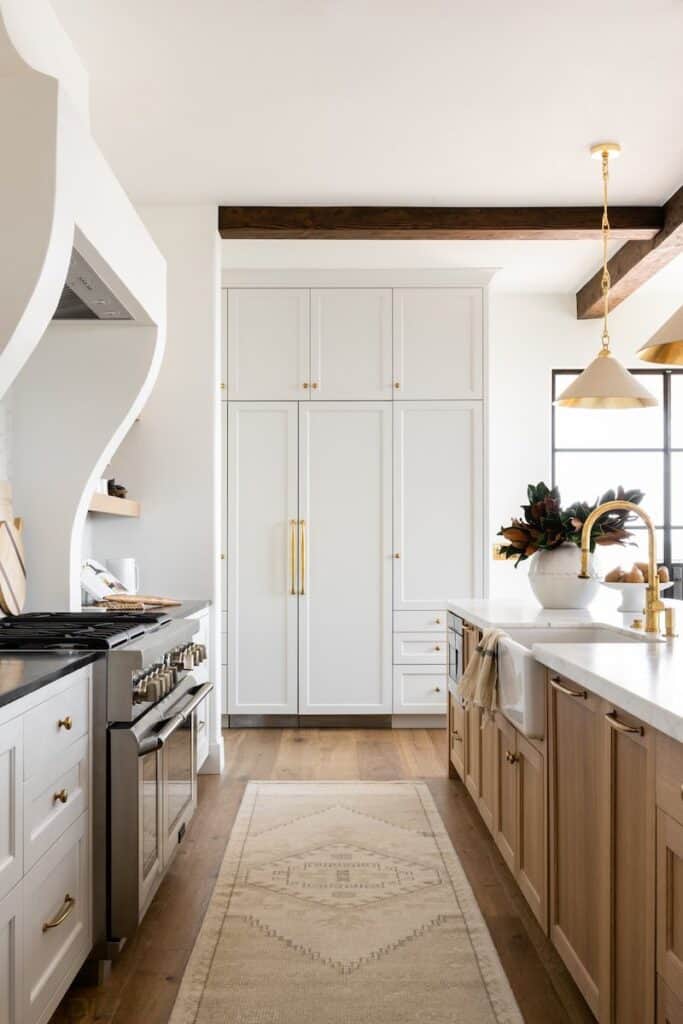 Transitional decor is a style that maintains the coziness of classic kitchens while adopting the clean lines typical of contemporary designs. Nowadays, this is the most popular kitchen style in the United States given the perfect balance between tradition and modernity. The color palette chosen for this style is generally neutral: using a combination of whites, grays, beiges and wooden tones to achieve a never-aging style. This type of kitchen might work very well in your new modular home if you are creating a modern home with contemporary lines but want to maintain the warmth and elegance of classic styles.
Functional industrial looking kitchen design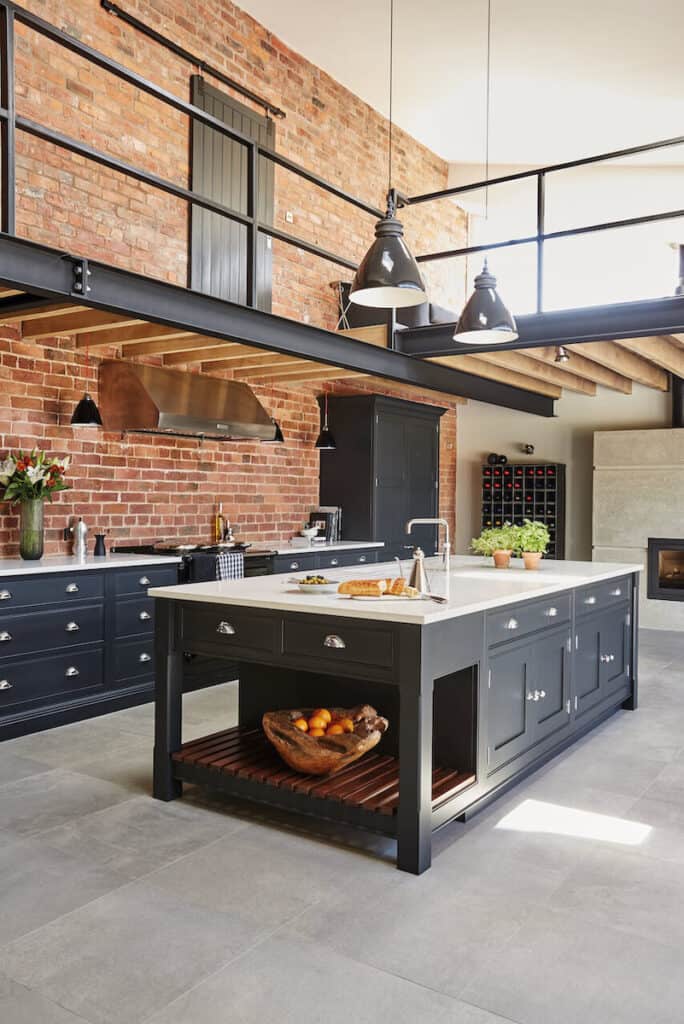 This contemporary style is all about function and honesty. While it might seem unfinished, this is exactly what industrial interiors are about: exposing the essence of all construction elements. Since this style has its origins in the converted New York factories, it works great in lofts and open spaces, and the main materials showcased are usually bricks and metal. This kitchen design isn't for everyone, it has a very strong identity that should match your personality as well as be nicely integrated into the rest of the house. 
Dark sophisticated luxurious kitchen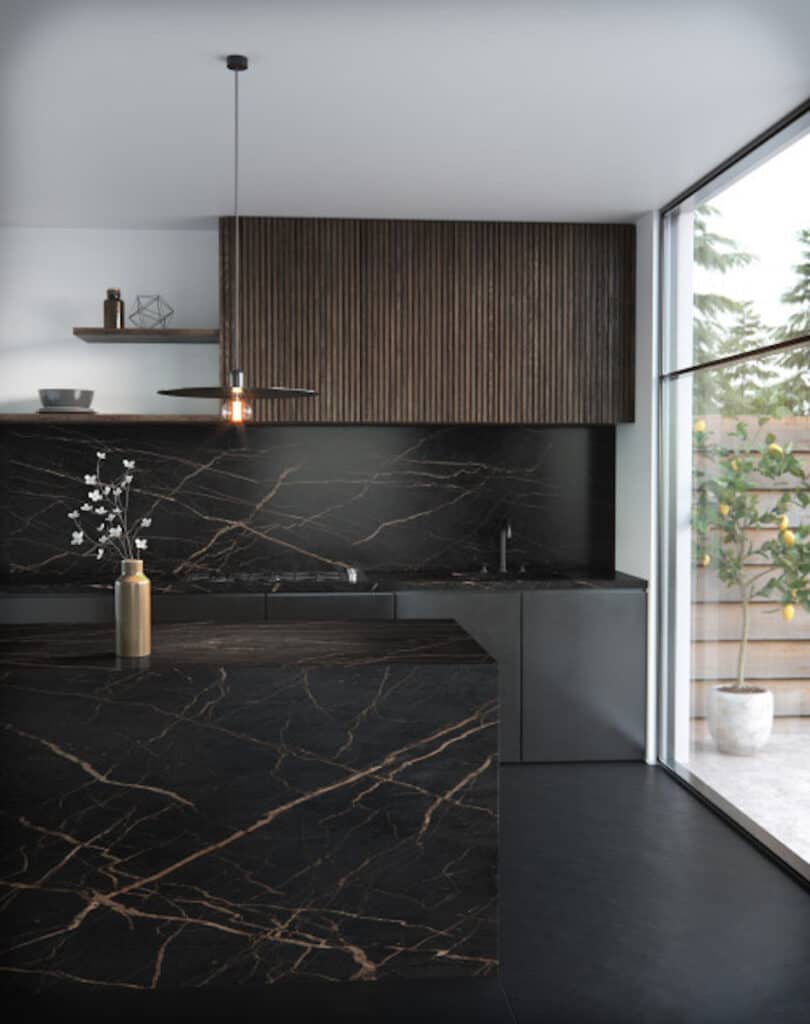 Dark kitchens are different, unique and sophisticated spaces with a dramatic visual impact. This extravagant look is achieved by combining different textures and premium materials such as dark tones of marble and dark shade of wood. However, to offer a touch of elegant luxury, it is common to play around with contrast by adding some striking accents. The kitchen featured in the picture has achieved this elegance by adding a touch of gold. These kitchens look amazing, though they have to be cleverly planned to create the right balance between darkness and brightness, something that usually is well achieved in spaces that receive plenty of natural light.
All-white bright kitchen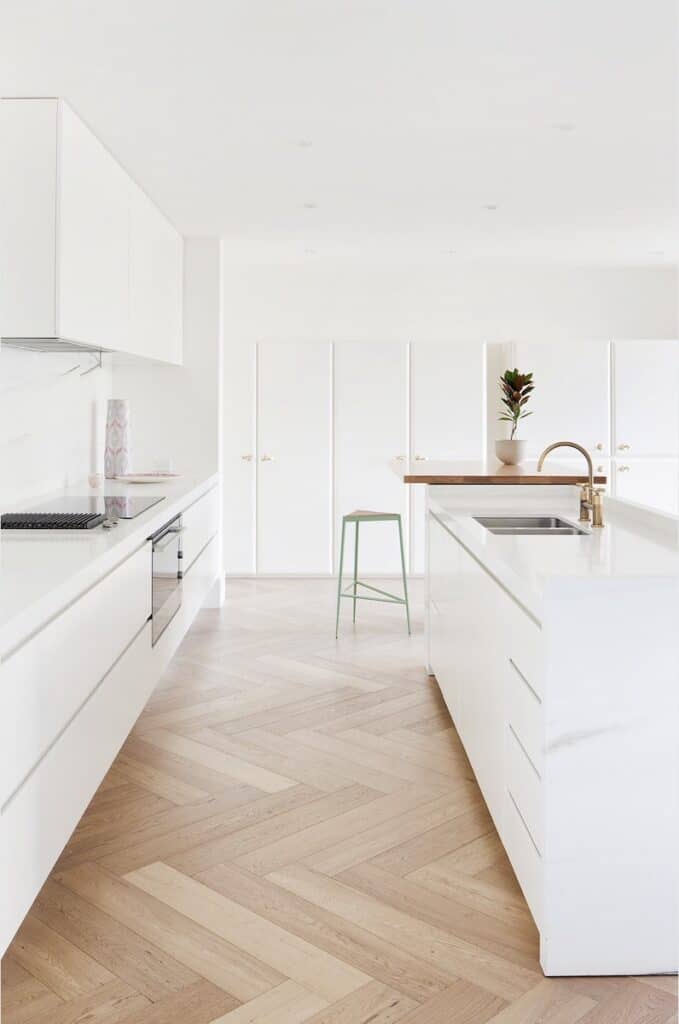 White is the color that reflects more light and therefore an all-white kitchen will definitely create a bright atmosphere. If you are planning to build a modular home in a location with reduced sunlight such as areas where winters are long or cloudy skies are common, this type of kitchen will increase help the space appear brighter. Moreover, the brightness of an all-white kitchen makes the space appear larger, making it a great choice for modular homes that are on the smaller side.  Kitchens with a pop of color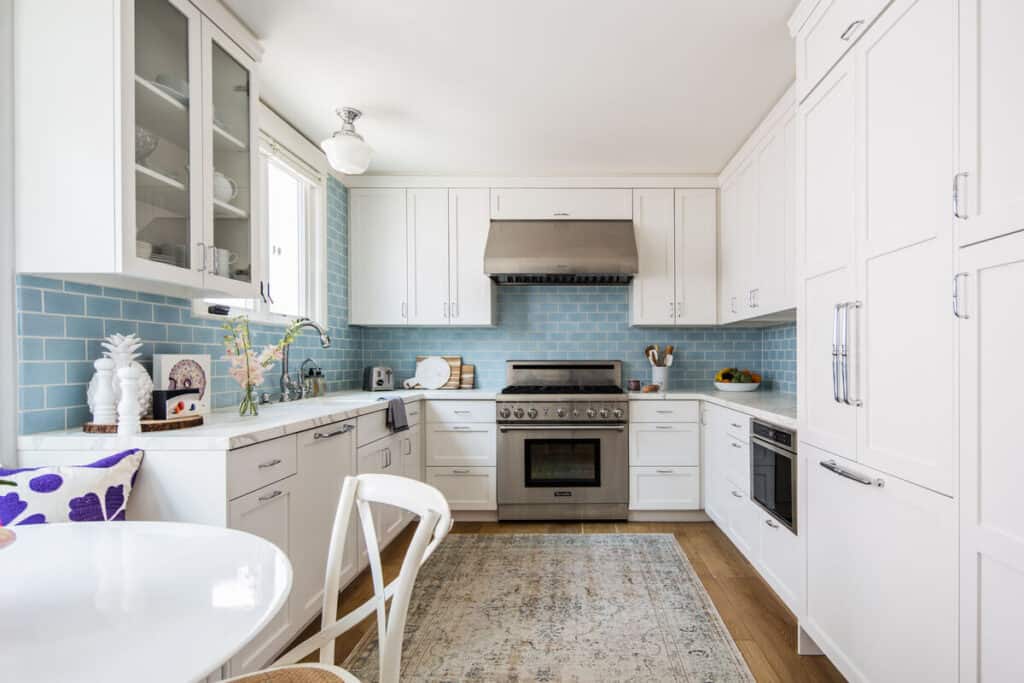 Color is a great way to add personality to a kitchen, plus a color accent won't fail to bring happiness to the kitchen design. A pop of color usually brightens the room by creating a playful touch. If you are the kind of person who finds neutral colors boring or plain, you won't regret adding some color to your kitchen design. Be creative and let the modular home designers assess you with the color selection to ensure it nicely combines with the overall house design and when in doubt keep the color variety simple.
Retro-inspired kitchen with checkerboard tile floor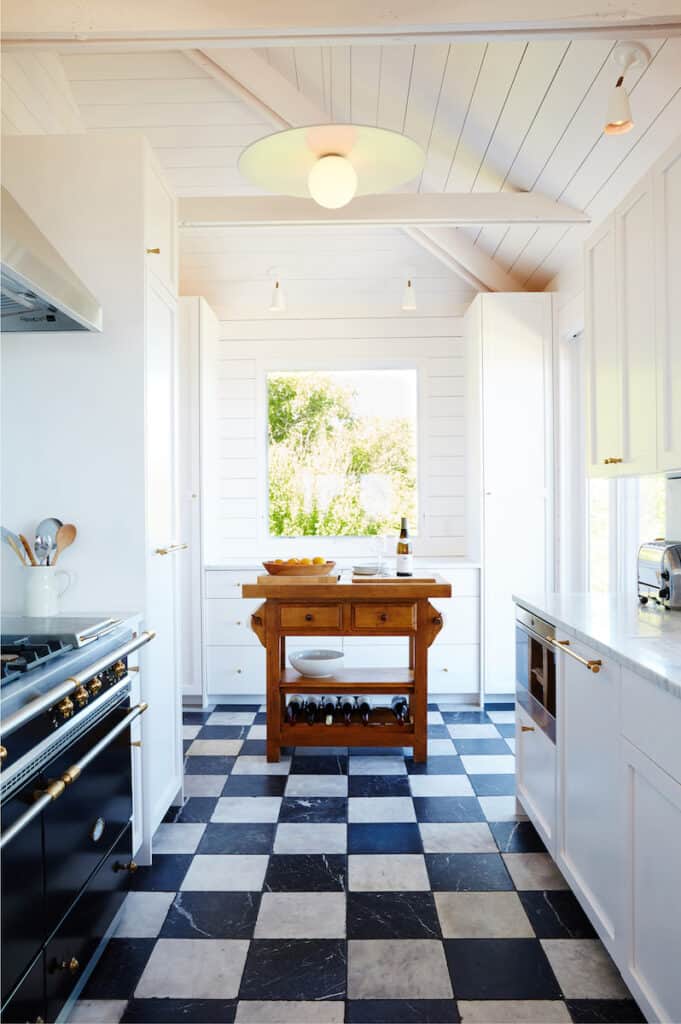 Checkerboard tile floors are back in trend and will look amazing in a modular home kitchen regardless of its location or style. These types of floors are typical of the Classic Victorian era and placing them in our modern build kitchens will grant us a retro look to it. However, checkerboard flooring can look amazing with different decor styles.  When opting for this type of floor, design every piece of furniture around it: with this type of floor, the eyes go directly to the black and white tiles, keep everything else simple.
Japanese minimalism inspired kitchen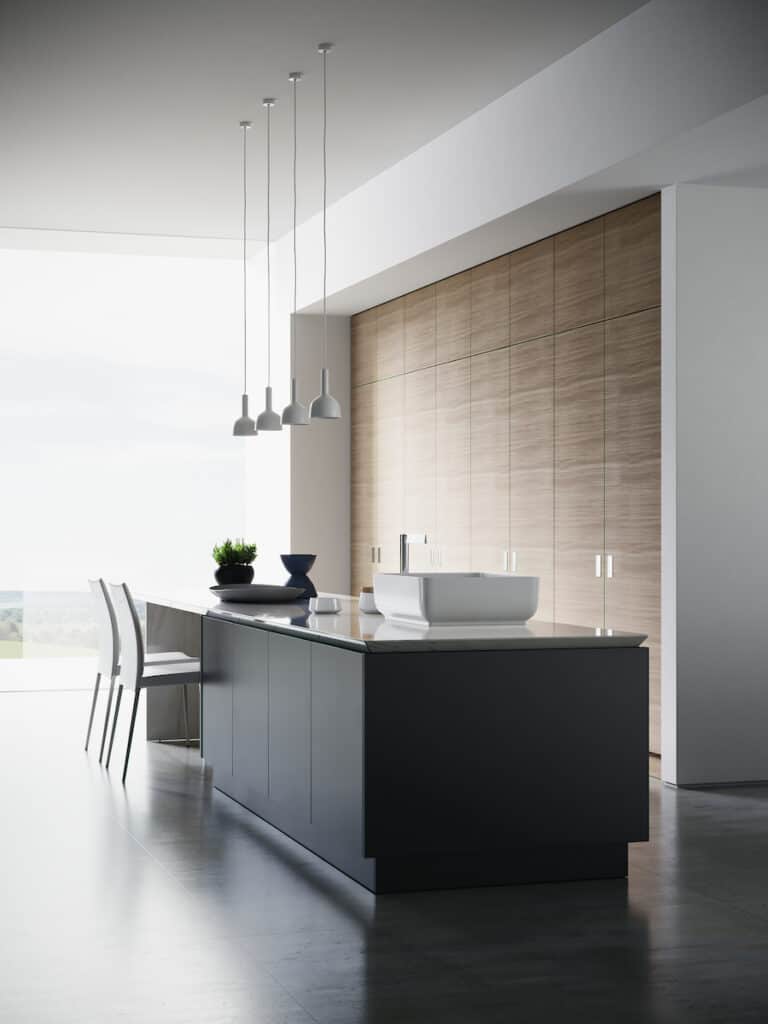 Japanese minimalist kitchens combine the cleanness and functionality of the minimalist movement with a Zen aesthetic. Designed with very clean lines, these spaces only show the essentials while offering plenty of storage space designed to keep it all well organized. The simplicity of the Japanese minimalism aesthetic creates a style that values the integration of natural elements while enhancing harmony between materials and creating a simple but calming space. Inspired by the beach: the boho coastal style kitchen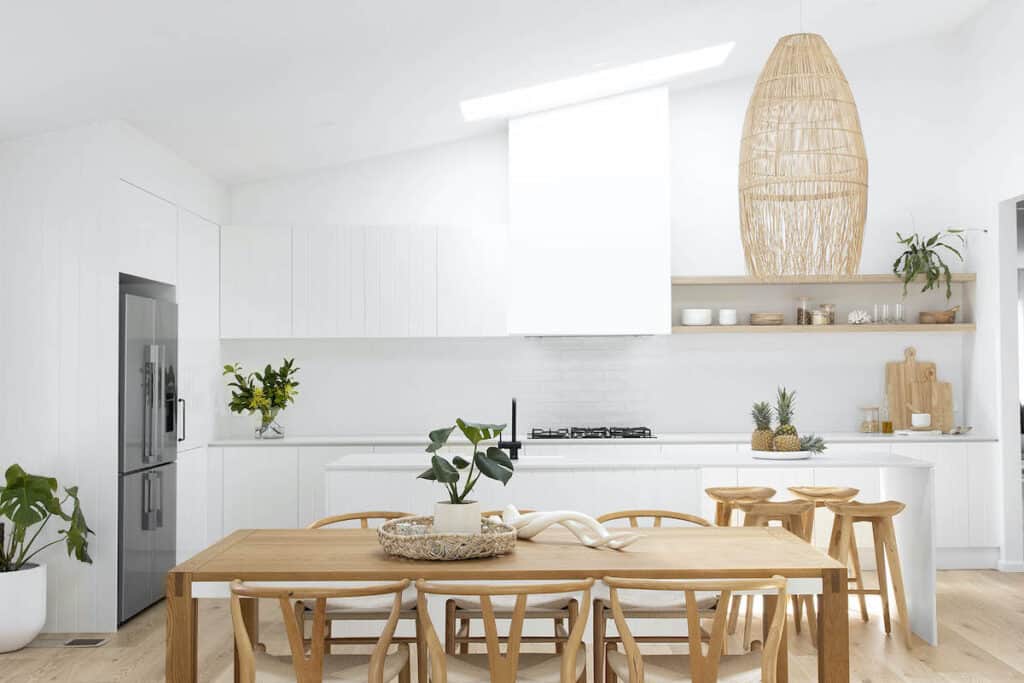 These kitchens are all about beach vibes, they are bright and offer a feeling of amplitude. The color selection should remind us of the coast: sandy colors are a must, though blues can work very well too. The color selection should remain simple and to achieve the brightness that is characteristic of the beach environment, the colors are usually combined with whites. The seaside color selection is calming by itself, though the boho touch calls for natural elements like plants or the iconic rattan pendant light to help create an, even more, relaxing atmosphere. 
Kitchens opening to the outdoor space 
When designing the modular home kitchen it is highly recommended to look beyond the furniture design and consider its connection to the surroundings. The way a kitchen connects to other spaces will change the overall feeling. Opening the kitchen to the outdoor space will offer a sense of amplitude while enhancing the usage of the outdoor area. Windows are always a must in a kitchen, they bring in natural light, fresh air and openness, though the views and connections you get from the kitchen will definitely change the life experience in the house: add a door or consider folding windows to connect the kitchen with the outdoor space.
References:
Fig. 1. Ellen Dixcotter's Kitchen. Farmhouse dream kitchen on the countryside Nordiska Kök https://www.nordiskakok.com/ellen-dixdotters-farmhouse-kitchen
Fig. 2. A Warm & Textural Kitchen Look Studio McGee https://studio-mcgee.com/a-warm-textural-kitchen-look/
Fig. 3. Industrial Style Shaker Kitchen Tom Howley https://www.tomhowley.co.uk/kitchens/industrial-style-shaker-kitchen/
Fig. 4. Dekton – Natural Collection: Laurent Cosentino https://www.cosentino.com/usa/colors/dekton/laurent/
Fig. 5. Photography by Shannon McGrath (2015, December 10) Toorak Residence by Hecker Guthrie Leibal, LLChttps://leibal.com/interiors/toorak-residence/
Fig. 6. Classic with a Splash of Crater Lake Fireclay Tilehttps://www.fireclaytile.com/gallery/detail/classic-with-a-splash-of-crater-lake?epik=dj0yJnU9czJaR1BPNDhCX1pzVHFLcjkwVzItY0NGZjY5cmd3QlUmcD0wJm49UndCY3ZwWVZteUdLa1I3VS1KOENXZyZ0PUFBQUFBR0tmbFYw 
Fig. 7. Montauk Hous. Interior design and custom furniture design Studio Rober McKinley  http://www.robertmckinley.com/residential#/montauk-house/
Fig. 8. Scavolini Qi Behance https://www.behance.net/gallery/59731891/Scavolini-Qi
Fig. 9. Bare Studio https://barestudio.com.au
Fig. 10. Folding Window Trendirhttps://www.trendir.com/modern-kitchen-window-ideas/folding-window/