The exterior of a modular home can be bricked by choosing a finishing material that grants the aesthetic of a brick house. It is common for modular homes to be finished with some sort of siding, panel, or finishing material which the main purpose is to protect the house from the weather. However, modular homes cannot be raised out of brick structural walls. The structure of a modular home can be constructed with a variety of materials most commonly wood, steel, or concrete. Though those materials, such as bricks or stones, that are glued together in a masonry wall don't satisfy the requirements of modular construction. 
Different ways to brick a modular home:
Brick veneer installed on-site
Brick Slip Systems installed off-site 
Faux brick panels 
Combine traditional and modular construction
Each one of these options is a perfectly valid solution to grant the modular home with the brick finish you are looking for. However, since modular homes are built off-site following a highly industrialized construction process, it won't always be possible to apply them.
Why can't modular home walls be built out of bricks?
Building the structure of a modular home with brick and mortar isn't possible because this technique contradicts some of the main characteristics of modular construction:
Brick walls are built manually: The modular technique gets most of its benefits from highly industrializing most of the construction steps and, as of now, the construction of a brick wall isn't mechanized, it requires skilled manual labor 
It takes a long time to raise a brick wall: One of the most attractive advantages of modular construction is the ability to build a house in a short period of time and building a modular home with brick structural walls would highly increase the construction timeline. Since these walls are raised manually, brick by brick, they take longer to be raised.
It is expensive to build a brick wall: A big selling point of modular homes is their affordability, modular homes are usually 10 to 20 percent cheaper than brick-built houses. Since brick walls require manual labor and take longer to build, they would highly increase the overall cost of the modular home.
Brick walls are heavy: Having to be transported to the building side, the modules have to be built considering the possible road restrictions that might affect their path. It is common for roads to have weight restrictions [1] and since brick walls are considerably heavier than other materials such as wood, a modular home built of bricks might be more difficult to ship. 
A brick structure can't handle the stress suffered during transportation: Brick walls are robust, though they have no flexibility. When the modules are shipped from the factory to the property, they are exposed to strong tremors similar to an earthquake. To successfully resist those without cracking, the structure of the modules needs to offer some flexibility. 
How to brick a modular home
Despite the incompatibility between brick structures and modular construction, it is still possible to build a modular home with a bricked finish. There are different ways to brick the exterior of a modular home and while with all of them the bricks are placed only for aesthetic purposes, good quality finishes can offer a look so realistic that would be difficult to tell if the bricks are structural or solely decorative. 
Brick Veneer installed on-site
A brick veneer is a narrow type of brick designed for aesthetic purposes only that is attached to the wall manually using mortar, and sometimes anchors, as required by the support offered by the structure of the modular home [2]. Despite being only placed as a finishing material, once installed, this exterior has no flexibility at all and it could easily break during the transportation of the modules. 
Therefore, it is most common for modular home manufacturers to deliver the module to the building site without its finishing. The brick veneer is in most cases installed on-site once the module assembly is completed. Having to be installed after assembly usually delays the delivery date of the modular home. Still, it might be worth opting for this technique since the final appearance is just like that of a traditionally built wall.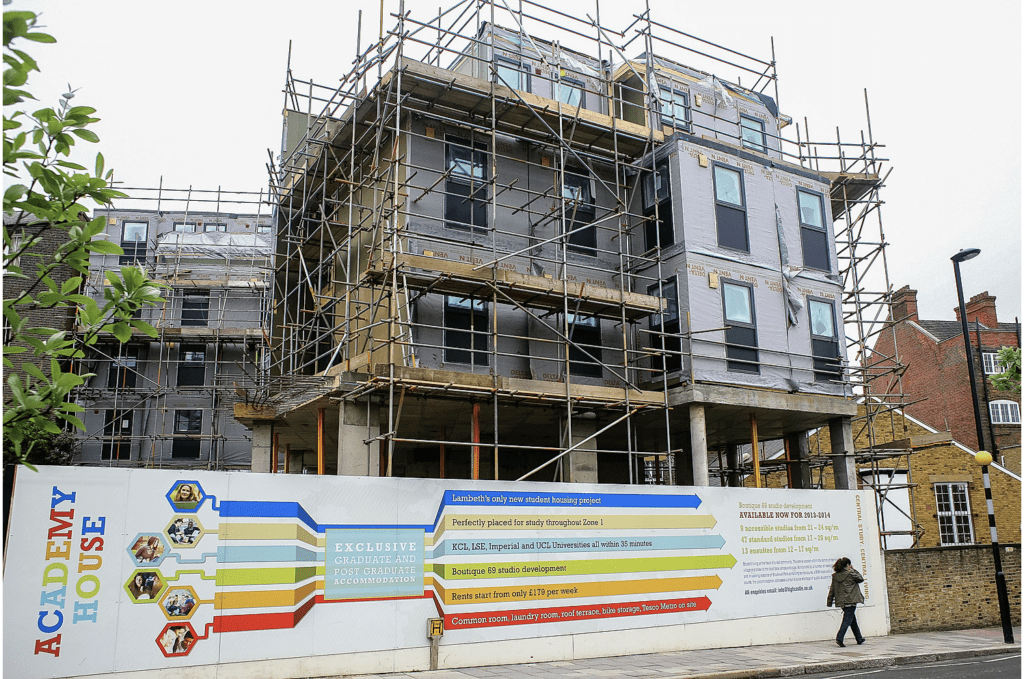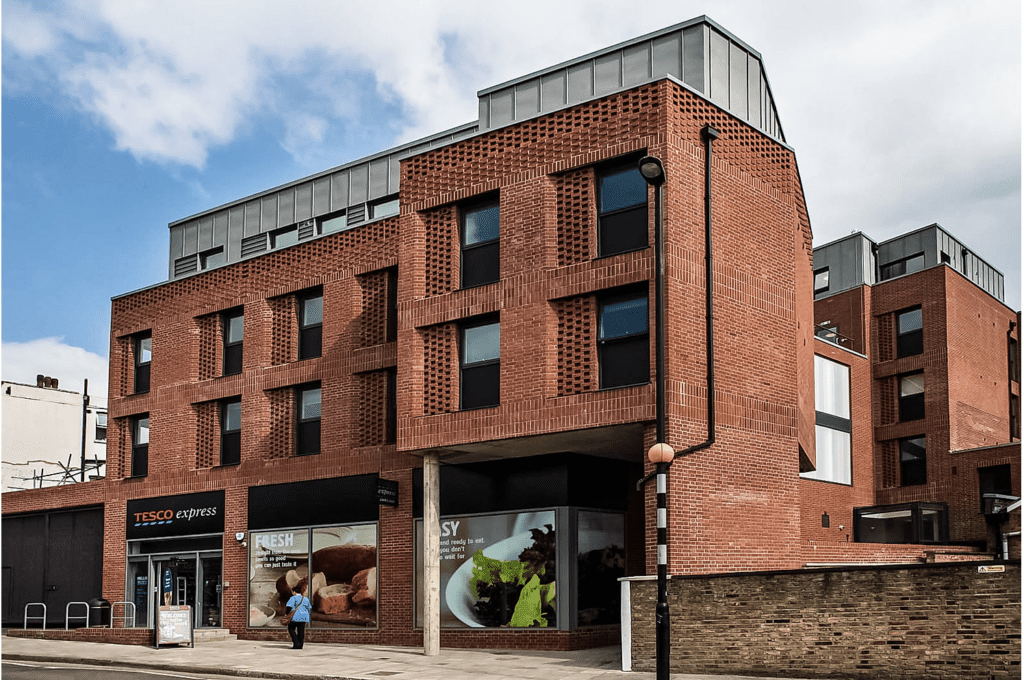 Brick Slip Systems installed off-site
This system offers a very similar look to that accomplished by the on-site installed brick veneer, though it is built with a modern system that makes it more practical and time efficient. In this case, the bricks are assembled on a panel that is affixed to the modular home structure and designed to offer flexible support to the bricks in a way that can withstand the tremors and tensions caused by transportation and assembly [3].
The placement of the bricks in a brick slip system is still done manually, though since they can be installed off-site in the factory-like environment where the modules are built, it usually doesn't add as much time to the overall construction schedule. Additionally, once finished this technique looks just like a traditional brick wall. All these benefits make brick slip systems very popular, especially in the UK where brick facades are the norm.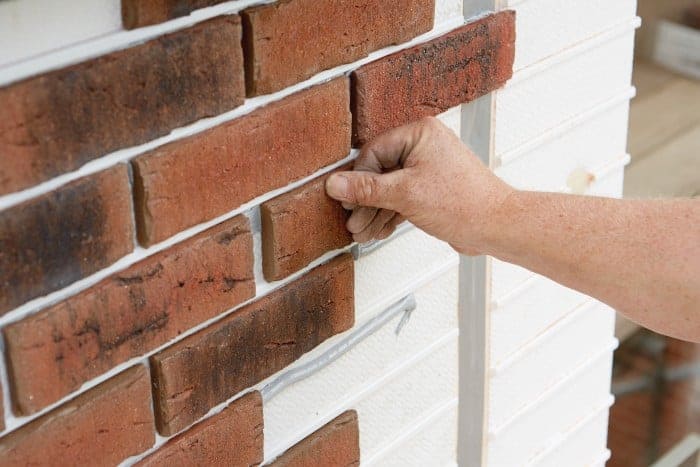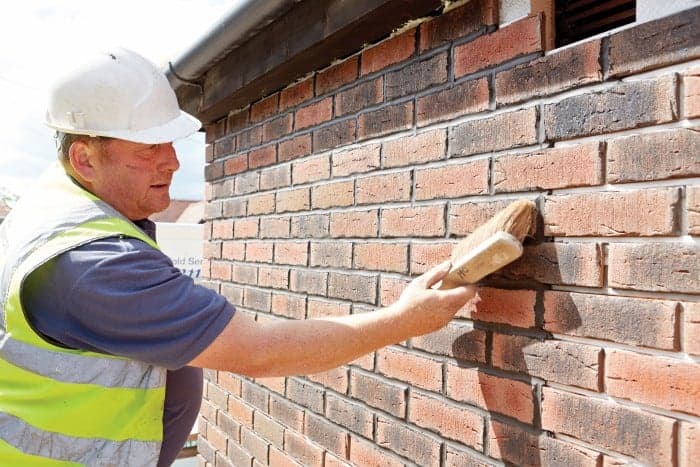 Faux brick panels
Faux brick panels are a possible alternative to real clay brick veneers that is cheaper and easier to install. Rather than individual brick faces, these are boards with the image and texture of several bricks printed in a panel that can be easily installed with construction adhesive and screws [4]. 
There is a great number of faux brick fabricators offering a wide selection of panels built of different qualities, materials, colors, and textures to suit the aesthetic you are looking for. Despite some of these panels being very well accomplished, these facades rarely look like traditional brick walls.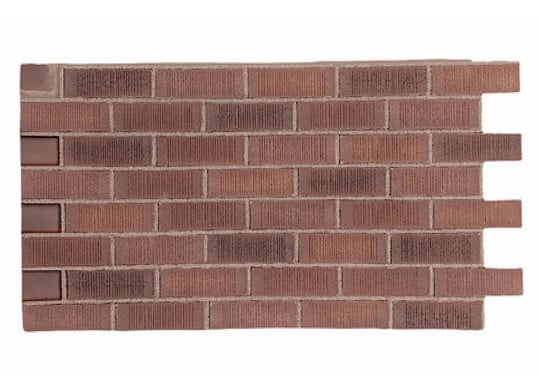 Combine traditional and modular construction
A different approach to achieving a bricked look in a modular home consists of combining different building techniques in what is known as a modular hybrid system. In this case, a part of the house construction is built on-site with traditional brick-and-mortar techniques while the rest of the house is built per modules in a factory-like environment. 
This could be a great solution when you are looking for a brick accent rather than a fully bricked house. In this case, the modular home manufacturer builds all the modules off-site and once delivered to the building site assembles them in combination with traditionally built brick and mortar walls. 
Things to consider when building a bricked modular home
Modular construction is a unique building technique that follows a highly industrialized construction process. As a result, it is common for modular home manufacturers to specialize in specific styles, features, and materials. It is possible for modular construction to incorporate all the options described above, not every modular home manufacturer can offer them.
Some things you should consider before bricking a modular home:
Not all brick-looking finishes offer the same result: Some brick-looking finishes are of very low quality and once installed it is very noticeable that the wall is fake. Always ask the manufacturer to see samples of the material and if possible visit an already finished house to see if the overall impact of the facade satisfies you.
You might need to opt for a fully customized modular home: If there are no modular manufacturers in your area offering predesigned modular home models with brick-looking finishes, you might have to go for a modular home designed just for you. This can be an advantage since you can choose every little detail of your house, though it is definitely more expensive.
Unique features can highly increase the cost: If the modular home manufacturer you have chosen doesn't usually work with the brick finishing materials you want to install, it might increase the final cost enormously. Modular manufacturers work following highly mechanized and repetitive steps. Therefore, integrating a new material or building technique usually disrupts the usual process, slowing it down and making it more expensive.
References:
Fig. 1 & Fig. 2 London, Herne Hill Modular Building Go Modular https://www.go-modular.co.uk/herne-hill-student-flats
Fig. 3 & Fig. 4 The brick slip cladding systems Eurobrick Cladding Systems https://www.eurobrick.co.uk/system
Fig. 5 Tri-State Brick Faux Wall Panels Interlock Texture Plus https://www.textureplus.com/store/faux-brick-paneling/worn-brick/?pid=1662