The number of modular homes built every year in the United States is about 11,000 units. However, this value highly varies over time and depending on the location. At the moment, the main off-site construction reference remains in Europe where an average of 428.0K prefabricated homes are being produced every year. 
| | | | |
| --- | --- | --- | --- |
| | North America | Europe | Asia Pacific |
| Number of modular homes built per  (approximated) | 11,000 units | 428,000 units | Over 300,000 units |
As an MMC (Modern Method of Construction), Modular construction appears to be the key to addressing most of the problems associated with traditional construction and it is expected to grow exponentially in the near future. The construction of new modular homes all around the world is expected to increase by about 8% in the next 5 years.
Modular and Prefabricated home production worldwide
The number of modular homes being built worldwide today varies from one location to another. As of today, the production in South America and Africa is minimal; Europe and Asia-Pacific lead the prefab construction industry and North America is slowly becoming more active.
North America
The United States represents a small percentage of the overall worldwide prefab construction, since only 3% of the newly built single-family homes are prefabricated, which includes both modular and panelized construction methods. The modular homes built around the overall territory of the U.S. in 2020 add to 11,000 units [1]. Canada is catching up on the modular industry, but at the moment, only 13% of contractors aim to move as much work off-site as possible, and as much as 40% perceive shifting to modular as unrealistic [2]. 
Europe
Europe is the world's leader in modular and prefabricated construction by now and it is expected to produce an average of 428,000 prefabricated homes in 2022. In 2021, a total of 423,500 homes were built in Europe, from which 148,700 homes corresponded to the U.K and 126,000 to Germany [3]. Scandinavia shows a lower number of prefab houses being built: 36,300, though this region that includes Sweden, Norway and Denmark leads the prefab production with 45% of the overall house construction being built off-site [4].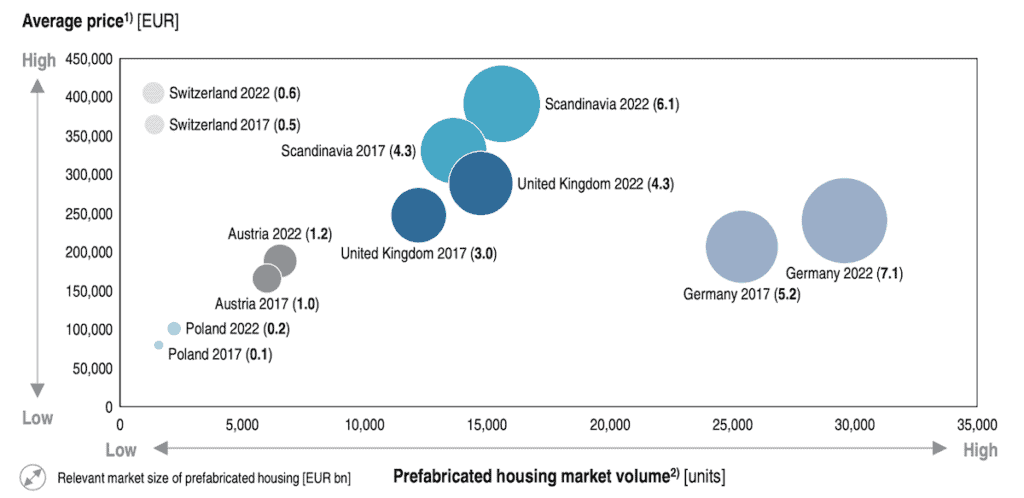 Asia-Pacific
The Asia-Pacific area is also a big reference in modular construction, with most of the attention  going toward Japan. Japan became a prefabricated home world leader after World War II when the high demand for housing was solved with an industrialized construction process [5]. Today, Japan builds around 131,496 housing prefabs a year, which represents 15% of all the new housing construction [6]. 
Singapore is an example of modular housing development impulsed by the government and despite its reduced area, this country is building about 30,000 modular homes every year [4]. 
In China, at the moment, only 6% of the overall housing construction is modular, though it represents one of the fastest-growing markets. In Australia, just about 3% of the newly built homes are prefabricated [7].
The growth of the modular construction market
Modular construction is considered an MMC, a highly valued approach given that it offers a construction of higher quality, that is built faster, safer and more environmentally friendly [8]. Traditional construction methods aren't good enough anymore, and modular construction, as well as other MMC methods, are expected to grow significantly all around the world. From 2022 to 2027 modular construction is expected to rise by around 8% [9].
The growth of modular construction is projected to reach higher percentages in those regions where the housing demand becomes more acute. For example, in the UK, modular construction is expected to grow up to 20% in the next 10 years [10]. The graphic below shows the different growth rates by region, with the highest being in Europe and Asia-Pacific.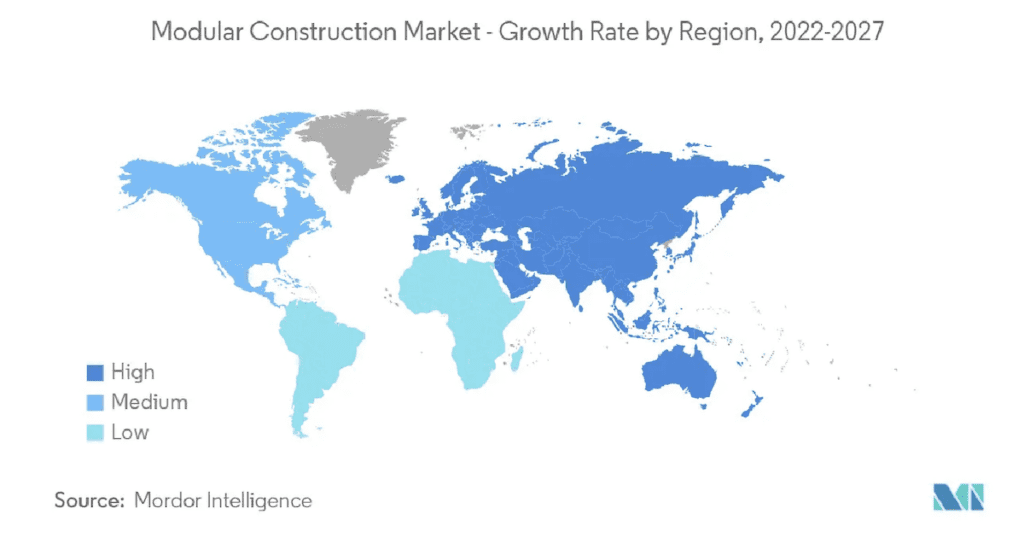 References:
Nanayakkara-Skillington, D. (2021, July 23) Modular and Other Non-Site Built Housing In 2020 NAHB National Association of Home Buildershttps://eyeonhousing.org/2021/07/modular-and-other-non-site-built-housing-in-2020/
Offsite shift for construction in Canada MMC https://mmcmag.co.uk/offsite-shift-for-construction-in-canada/
(Munich, 2012 January) Prefabricated housing market in Central and Northern Europe – Overview of market trends and development. Study extract Roland Berger
Bertram, N., Fuchs, S., Mischke, J., Palter, R., Strube, G., and Woetzel, J. (2019, June) Modular construction: From projects to products McKinsey & Company https://www.mckinsey.com/~/media/mckinsey/business%20functions/operations/our%20insights/modular%20construction%20from%20projects%20to%20products%20new/modular-construction-from-projects-to-products-full-report-new.pdf
Friedman, A. (2021, March 8) Here's What We Can Learn From Japanese Prefab Homes Dwell https://www.dwell.com/article/japanese-prefab-homes-e1f1b65c
(2022, January 17) Japan prefabricated buildings industry study – Growth, trends, COVID-19 impact, and forecasts (2022-2027) Mordor Intelligencehttps://www.mordorintelligence.com/industry-reports/japan-prefabricated-buildings-market
(2019) Prefabricated construction in Victoria Department of Jobs, Regions and Precincts. Victoria State Government https://business.vic.gov.au/__data/assets/pdf_file/0003/1880571/Prefabricated_Construction_Victorian_Business_Supply_Chain_Directory.pdf
Developing better with Modern Methods of Construction (MMC) The lab_https://thelab.co.uk/exploration/modern-methods-of-construction/
(2021, April Modular construction market – Growth, trends, COVID-19 impact, and forecasts (2022-2027) Mordor Intelligencehttps://www.mordorintelligence.com/industry-reports/modular-construction-market
(2020, June 18) Spotlight: modern Methods of Construction Savillshttps://www.savills.co.uk/research_articles/229130/301059-0/spotlight–modern-methods-of-construction
FIg. 1. (Munich, 2012 January) Prefabricated housing market in Central and Northern Europe – Overview of market trends and development. Study extract Roland Berger
Fig. 2. (2021, April Modular construction market – Growth, trends, COVID-19 impact, and forecasts (2022-2027) Mordor Intelligencehttps://www.mordorintelligence.com/industry-reports/modular-construction-market