Welcome to the forefront of modern living with modular homes in California. As the housing landscape evolves, companies like Cerca Homes redefine luxury with beautiful panelized designs, blending aesthetics and efficiency. Meanwhile, Prefab Homes & ADUs take sustainability and affordability to new heights, offering environmentally conscious solutions without compromising style. This list explores the innovation and craftsmanship of leading modular home manufacturers in California, showcasing the diverse options available for those seeking a contemporary, cost-effective, and eco-friendly approach to homeownership. 
Cerca Homes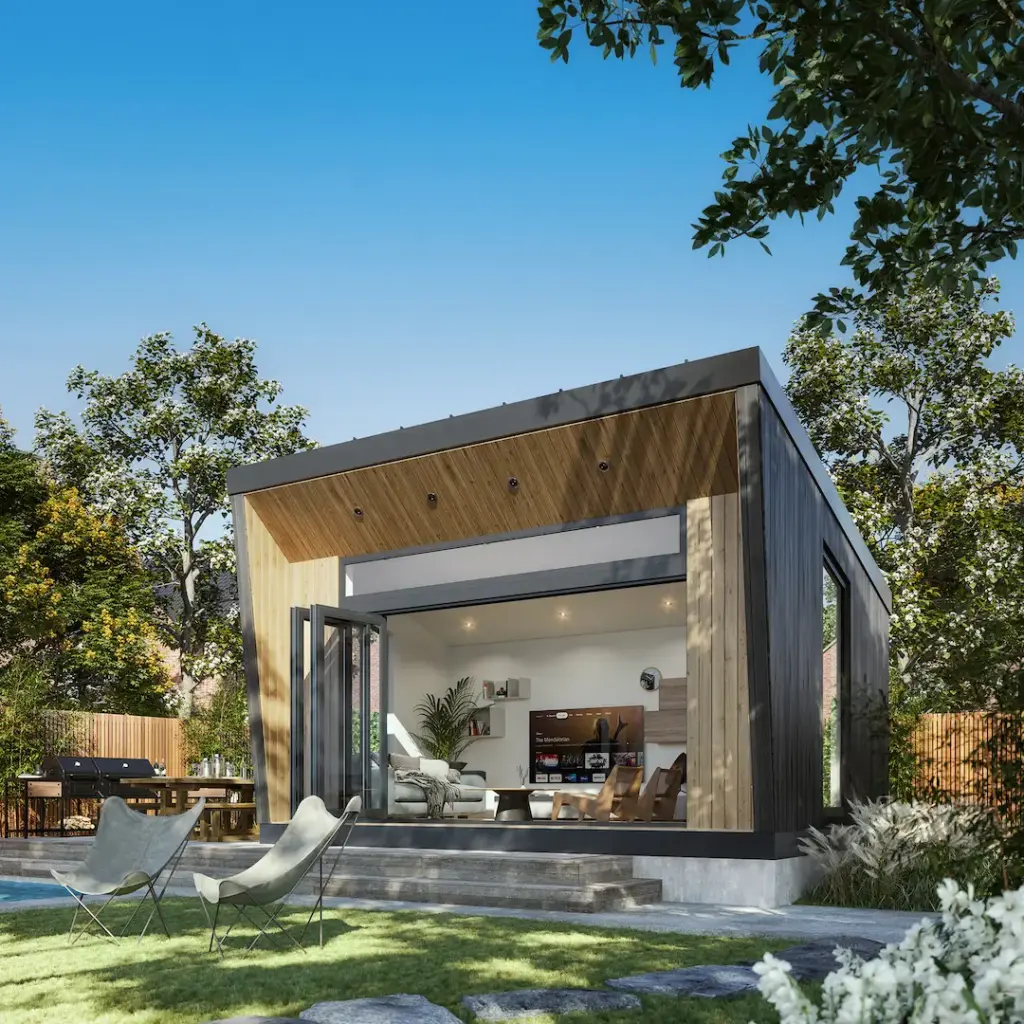 Cerca Homes revolutionizes the prefab housing experience, prioritizing efficiency without compromising quality. Their dedicated team ensures a seamless assembly process for bespoke, beautifully designed homes. Cerca's commitment to sustainability shines through its innovative OpenAir Panel System, offering eco-friendly construction with up to 90% waste reduction and 43% fewer carbon emissions. The process is 50% faster than traditional construction, yielding a 200% return on investment. With a dedication to customer satisfaction, Cerca Homes envisions a redefined market, simplifying construction and delivering premium, cost-efficient living spaces.
Highlights:
Efficient, waste-reducing, and environmentally friendly.
Construction speed 50% faster than traditional methods.
Enjoy a remarkable 200% return on investment.
Sustainable materials: Top-quality, eco-friendly, and long-lasting.
Innovative design for efficient installation and maximum natural light.
Plús Hús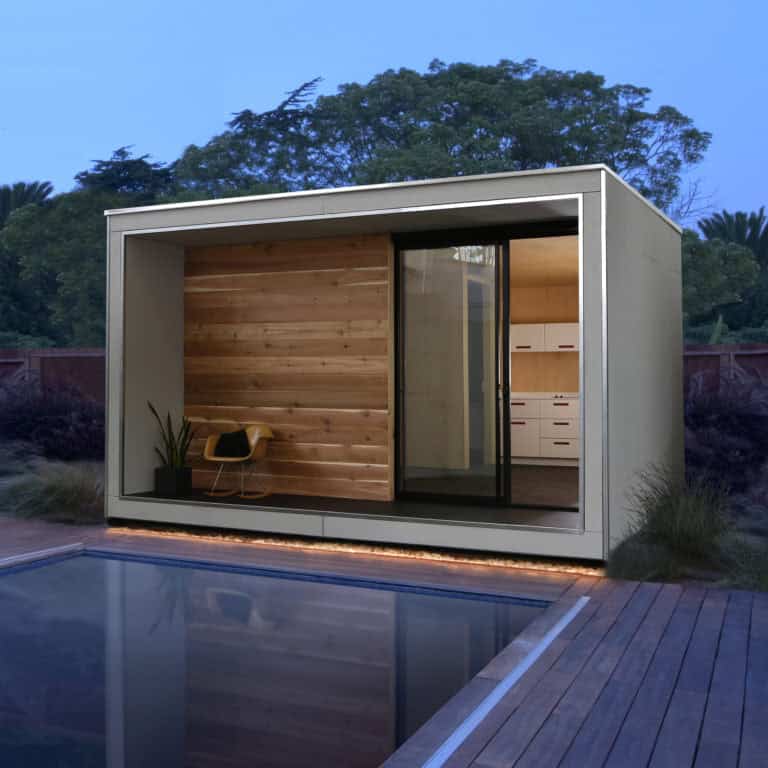 Plús Hús offers a 16' x 20' customizable modern structure for versatile backyard use. Whether you live in it, rent it out for extra income, work in it for a focused environment, or play in it for leisure, Plús Hús provides a streamlined space. Manufactured sustainably in Los Angeles, each unit embraces green practices for a durable and energy-efficient structure. With three main configurations and various finishing material options, Plús Hús is customizable and easy to assemble on-site, eliminating heavy-duty cranes.
Highlights:
Customizable configurations and finishing materials.
Sustainably manufactured for energy efficiency.
Ideal for living, renting, working, or leisure.
Delivered flat-packed and assembled on-site without cranes.
Award-Winning Design: Developed by Minarc, addressing housing crises sustainably.
Cover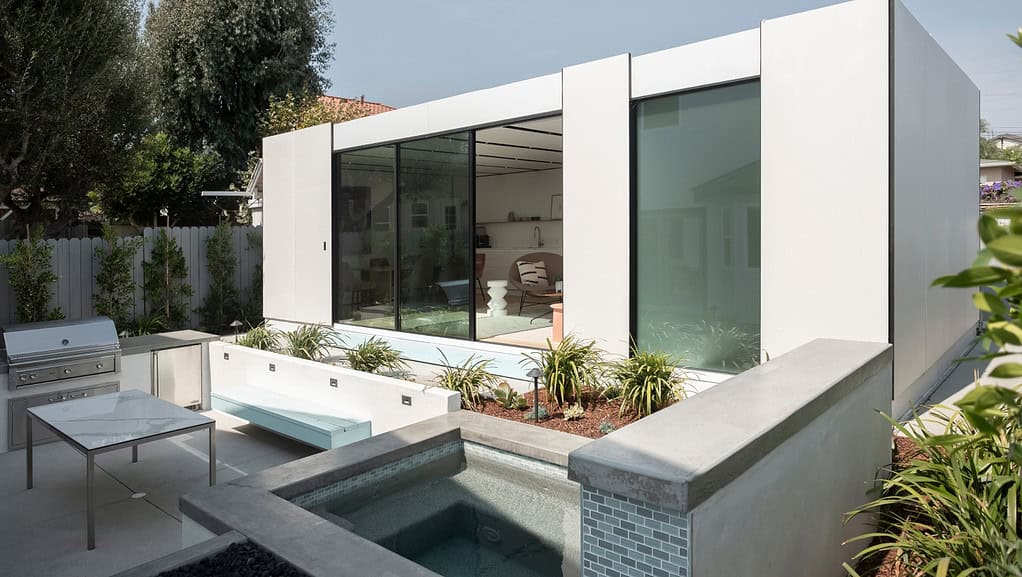 Cover is transforming the home-building experience in Los Angeles. They offer a comprehensive service for beautiful backyard homes, from design and permitting to manufacturing and installation. Each Cover is custom-built, eliminating the need for subcontractors and ensuring a fixed-price contract. The houses are thoughtfully designed, utilizing floor-to-ceiling windows, precision fabrication, and integrated cabinetry. With upfront pricing and guaranteed timelines, the process is effortless and predictable. Cover employs technology and production lines to enhance the building process, creating sustainable homes with reduced material and energy consumption, contributing to a greener future.
Highlights:
Tailored designs for each property, eliminating subcontractors.
Effortless experience: Upfront pricing, guaranteed timelines, and integrated cabinetry.
Precision fabrication: 3D modeling and engineering for every detail.
Sustainable construction: Reduced energy consumption, contributing to a greener future.
Dvele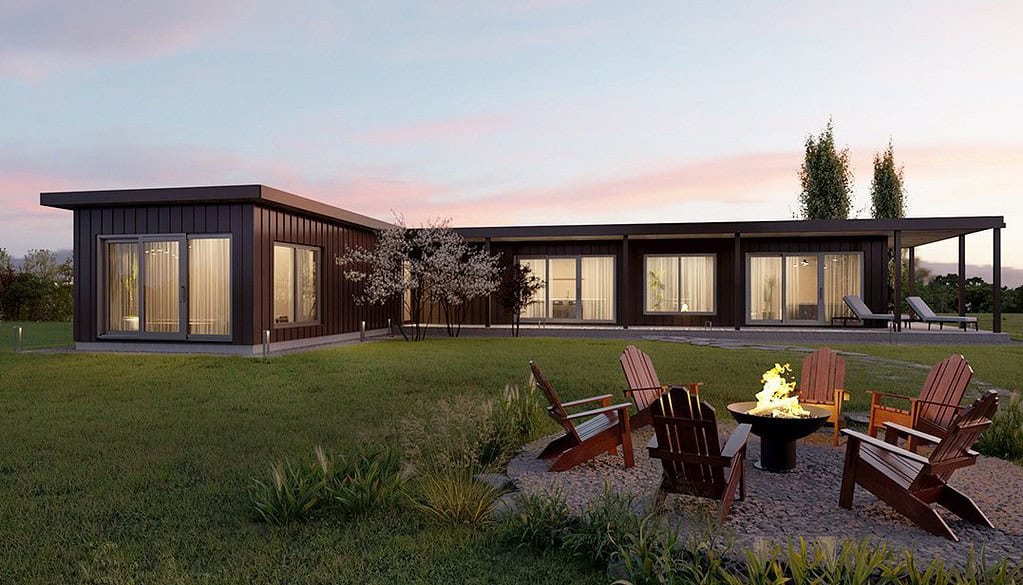 Dvele stands at the forefront of addressing housing crises by offering mass-produced, high-performance, health-centric homes—Self‑Powered™, Self‑Healing™ homes. Rooted in science, Dvele homes protect inhabitants and the planet, redefining the concept of living. The streamlined process involves choosing a modern-inspired floor plan, selecting a bundled design, and enjoying a low-maintenance, luxury living experience. Dvele homes are energy-independent, featuring a Self-Powered™ system, and are built for a lifetime with next-gen building science. Dvele IQ™ ensures peace of mind by monitoring the home's health, while sustainability meets luxury in eco-friendly, high-performance homes.
Highlights:
Mass-produced, health-centric, and energy-independent.
Modern floorplans, bundled designs, and low-maintenance luxury living.
Self-Powered™ homes produce clean, renewable energy and ensure normalcy during power outages.
Built for a lifetime: Next-gen building science, advanced materials, and precision manufacturing.
California Modulars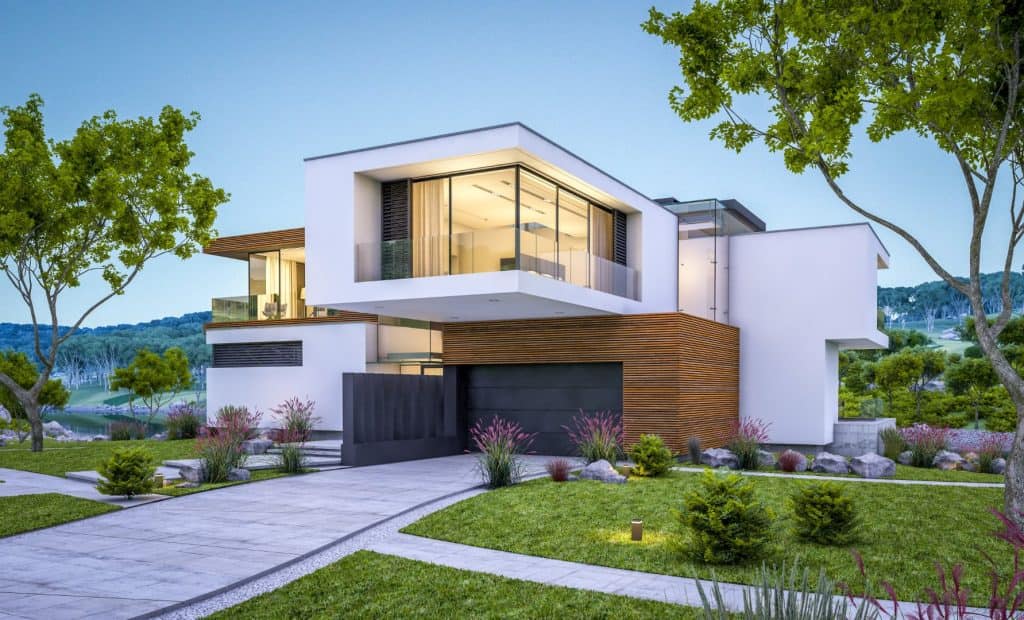 California Modulars, a licensed HCD manufacturer and general contractor, specializes in premium, hand-crafted homes, ADUs, and commercial buildings. As experienced builders committed to sustainability, they use eco-friendly materials and follow California guidelines for quality living spaces. Their process involves consultation, site evaluation, design and engineering, permitting, and efficient construction and fabrication. With a mission to manufacture beautiful, sustainable structures, California Modulars provides turn-key solutions, ensuring a faster and more cost-effective alternative to traditional site-built homes.
Highlights:
Custom homes, ADUs, and commercial buildings.
Licensed HCD manufacturer: Certified for high-quality modular homes and ADUs.
Sustainable construction: Eco-friendly materials and adherence to California guidelines.
Consultation, site evaluation, design, permitting, and construction.
Experienced builders providing design options and project management.
ADORE HOMES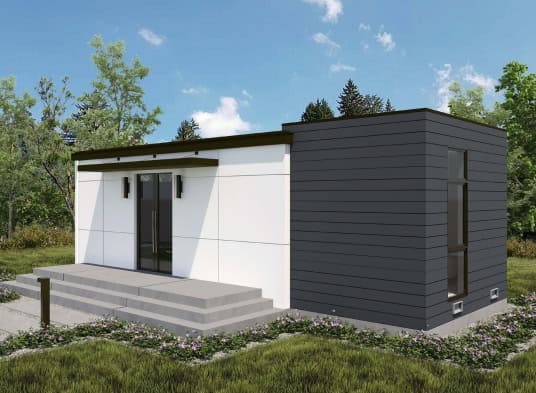 ADORE Homes crafts top-tier Accessory Dwelling Units (ADUs) for diverse needs—additional housing, rental income, or a separate workspace. With a commitment to quality and care, ADORE Homes ensures a seamless process, saving time and money. Their unique approach, spanning design, permits, manufacturing, and installation, streamlines ADU construction. From a swift one-day design phase to a rapid 2-day delivery and installation, ADORE Homes transforms concepts into fully functional living spaces in just 10-14 weeks.
Highlights:
Top-tier ADUs: Crafted for diverse needs with top-notch quality.
Streamlined process: Swift, easy, and affordable ADU construction.
Modern, sleek designs tailored to individual preferences.
ADORE Homes manages permits in 4-6 weeks.
Rapid delivery: ADU ready for occupancy in just 10-14 weeks.
S2A Modular
S2A Modular is a company that specializes in building energy-efficient, renewable-energy smart homes, hotels, and multi-family buildings. Founded by John Rowland and Brian DeLisle, the company has established high Environmental Social Governance (ESG) standards and is expanding to 35 factory locations in North America. The team comprises experienced professionals in operations, construction, investor relations, app development, marketplace, and more.
Highlights:
Specializes in building energy-efficient, renewable-energy smart homes, hotels, and multi-family buildings
Established high Environmental Social Governance (ESG) standards
Expanding to 35 factory locations in North America
Team of experienced professionals in operations, construction, investor relations, app development, marketplace, and more
Joy Line Homes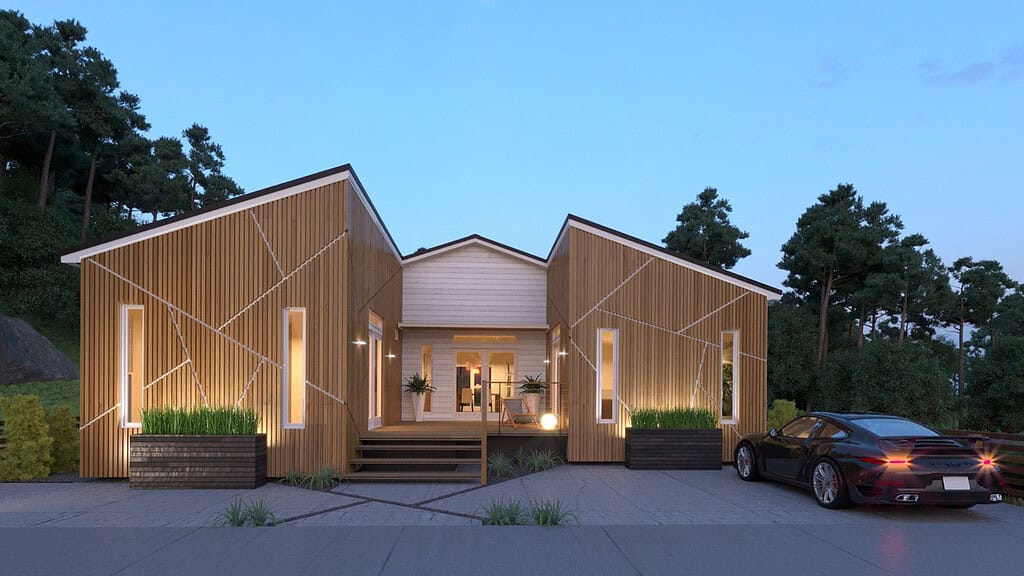 Joy Line Homes delivers modern, customizable homes that balance affordability and efficiency. Their mission emphasizes high-end, cost-effective, swift construction, challenging traditional building methods. Joy Line Homes excels in sustainable production and meticulous construction, offering manufactured and modular options ensuring HUD certification for manufactured homes. From order to finish, the process takes 4-6 months for manufacture and slightly longer for modular builds. 
Highlights:
Blend affordability and high-end construction.
Manufactured and modular options: Swift construction with sustainable production techniques.
HUD certification: Ensures homes meet strict federal guidelines for streamlined permits.
From order to finish, 4-6 months for manufactured homes.
Precise construction methods are backed by a one-year warranty.
Sagemodern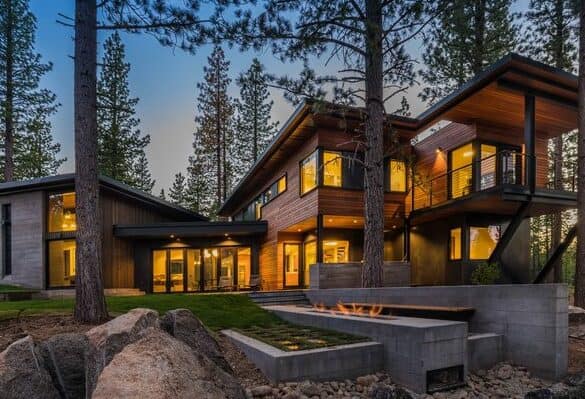 Sagemodern pioneers sustainable, efficient prefab construction, challenging traditional home-building norms. Utilizing quality-controlled factory environments, each Sagemodern home is created through prefabricated modules, delivering cost, time, and energy savings. Their environmentally conscious design prioritizes space and material efficiency, incorporating innovative systems for reduced energy and water consumption. Sagemodern combines elegant modern design with prefab efficiency, making it a sustainable choice for custom homes.
Highlights:
Efficient, sustainable, and versatile home-building approach.
Homes created through prefabricated modules for time efficiency.
Prioritizes space and material efficiency, reducing waste.
Comprehensive process: From initial site visit to delivering a completed, sustainable home.
Hearth Haus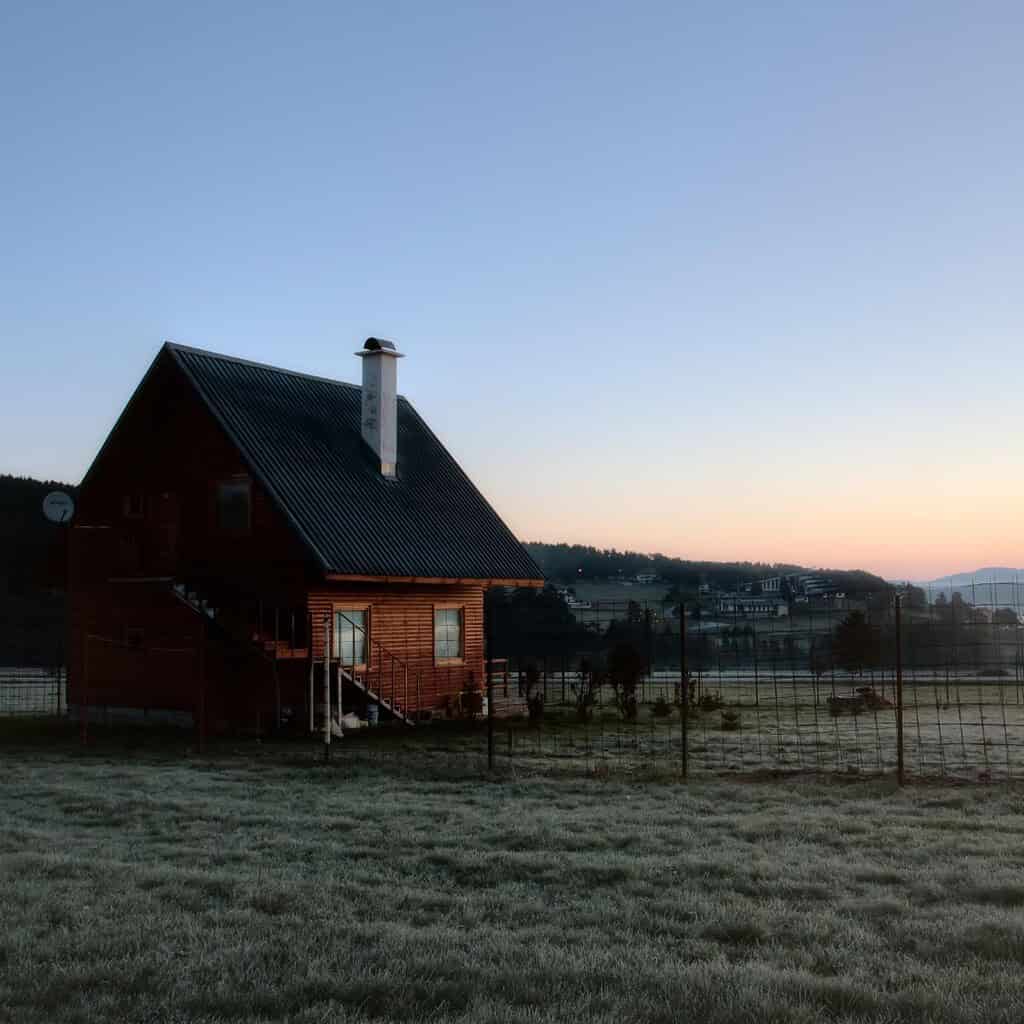 Hearth Haus, a female-owned and operated company, revolutionizes home construction with premium tiny, backyard, and modular homes ranging from 300 sq ft to 3,000 sq ft. Customized and handcrafted by artisans in their factory, these homes are swiftly delivered and installed on your property in weeks. Experts guide you from start to finish, ensuring a hassle-free experience. With transparent pricing, prefab efficiency, and a commitment to sustainability, Hearth Haus makes dream spaces, from tiny homes to ADUs, accessible.
Highlights:
Tiny, backyard, and modular homes tailored to your needs.
Full-service team assists with budgets and permits for installation.
Handcrafted homes are delivered and installed in weeks.
Upfront, clear costs for a hassle-free home-building experience.
Eco-friendly materials, solar panels, and water systems minimize environmental impact.

H2 Prefab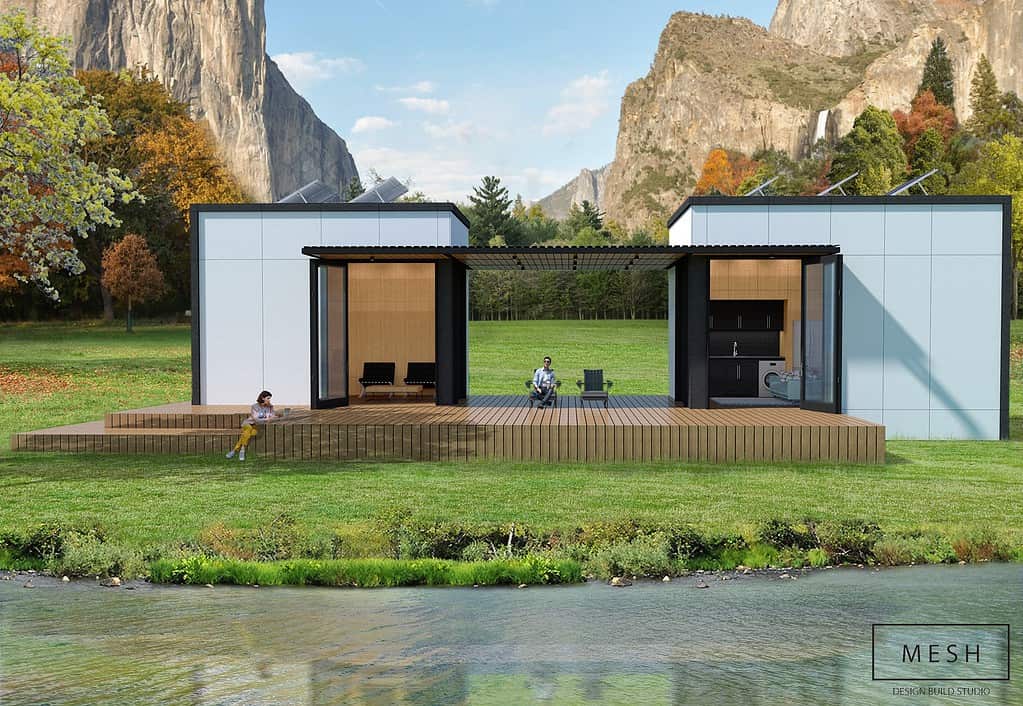 H2 Prefab specializes in smartly designed, quality ADUs, blending contemporary aesthetics with eco-friendly features. Their homes prioritize energy efficiency, sustainability, and cost-effective construction, ensuring high-quality craftsmanship in a controlled environment. The innovative delivery method allows installation regardless of access constraints or challenging terrain.
Highlights:
Contemporary ADUs with abundant natural light.
New laws simplify ADU design, permitting, and construction.
Prefabricated components for versatile delivery to diverse sites.
Bay Modular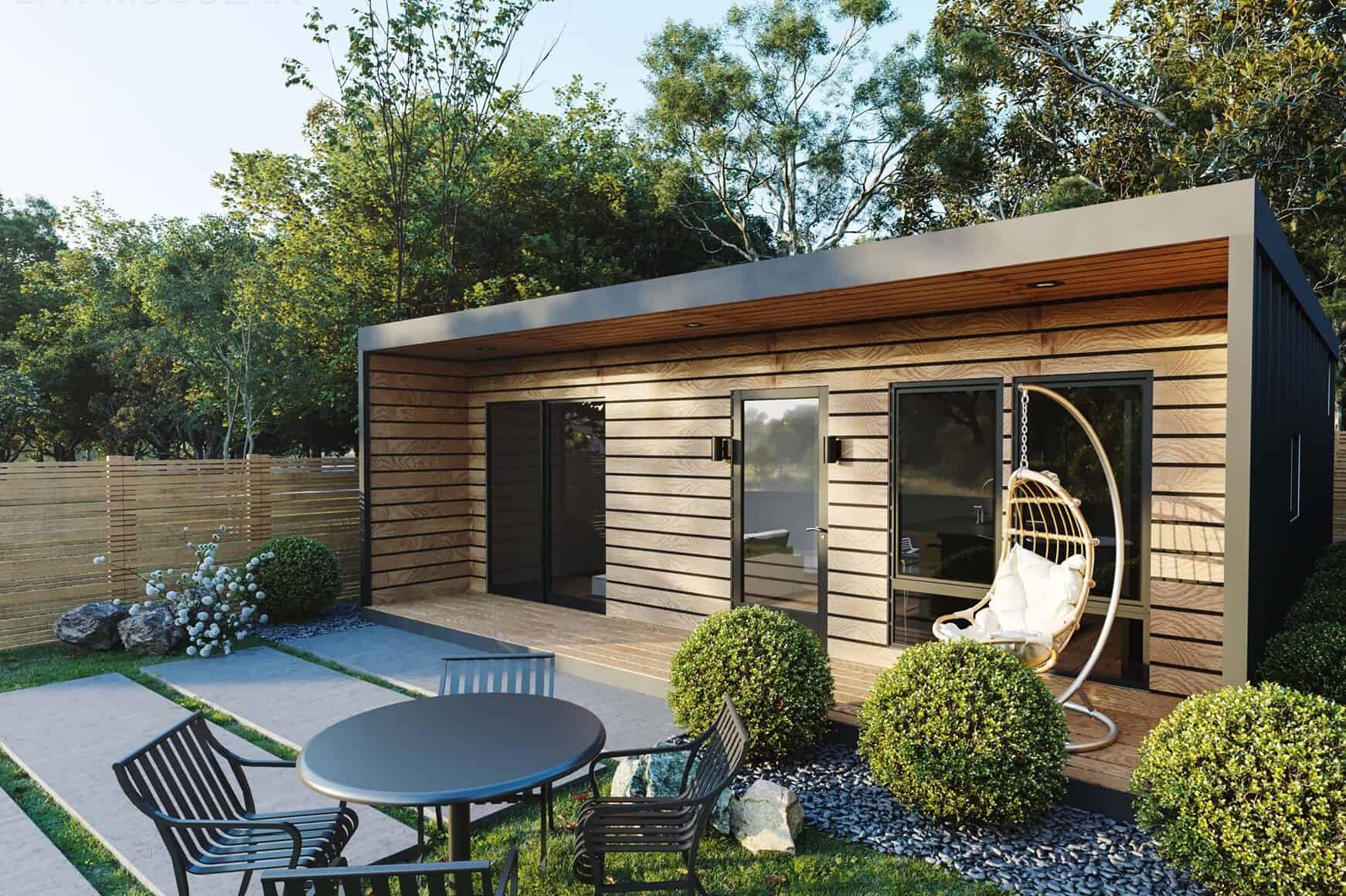 Bay Modular simplifies the complex process of integrating a prefab ADU into your backyard. From navigating permits to the final move-in day, their comprehensive service is designed to demystify construction for homeowners, providing a hassle-free experience. Despite its unconventional approach, the container-based construction employed by Bay Modular is cost-effective, remarkably energy and resource-efficient.
Highlights:
Pre-Approved Designs: No local permitting required for Solo units.
Full-service system ensures on-time, on-budget delivery.
Inclusive service covers site prep and foundation to utility hookup.
Repurposed containers and ordered-to-spec materials reduce waste.
Expandable system for versatile backyard configurations.

Wellmade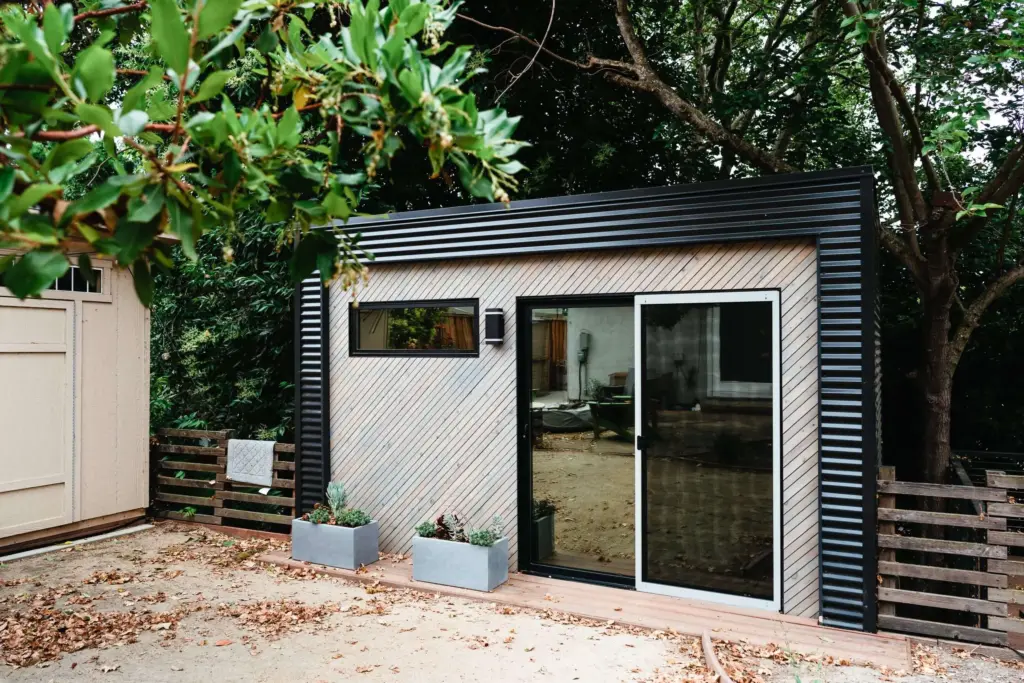 Wellmade transforms home offices, studios, and ADUs with modern prefab solutions. Prioritizing customization and efficiency, they deliver studios in 60 days and ADUs in 6 months. Streamlining with a turn-key approach, transparent pricing, and eliminating the need for cranes, Wellmade minimizes disruption. Their luxury builds meet Fortune 500 standards, ensuring visual appeal and functionality with a history in commercial design, Wellmade crafts prefab additions that redefine the residential construction process, prioritizing quality, beauty, and a hassle-free experience.
Highlights:
Provides full-service project management from design to installation.
Offers all-inclusive cost, covering consultation to delivery, fabrication, and installation.
Utilizes a prefabricated system to deliver through tight spaces without heavy machinery.
Ensures exceptional service from initial outreach to project completion.
Delivers contemporary designs and showcases expertise in modern residential construction.
Bejarano Property Group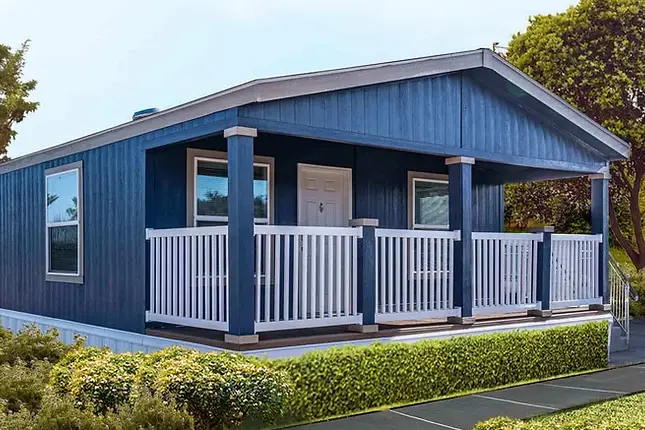 Bejarano Property Group pioneers affordable real estate solutions, focusing on manufactured homes. The group offers customizable, factory-built homes affixed to private land. Committed to education, they empower clients to blend personal and real property. Beyond traditional real estate services, they provide free property estimates and consulting for land projects, ensuring a comprehensive approach to real estate needs.
Highlights:
Design and complete pre-fabricated homes tailored to your preferences.
Assess your property's value in a shifting real estate market.
Buy, sell, or explore alternative affordability options.
Explore options for building homes on owned or leased land.
Make real estate ownership affordable and accessible.
Unified Modular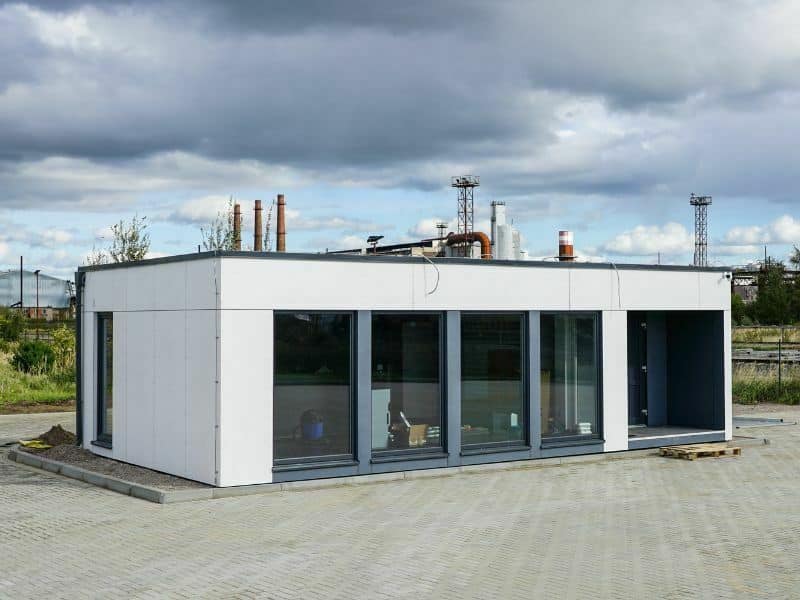 Unified Modular, based in Corona, CA, is a certified Minority Business Enterprise specializing in modular construction. With over 30 years of expertise, the company excels in sales, leasing, refurbishing, and maintenance for various structures, ensuring quality service in the Inland Empire. Their commitment to exceeding customer expectations, competitive pricing, and versatile modular solutions make them a top choice in the construction industry.
Highlights:
Recognized for diversity and excellence in modular construction.
Tailored solutions for classrooms, offices, and diverse project types.
Quick project completion without compromising quality or aesthetics.
Licensed architects and contractors for unique, efficient solutions.
Modular Housing Systems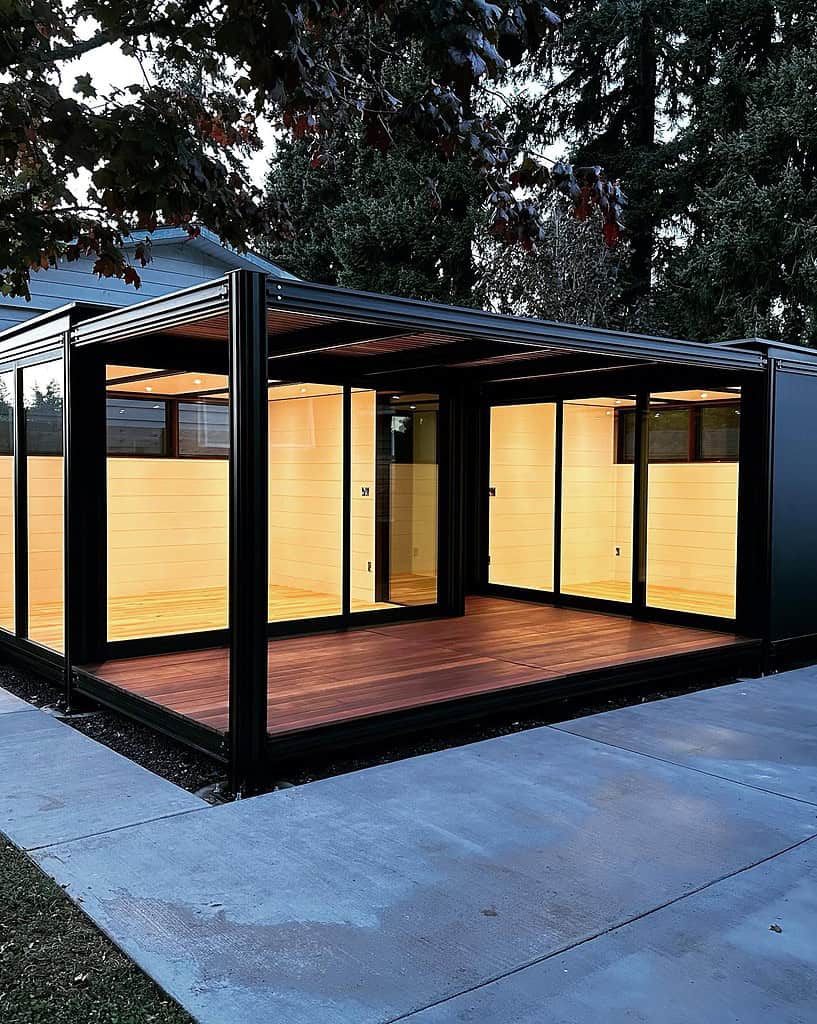 MHS Building Systems, a leading provider in modular construction, specializes in prefab homes, ADUs, and commercial structures. Utilizing MHS structural aluminum framing, they offer high-quality, customizable designs with strength, durability, and corrosion resistance. The aluminum framing ensures easy assembly, customization options, and reduced construction time and costs. MHS collaborates closely with clients, providing personalized solutions and comprehensive building systems for residential or commercial projects.
Highlights:
Specializing in prefab homes, ADUs, and commercial structures.
Utilizing aluminum for strength, durability, and corrosion resistance.
Tailored solutions with ease of assembly and reduced construction time.
Collaborative approach for personalized residential or commercial projects.
Patented MHS Building technology for sustainable and recyclable structures.
ADU.Works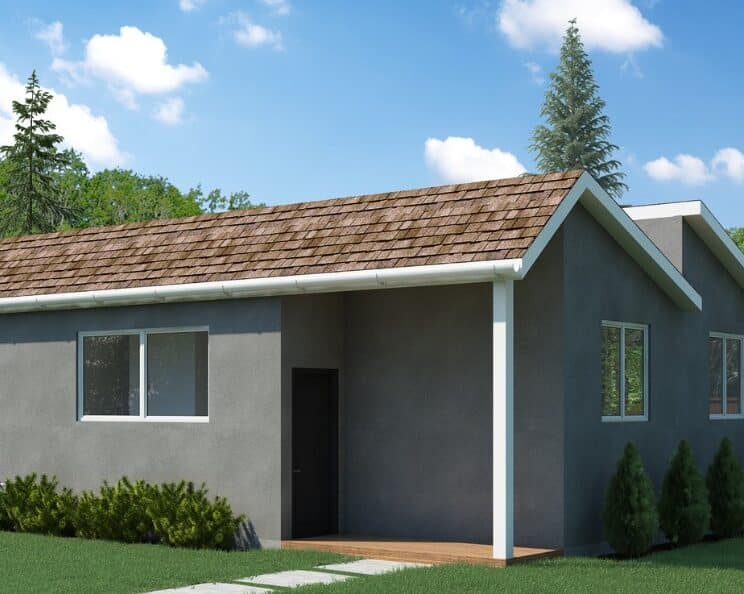 ADU.Works is on a mission to revolutionize the way Californians build their living spaces, addressing the housing crisis. Committed to affordability and quality, they provide seamless ADU building experiences. With a focus on sustainability, innovation, and teamwork, ADU.Works stand out in constructing efficient and aesthetically pleasing secondary units. Their end-to-end service, faster timelines, simplified processes, and lower costs make building your ADU simple, affordable, and fast.
Highlights:
A one-stop-shop solution, handling permits, utility tie-ins, and construction.
Helical piles and SIPs allow quicker ADU construction, minimizing disruptions.
Pre-engineered plan sets to save on design fees, providing customized ADUs.
Starting at $139,400, ADU.Works offers high-quality living spaces without breaking the bank.
Reducing construction risk through the use of cutting-edge technologies.
Abodu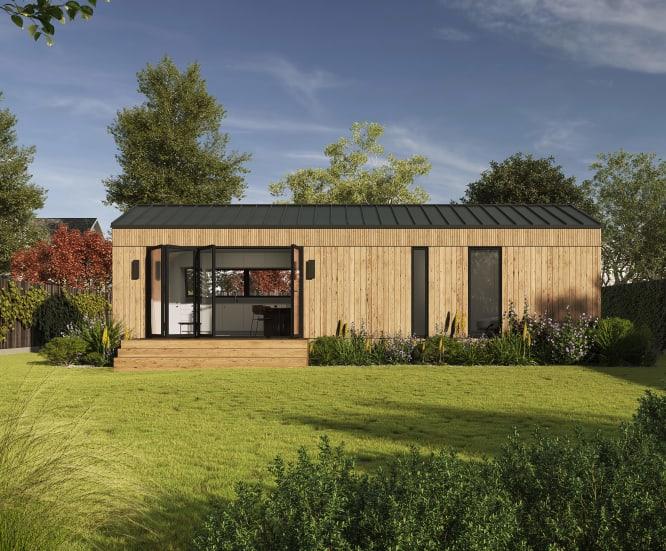 Abodu is transforming Californian backyards, offering beautiful, flexible spaces tailored to individual lifestyles. Their streamlined process, from showroom tours to on-site consultations, ensures personalized experiences. Abodu inspires homeowners to reimagine their spaces for guests, home offices, extra income, or extended family. The end-to-end process involves construction, permitting, and on-site work, guaranteeing minimal disruption. Abodu's vision revolves around creating permanent spaces for lives in motion.
Highlights:
Tailored Showroom Tours: In-person visits allow a close-up look and expert Q&A.
On-Site Consultation: Dedicated Abodu Sales Managers plan placement and utilities.
Efficient Construction: Streamlined factory construction takes approximately 6.5 months.
Permitting Assistance: Behind-the-scenes work ensures necessary permits are obtained.
Seamless Installation: A one-day process brings your prefab ADU to life.
Terra Home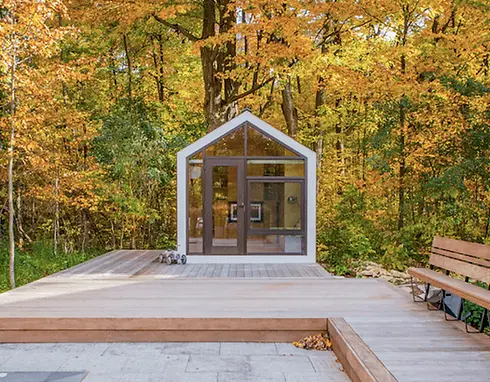 Terra Home is dedicated to simplifying and enhancing living spaces with diverse housing solutions. Their visually appealing models, traditional and custom designs, and modern architecture cater to various tastes. Terra Home focuses on budget-conscious options while delivering innovative and sustainable housing solutions. With over 60 years of collective experience in housing, construction, and finance, they actively listen to individual needs, collaborating with city departments and industry partners. The turnkey process manages planning, construction, and installation, adhering to California Building Codes.
Highlights:
Visually appealing models, traditional and custom designs.
Prioritizing affordability without compromising on quality.
Efficiently managing planning, construction, and installation phases.
Delivering innovative and eco-friendly housing solutions.
Alleviating the housing crisis with accessible and equitable housing solutions.
Distinct Builders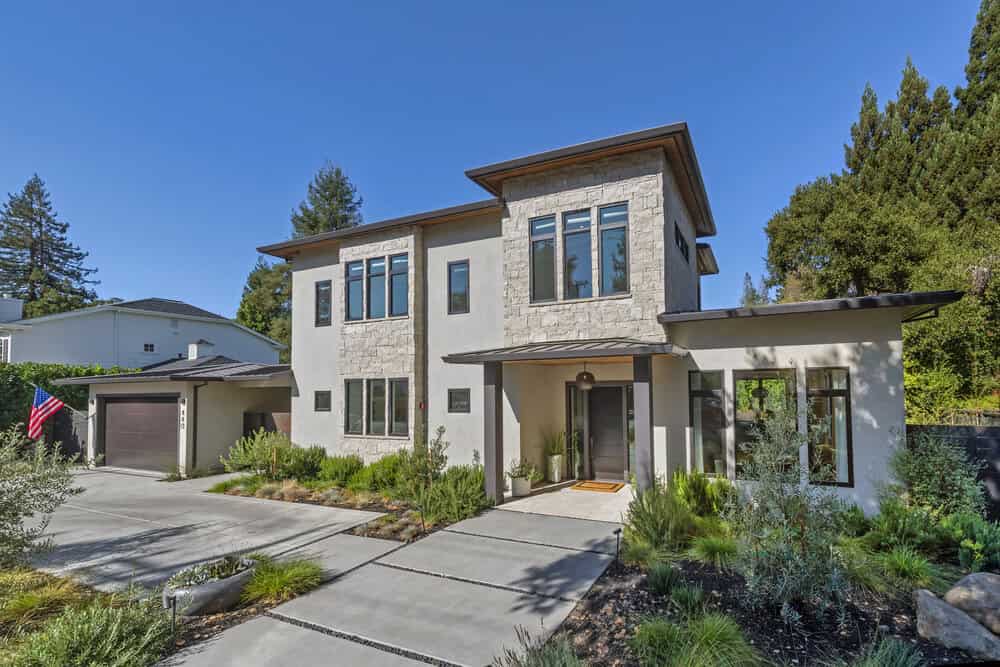 Distinct Builders, operating in Silicon Valley/Peninsula and San Diego, specializes in constructing modular and custom homes. Their collaborative approach ensures personalized attention, focusing on modular homes, multi-family units, and large-scale renovations. Committed to open communication, they work closely with architects, engineers, and subcontractors, fostering trust. The emphasis on design, quality, and detail creates unique living experiences. The company excels in customer service, accurate cost estimates, and transparent bidding. D
Highlights:
Specializing in modular homes in Silicon Valley/Peninsula and San Diego.
Providing factory coordination, site preparation, and modular setup.
Thorough and transparent bids for informed decision-making.
Strong emphasis on customer service and relationship building.
Adu Builder, Inc.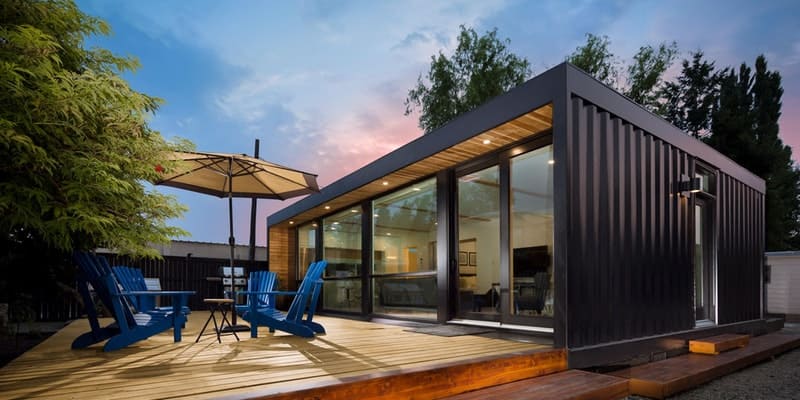 ADU Builder, Inc., based in Palo Alto, offers homeowners an end-to-end solution in four steps. Beginning with a feasibility evaluation, they assess the property for accessory dwelling unit (ADU) construction. Once feasibility is confirmed, clients design the ADU and sign a construction contract. ADU Builder handles building permits and construction, employing prefab and modular methods. After completion, they assist with rental management or hand over the keys. ADU Builder combines cutting-edge "tiny house" design with prefabricated materials to construct aesthetically pleasing two- and three-bedroom living spaces efficiently.
Highlights:
ADU Builder constructs in-law units at no upfront cost.
Generate extra monthly income and increase property value.
Contribute to affordable housing in your community.
Cutting-edge "tiny house" design for efficient and aesthetic construction.
Utilizes the latest prefab and modular construction methods.
Arteaga Construction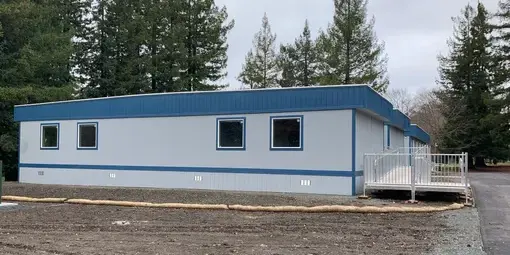 Arteaga Construction, a seasoned general contractor, excels in residential and commercial construction and remodeling. With expertise in various projects, from homes to modular buildings and concrete construction, they blend precision and craftsmanship. Specializing in modular buildings, they offer cost-effective solutions for homes, offices, classrooms, and more. In concrete construction, their meticulous attention ensures durability and aesthetic appeal. The company's commitment to client satisfaction is evident in its extensive services, transparent communication, and exceptional results.
Highlights:
Residential, commercial, modular buildings, and concrete construction.
Specialized in efficient and cost-effective modular building construction.
Extensive experience in foundations, driveways, patios, and more.
From electrical installations to lighting design and maintenance.
Transparent communication, skilled professionals, and outstanding results.
Roof and Realm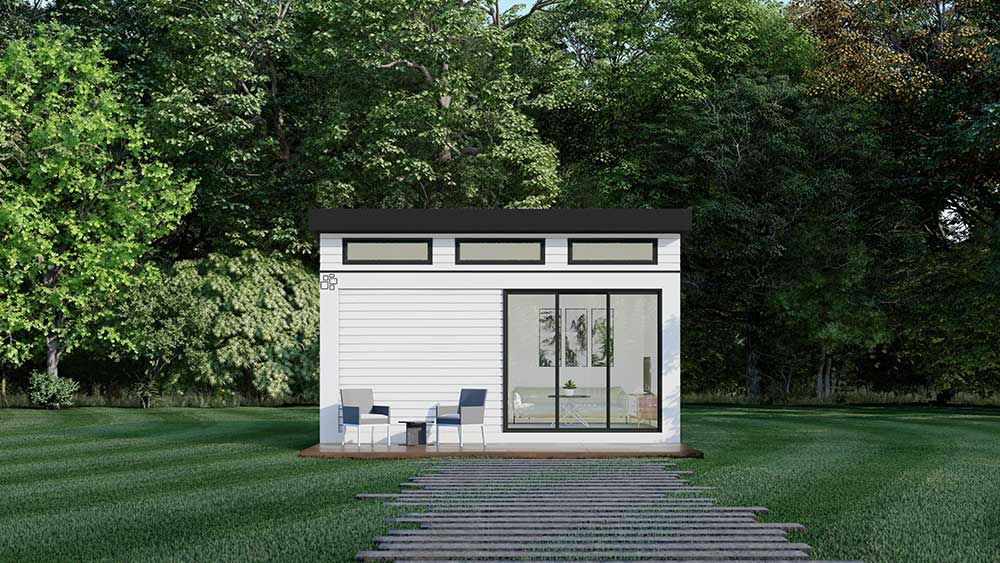 Roof and Realm, California's premier modular home provider, blends style and quality in customizable residences. They offer tailored solutions from compact accessory dwelling units to spacious multi-use structures. The expert team ensures functional, aesthetically pleasing homes with quick, efficient installation. The flagship Realm Series emphasizes wind, fire, and earthquake resistance. Utilizing steel frames, their homes are fire, earthquake, and wind-resistant. Sustainability is prioritized with 98% recyclable materials and 67% less energy usage. With a six to eight-month construction process, Roof and Realm provides an affordable, efficient alternative.
Highlights:
Thoughtful spaces with every amenity for a comfortable home.
Handles all stages, from permits to installation, for a seamless experience.
Completes the entire process in six to eight months, ensuring efficiency.
Requires little money down, with lower monthly payments than traditional builds.
Offers architectural styles focusing on wind, fire, and earthquake resistance.
MyADU4Less
MyADU4Less, a premier design and build firm, specializes in prefabricated Accessory Dwelling Units (ADUs) across Southern California. Using Manufactured, Modular, and Tiny Homes, they provide faster, cost-effective, and less disruptive construction. Offering full service, all-inclusive pricing, and assistance with funding, MyADU4Less builds faster, better, greener, and for less. Their process includes a free virtual site assessment, streamlined design, and efficient construction phases.
Highlights:
Specializes in prefabricated ADUs
Full-service design and build firm
All-inclusive pricing with funding assistance
Faster, better, greener construction
Streamlined ADU construction process
Gal Industries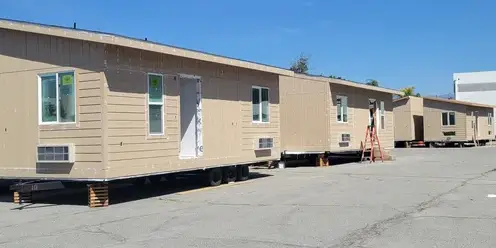 Gal Industries is your trusted dealer for modular buildings, catering to various public and private industries. With direct connections to manufacturers of portable office buildings and ADUs, Gal Industries offers commercial projects that encompass new construction and repairs/restorations. They provide end-to-end client experiences with seamless communication, budgeting, staffing, on-site organization, and quality handiwork. Collaborating with architects and designers, Gal Industries produces beautiful, functional structures, making them the ideal choice for your next project.
Highlights:
Trusted dealer for modular buildings
End-to-end client experience with seamless communication
Collaborates with architects for beautiful, functional structures
Expertise in commercial real estate, custom offices, communities, and retail parks
Extensive experience in remodeling and restoring educational institutions
Bevyhouse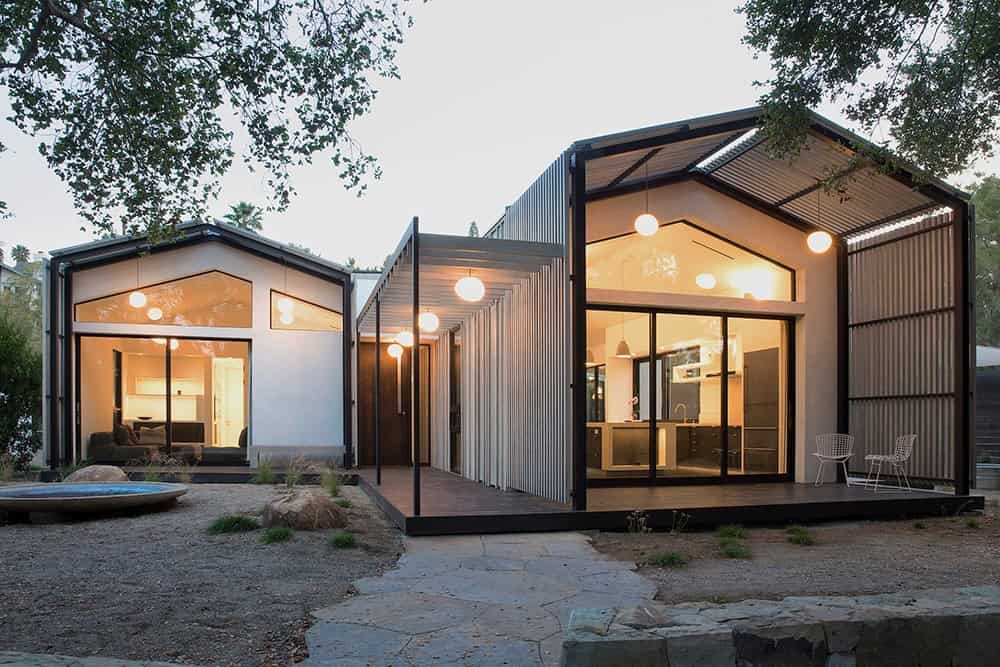 Bevyhouse, located in Southern California is a leading custom modular home company revolutionizing home construction. Tackling the inefficiencies of traditional custom homebuilding, Bevyhouse seamlessly pairs design with prefabricated, modular construction. Their Modular Design System (MDS) allows infinite customization, minimizing waste and maximizing efficiency. Bevyhouse offers a range of custom projects, from single-family homes to multi-family buildings and ADUs, combining quality design with factory construction benefits.
Highlights:
Custom modular homes revolutionizing traditional home construction.
Modular Design System (MDS) for infinite customization and efficiency.
Specialized in custom homes, multi-family buildings, and ADUs.
Turn-key design and construction with direct client engagement.
Streamlined process from design and permitting to delivery and installation.
ADU Resource Center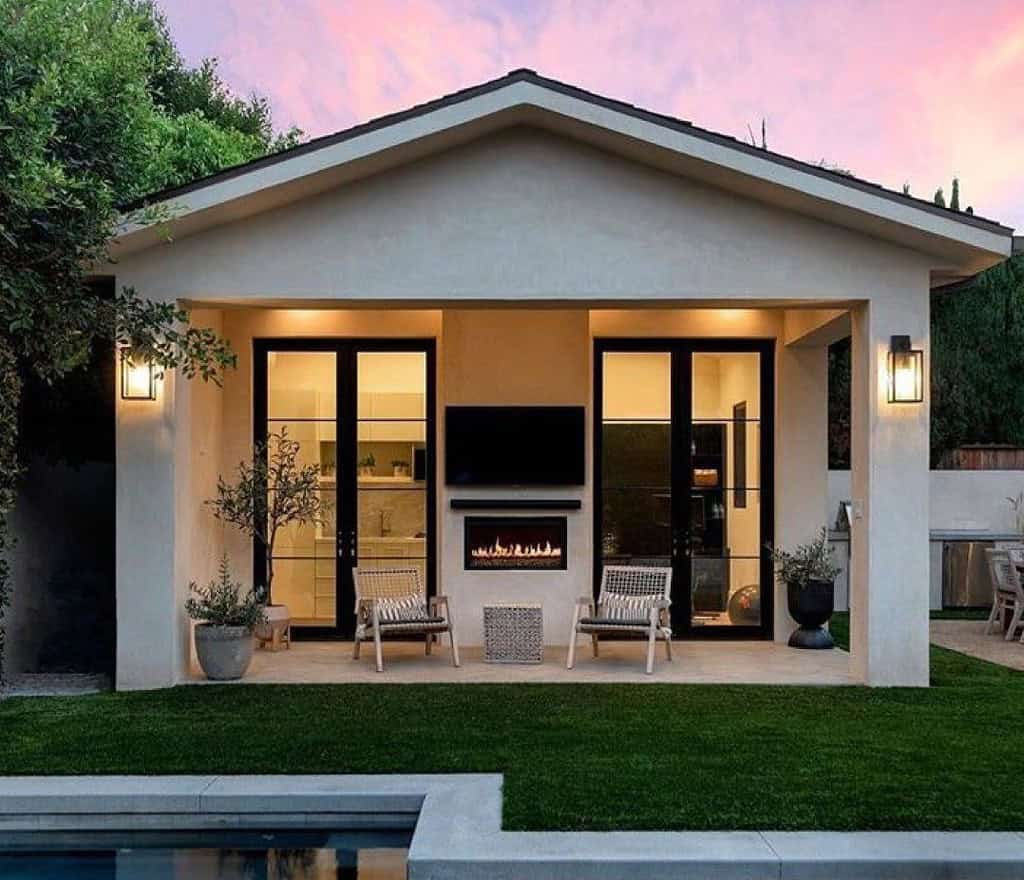 ADU Resource Center, a leading ADU design company with licensed and bonded general contractor partners, is dedicated to addressing California's affordable housing crisis. As a "One-Stop Shop" for ADU projects, they offer comprehensive solutions, including financing programs, designers, architects, permit expeditors, and general contractors. With over 265 projects in progress, ADU Resource Center ensures an effortless ADU building experience, providing valuable information on size limitations, parking guidelines, cost estimates, financing options, and more.
Highlights:
Leading ADU design company with licensed general contractors.
"One-Stop Shop" for ADU projects, offering comprehensive solutions.
Over 265 projects in various stages, dedicated to solving the housing crisis.
Free consultation to maximize space and explore financing options.
Licensed and bonded partner general contractors, turn-key services, and value engineering.
Positive Homes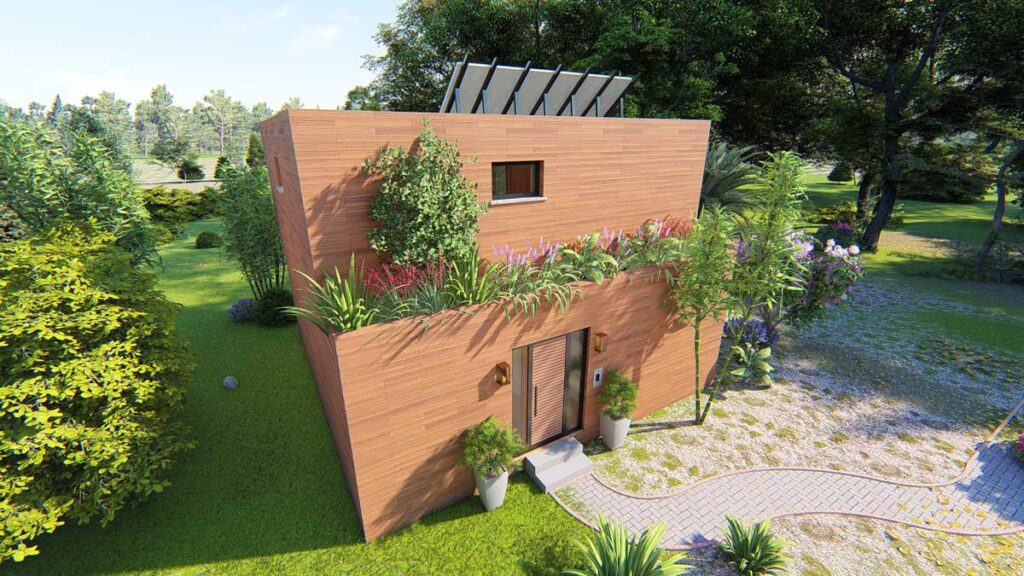 Positive Homes, your new home solution, brings you prefabricated, modular, sustainable, and healthy living. Energy-efficient residential homes are custom-manufactured using innovative techniques. With a holistic focus on tenant well-being, Positive Homes offers ADUs, Wood Houses, Tree Buildings, and Custom Houses. The company conducts geopathic stress and electrosmog audits, aids in property acquisition, and provides predesigned plans. From permitting to construction, they ensure eco-friendly, energy-efficient homes delivered with supervision for optimal health and comfort.
Highlights:
Prefabricated, modular, sustainable, and healthy living.
Innovative techniques for energy-efficient custom homes.
ADUs, Wood Houses, Tree Buildings, and Custom Houses available.
Geopathic stress and electrosmog audits for optimal health.
Comprehensive services from permitting to construction, emphasizing well-being.
Boss Tiny House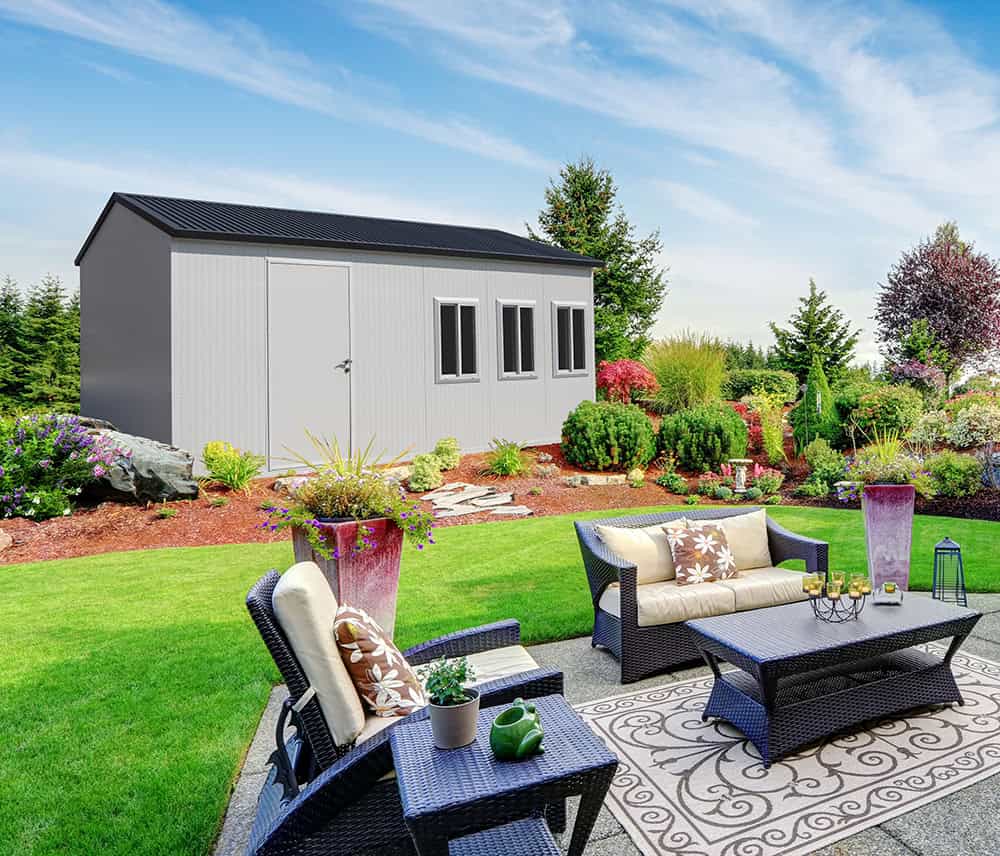 BOSS Tiny House, a leader in manufacturing high-quality ADUs, Studios, and Backyard Spaces, offers innovative Built on Site Systems for added space, investments, or off-grid living. With a 20-year legacy, BOSS ensures consistent quality through automated assembly and meeting international and California building codes. Designed affordably, BOSS leverages technology for factory-direct pricing, blending efficiency, and affordability. BOSS revolutionizes construction, replacing outdated methods with eco-friendly Built On Site Systems, utilizing steel framing for sustainability. Their panels, fully fabricated with recycled plastics, make assembly easy and environmentally conscious.
Highlights:
Industry leader in high-quality ADUs, Studios, and Backyard Spaces.
20 years of expertise in automated assembly for consistent quality.
Affordable and code-compliant with international and California standards.
Eco-friendly construction with steel framing and recycled plastic panels.
Circular economy approach, utilizing 35% recycled plastics in panels.
Framework First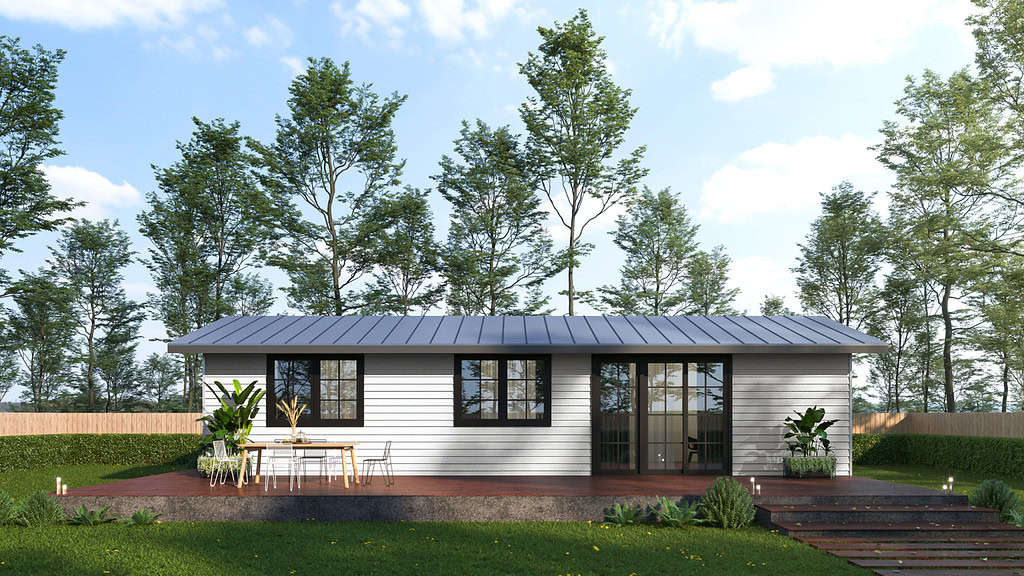 Framework First, a family-owned company with over 40 years of building experience, specializes in prefabricated Accessory Dwelling Units (ADUs). With a vision to provide, educate, and service, they offer 100% Done-for-You ADUs, built stronger and faster in their factory. The process ensures fast delivery to your backyard in under three months from city approval. Framework First promises quiet construction, 24/7 support, and ADUs as assets for income generation and property value increase.
Highlights:
100% Done-for-You ADUs for faster and stronger construction.
Prefabricated ADUs delivered in under 3 months from city approval.
Step inside your home before purchase, enhancing the buying experience.
An asset that generates income and increases property value.
Framework First ensures the quietest construction, leaving loud processes in their factory.
Lim Living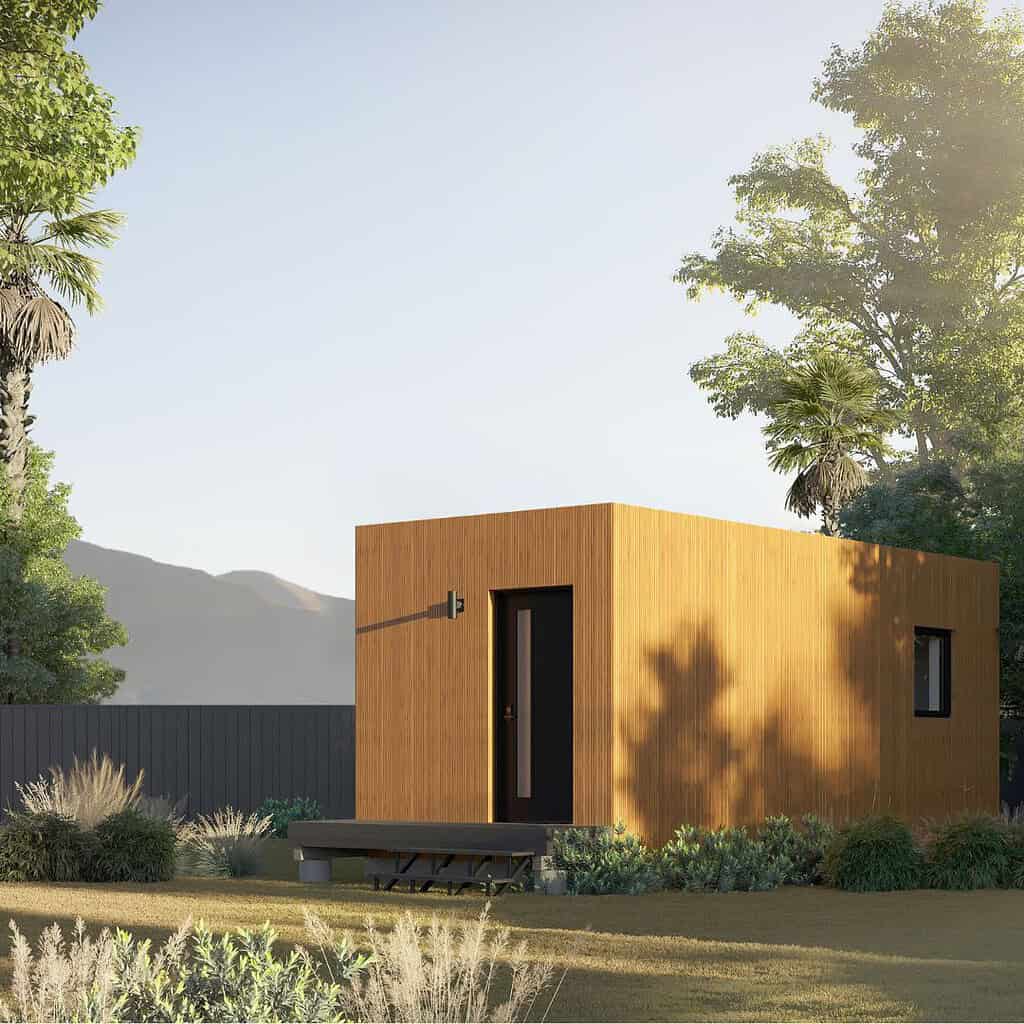 Lim Living offers two models, the Mini and the Studio, providing an easy-to-assemble and sustainable prefab ADU installed in 14 days or less. The compact Mini is perfect for a backyard office, while the Studio, with a wetroom, kitchenette, and sleeping section, is ideal for short-term rentals or guesthouses. Customizable for various needs, these ADUs contribute to sustainable housing, reduce the world's carbon footprint, and are designed for a simple assembly process.
Highlights:
Mini: Compact for a backyard office or personal space.
Studio: Stylish with a wet room, kitchenette, and sleeping section.
Versatile usage: Office, guesthouse, or an income-generating rental.
Eco-friendly: Built with essentials, sustainable materials, and a smaller footprint.
Simple assembly: Prefabricated models designed for quick on-site snapping.


Plant Prefab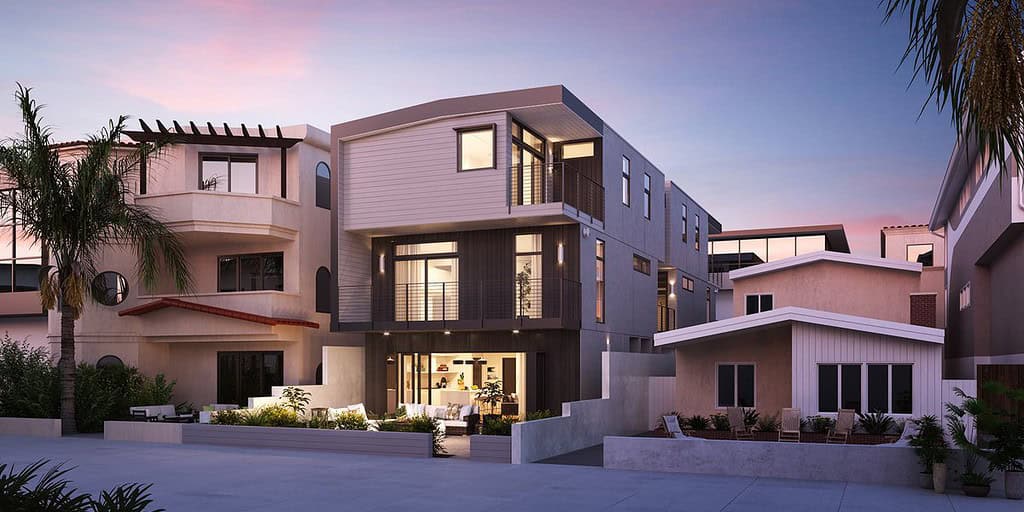 Plant Prefab pioneers innovative offsite construction, delivering housing and hospitality projects with industry-leading speed, quality, and sustainability. Their virtual design and construction (VDC) process, powered by automation, ensures precise coordination from design to production. With over 15 years of experience, their panel-based building system offers tailor-made solutions, making them leaders in advancing residential construction. Plant Prefab is a seamless extension, supporting projects from design to installation.
Highlights:
Innovative offsite construction for faster, sustainable housing.
Virtual design and construction process for precise coordination.
State-of-the-art factory with advanced manufacturing for quality and speed.
Over 15 years of experience in diverse construction projects.
Panel-based building system for flexible, tailored solutions.
The Home Gallery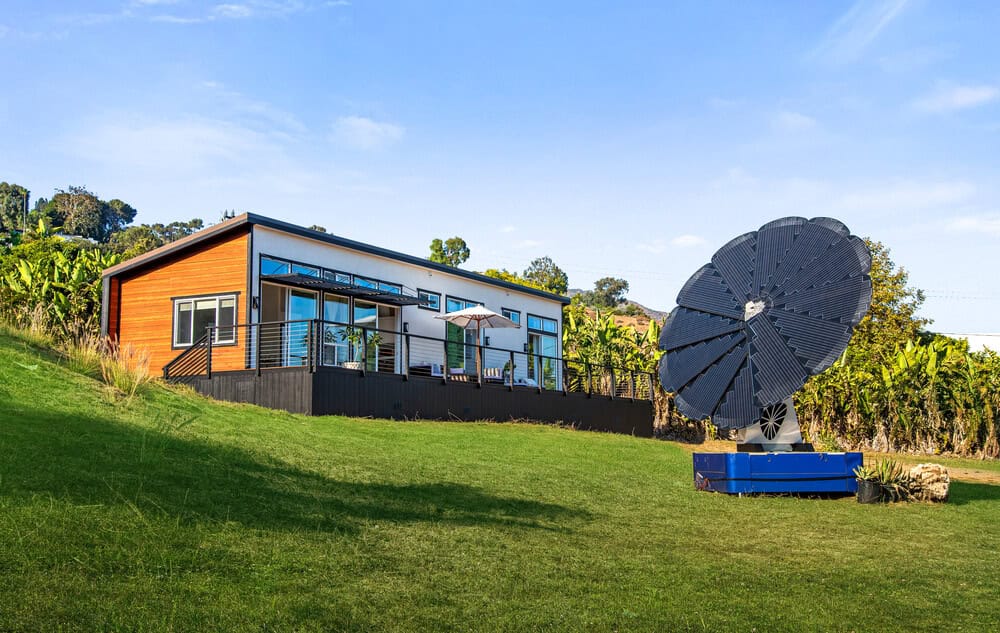 The Home Gallery, a dedicated team, curates a revolutionary collection of factory-built homes. Initially designed for mobile homes, the HUD-manufactured building code has evolved into a sophisticated building class. Precision-engineered and pre-approved designs allow construction inside a factory, ensuring inspections at every step, shorter build times, contemporary style, and high-end materials. With a commitment to sustainability, carbon credits offset emissions, making homes beautiful, functional, financially attainable, and environmentally friendly.
Highlights:
Precision-engineered, pre-approved designs for efficient, factory-based construction.
Modern, open-concept layouts with high-end materials for aesthetic appeal.
Carbon credits offset emissions, making homes environmentally friendly.
Shorter build times, inspections at every step, and less waste during construction.
Cost-effective homes, meeting the same standards as traditional construction.
Mana Constructions Inc.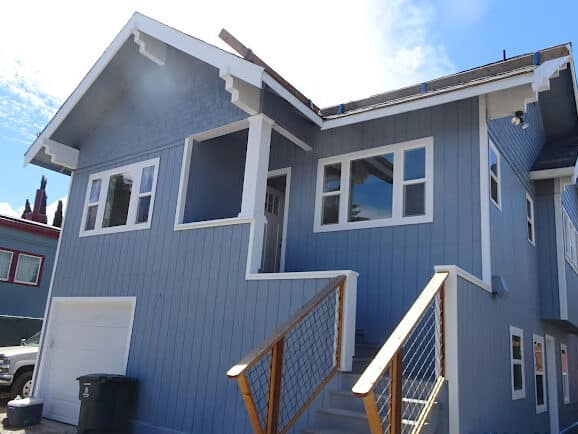 Mana Constructions Inc. is your trusted partner for quality, reliable, affordable construction services. Specializing in home remodels, additions, and general construction, they offer various services, including carpentry, plumbing, electrical work, landscaping, painting, drywall repairs, and flooring installation. With a commitment to integrity and expertise, Mana ensures a seamless building process, providing turnkey capability for new homes, including foundation, framing, electrical, plumbing, HVAC, stucco, drywall, and paintwork.
Highlights:
Quality construction with skilled professionals.
Comprehensive services from remodels to new builds.
Efficient turnkey capability for new home construction.
Family-owned with a focus on customer satisfaction.
Commitment to integrity, respect, and top-notch customer service.
Crest Backyard Homes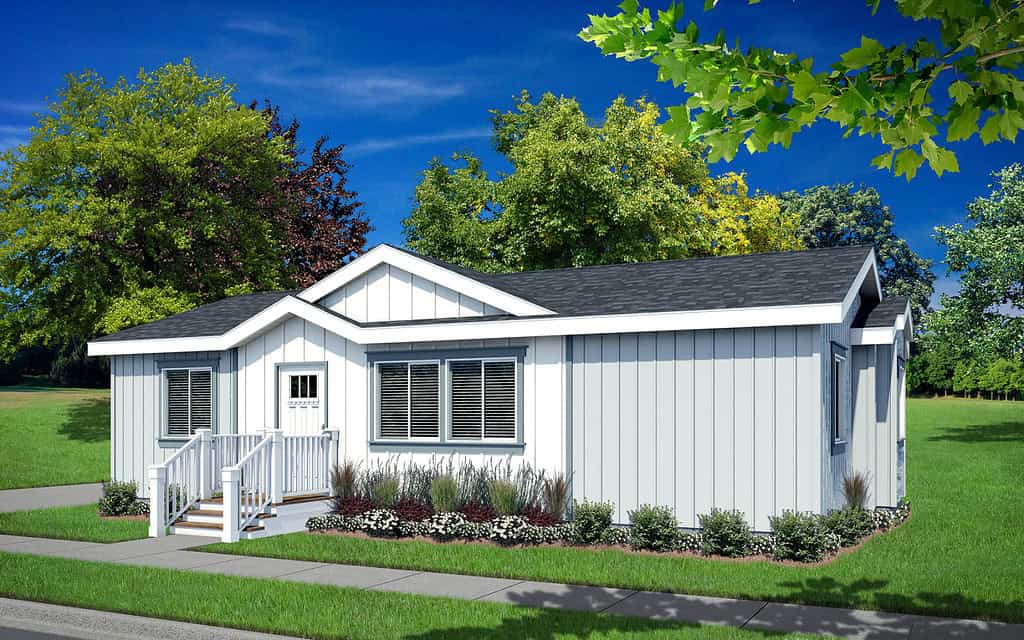 Crest Backyard Homes, San Diego's premier ADU builders, specializes in crafting innovative and high-quality prefab ADUs to maximize property potential. With over 4 decades in the manufactured home business, they offer tailored solutions for various needs, from granny flats to multi-generational housing. Crest Homes provides a seamless process from design to installation, ensuring your prefab ADU enhances property value and supports modern, sustainable living.
Highlights:
Specialists in prefab ADUs for expanded living or rental income.
Tailored solutions for granny flats, multi-generational housing, and more.
Over 4 decades in the manufactured home business.
Seamless process from design to installation for enhanced property value.
Prefab Homes & ADUs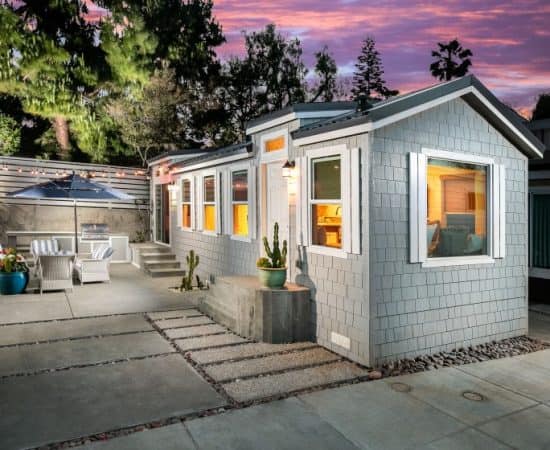 Prefab Homes & ADUs offer a faster and cost-effective solution for home expansion. Using the same materials as site-built homes, prefab construction ensures timely completion, resulting in savings for Northern California residents. Environmentally conscious, these homes reduce waste through material recycling. Prefab ADUs in California provide additional income, livable space, and flexibility, emphasizing cost and time efficiency.
Highlights:
Timely completion and cost savings for Northern California residents.
Environmentally sustainable with material recycling.
Comprehensive approach with 30+ years of general contracting experience.
Prefab ADUs offer rental income, additional space, and customization options.
Cost-effective with a range from $300-$350 per square foot, including plans, permits, delivery, and installation.