Manufactured homes are primarily made of wood framing and building boards all padded with fiberglass insulation and securely fastened over a steel chassis. Beyond this framework, its other materials and components are the same as any other home just as how roofing, flooring, wall paint and utilities are made of.
Here's an overview of the factory processes by leading U.S. home manufacturer, Clayton Homes: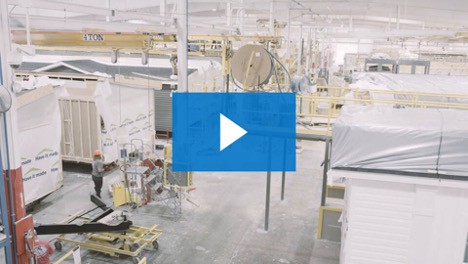 For the most part, manufactured homes comprise the same materials site-built or "stick built" homes are made of. A typical unit would consist of the following materials: (1)
Lumber Framing
Fiberglass Insulation
Electrical Wiring
PVC or Chrome Plumbing
Wood Flooring
Primarily centered on lumber framing, this makes manufactured homes lighter and quicker to build, therefore cheaper to own. Obtaining top quality building materials comes out more cost effective as these manufacturers are able to buy them in bulk. With prefabricated construction booming, there are a plethora of home centers that give a variety of material options from your floors, walls and roof.
Below is a graphic illustration summarizing the contents of our manufactured home's frame and walls.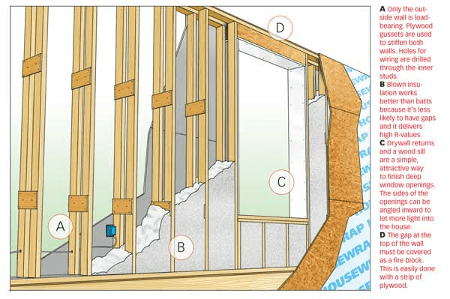 Breaking Down Building a Manufactured Home
The main difference of manufactured homes is that they are primarily built with a steel or wood frame, packed with layers of insulation. There are no reinforced concrete manufactured homes using cement, stone or brick.
Check out these images below of manufactured homes being made in a factory, showing the meticulous step by step process and straight line assembly that keeps all units uniform and efficient.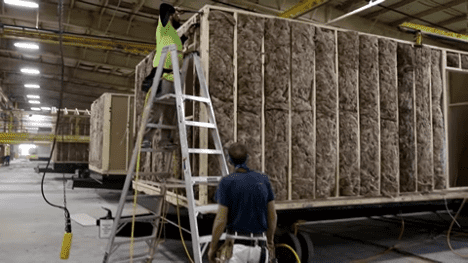 The wooden floor frame and plumbing are then assembled after. Here one can choose if your flooring will be wood, laminate, carpet or tile, depending on the area or style. Some finishes may entail a premium upgrade. (3)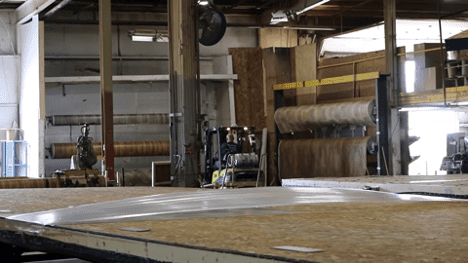 Your walls will definitely be lighter, of drywall or wall panel boards, however when it comes to its finishes, it goes the same as your traditional homes with the choice of paint, plaster finish, tile or vinyl laminate.
Being assembled through a factory line up, building a manufactured home is very systematic and needs to go through a sequence to come out the most efficient. The interior walls are first put up followed by the cabinets and appliances. The exterior walls will be lifted into place with the factory ceiling's track system. Afterwards the insulation and electrical wiring are installed into the walls. (3)
Finally the roof is placed on and comprises just the same as any home:
"The truss system is adhered to the ceiling gypsum, and a laminated ridge beam and structural lumber headers support the trusses over any openings." (3)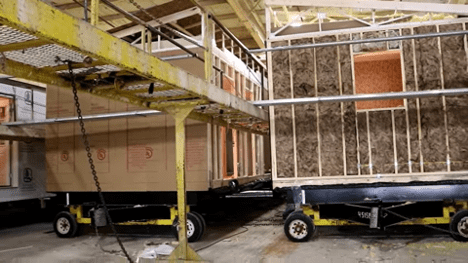 The lighting is then installed and the roof is placed and attached onto the home. Lastly all sides of the truss system are sealed with the insulation blown in, with the ceiling painted to finish the home.
The finishing touches include adding the shingles, siding, doors and windows. Once that's all done the home is wrapped for safe transport to the home site.
Each home's interior is unique depending on the homeowner's style preference and budget. This is when it's so close to stick built homes you just need to choose the materials! The colors of your walls, floor and counter finishes will be different. You might also opt to add in a fireplace, a giant bathtub, chef kitchen island, built-in shelves for a home library or surround sound speakers for a home theater — all depending on your dream home vision. (3)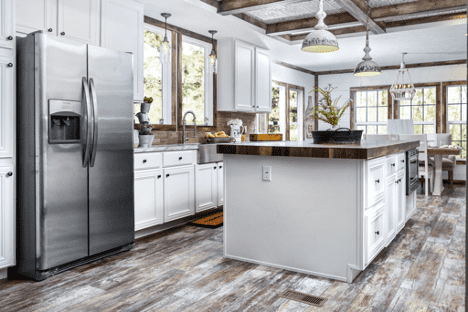 The Details Behind Manufactured Home Building Materials
The sweet deal homeowners score with manufactured homes is getting top quality building materials at bulk wholesale price. All materials guarantee a quality performance and come with their own warranties.
This quality trickles down to even the accessory building materials like the roof's waterproofing layers, flashing, caulk sealants, faucets and hardware.
With the prefabricated industry rapidly growing, several lightweight, cost effective materials are being introduced. For flooring options, they have different options like Luxury Vinyl Tile (LVT) and Vinyl Composition Tile (VCT). Roofing can be of traditional material or asphalt lining made from organic felt. (4)
The walls of manufactured homes are often "Vinyl on Gypsum" or VOG walls. These are lightweight building boards that are easy to assemble and personalize.
An analysis of these boards below by That Kilted Guy shows before cutting away at your home walls for repair, make sure to know what type of wall you have. (5)
You may have a drywall gypsum inner core with brown paper backing and at the front you'll have a brown paper layer with a white paper layer on top.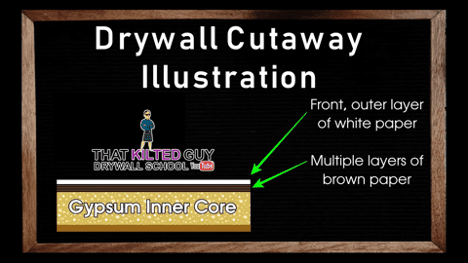 Compare it to your VOG where the vinyl replaced the white paper directly glued to your brown paper layer. So cutting away at this one below will go directly into your gypsum core.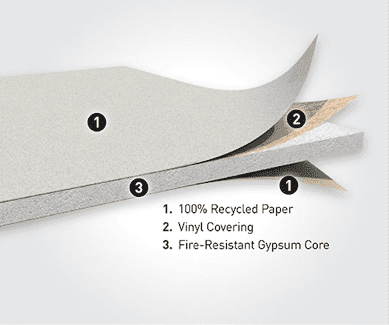 More detail on just the walls in our piece, What are Manufactured Homes Walls Made Of?
References: