Manufactured homes made after 1994 are built just as strong as site built homes to withstand a hurricane, and actually in some cases stand more resilient. This is because these manufactured homes are all strictly inspected and built to the U.S. Department of Housing and Urban Development (HUD) Code standards for approval before being shipped out of the factory. All homes must conform to these building requirements to resist wind speeds according to their locational wind zone.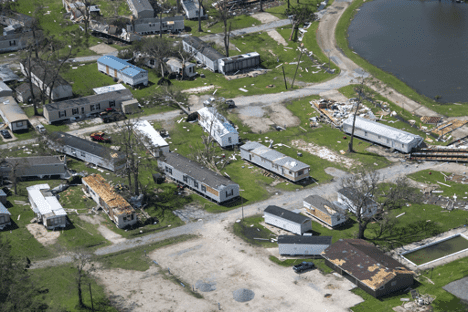 What Makes These Manufactured Homes Strong?
"The standards for manufactured housing are subject to robust compliance and quality assurance regulations, sometimes more stringent than those for traditional site-built homes,…The building materials in today's manufactured homes are the same as those used in site-built homes. The homes are engineered for wind safety based on the geographic region in which they are sold."
Richard Jennison, President and CEO of the Manufactured Housing Institute.
This is why you'll find how some manufactured homes perform better in hurricanes than some site built homes. Site or "stick-built" homes are less strict as they only follow regional and national building codes, making these more general. (1)
Manufactured homes on the other hand are built more site specific and are forced to comply with strict building standards according to their wind zone. Hurricane prone areas are designated as Wind Zones II and III on the HUD Basic Wind Zone Map.
Being under the careful watch of the HUD (U.S. Department of Housing and Urban Development), manufactured homes are constantly evolving to improve their structural strength and integrity. In 2007, the federal government added requirements in having all joinery installation and anchoring abide by windstorm standards. On top of this, individual states can separately impose any other additional structural requirements beyond federal standards, perhaps according to their soil type or climate.
With this continual improvement, the Insurance Institute of Business and Home Safety (IBHS) found that manufactured homes actually withstand strong winds better than stick built homes. This test was conducted in 2014 and the IBHS also found that it was accessories that were improperly installed that comprised 80% of the damage. This would be your additional attached structures like your carport, or awning, porch roof, etc. (1)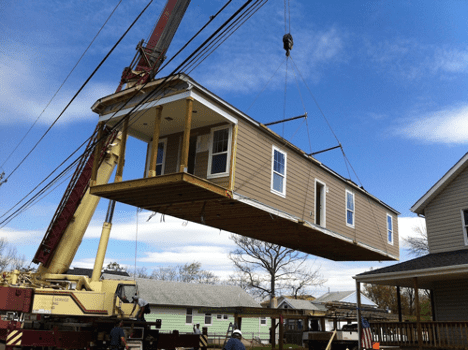 Hurricanes aside, manufactured homes are designed to withstand being transported as a whole, from the factory to your site. This means having to endure the following: (2)
High Winds (caused by the natural weather or speed of vehicle on a highway)
Constant Vibration (the natural movement of the truck when transporting the home)
Bad Weather (Rain, Mud, Hail, Sleet, Snow)
Flying Objects (Rocks, or flying debris hit or thrown out by other vehicles or people on the road)
Extreme Shifts in Weight Distribution (due to sharp turns and braking or steep climbs)
Bumps & Dips (an unexpected pothole, rough or old pavement, an uneven terrain or abrupt bump in the road)
This is why regular inspections by the HUD and manufacturer are done several times:
During construction and assembly
When the home is complete and before the home leaves the factory
Final full check and walkthrough on site
They need to ensure all joinery, materials are of high quality and performed to code. This also creates competition amongst the top home centers in the quality and safety they provide. These extra considerations, site built homes wouldn't have to factor in not needing to experience the transport and checks by the HUD. (2)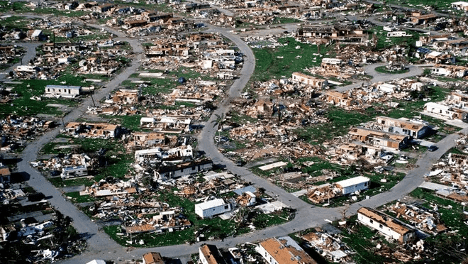 When Hurricane Andrew hit Florida in 1992, several building regulations were revised. This storm was Category 5 strong, destroying not only homes but entire neighborhoods, causing $25 billion in damage and 250,000 people homeless.
Having destroyed 90% of mobile homes, the Department of Housing and Urban Development realized that having the same building standards applied across all regions nationwide needed to be addressed. Hurricane prone areas with higher winds needed more stringent building standards. Therefore in 1994, manufactured homes began building according to wind zones as part of complying with wind safety standards. (2,3)
"Changes for homes placed in Zones II and III included building requirement updates such as revised foundation specifications and wall framing that allows for the installation of hurricane shutters." (3)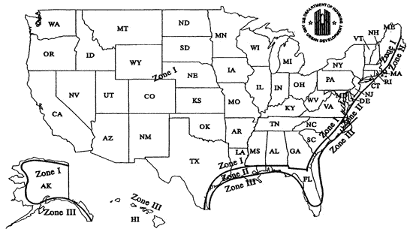 There are three wind zones on the HUD Wind Zone Map. The higher the number, the faster the wind speeds. Notice that the more prone areas, Wind Zones II and III are near coastal areas, therefore being more susceptible to weather disasters. Homes built for Wind Zone 2 must withstand a wind speed of 100 miles per hour, while those in Wind Zone 3 should be able to take up to 110 miles per hour. (1)
Find out what the wind zone your home is built for by checking your "data plate". This is an information sheet for all manufactured homes built after 1976 typically found in the home.
Sadly there are still several manufactured homes built before these building regulations for wind safety were enforced. Therefore they may be more susceptible to their roofs flying off. If this is your situation or live in a home park, make sure there's an evacuation center you can retreat to for your own safety. Your home may be structurally sound but the one next door may have some parts loose! (4)
Have Your Home Hurricane Ready
Even if your home is newly built and is clear from hurricane season, it's good to be prepared on how to keep your home safe in times of a calamity: (3)
Board up your windows and install hurricane shutters where you can.
Ensure all your tie-downs and anchoring points are secure (you can have an inspector check this).
Place sandbags under your doors.
Keep away any loose items such as furniture, hanging lamps from your outdoor spaces like patios and porches.
Evidences of Hurricane Resistance
After the amendments on the building standards made in 1994, manufactured homes now stand more resilient against hurricanes. Here are examples of when they have stood the test of time: (3,5)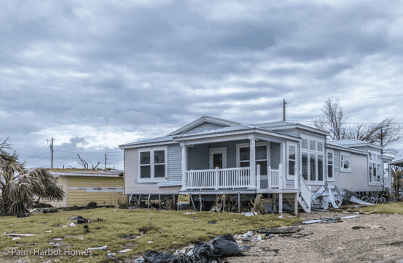 Hurricane Charlie, Frances, Ivan and Jeanne (2004)
Storm in Florida with 120-150 miles per hour winds
Hurricane Charlie lasted 6 weeks at 145 miles per hour winds
Billions of US $ in total damage
Hurricane Katrina (2005)
Storm in Florida with 75 to 115 miles per hour winds
Hurricane Ike (2008)
Storm in Texas with 110 miles per hour winds
Manufactured Homes mostly underwent damage on the roof covering, carport and other accessory structures but not the home itself.
Hurricane Irma (2017)
Storm in Florida with 130-140 miles per hour winds
Classified as Category 4 Storm
Hurricane Michael (2018)
Storm in Florida with 160 miles per hour winds
Approximately under 500 homes out of the 2,700 homes were left standing
Within these natural disasters cited above, Jacobsen Manufactured Homes remained standing through hurricanes 2004 and 2008. They showed no real damage to their structures. In 2004 they even took two direct hits in a span of 20 days and still stood strong. After assessment of the 152 manufactured homes in the area, no homes built after 1994 showed any serious structural damage. Palm Harbor Homes was among these homes that survived in Hurricane Michael.
"Research from the Insurance Institute for Business & Home Safety, a nonprofit organization, found that manufactured homes performed surprisingly well in the storm, and 80% of the damage homes sustained came from adjacent structures, not from failures in the home construction itself." (3)
Carports and your porch awnings may suffer a bit of damage as these structures are weaker in nature and built as an add-on. To give one greater piece of mind, see if your home dealer first sells you a home built after 1994 and lastly, ask for a track record of how their homes have performed in the previous hurricanes.
References: