Manufactured homes can have garages that are built-in to the home or as a separate structure completely. It can be bought with your new home or added later on. This needs its own foundation and permits by your local government in order to build.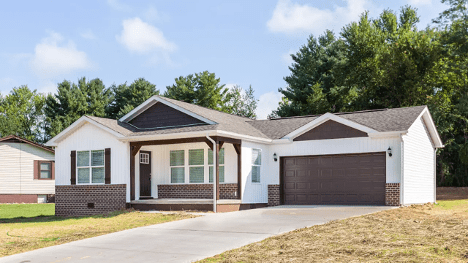 Having a garage is great for protecting your car from the weather and gives it great security. However, it also gives your home some more storage space and square footage, boosting your home's value. (1)
Consult with your  manufacturer early if your home model will be garage friendly or if they can provide options for these later on as add-ons.
Types of Garages for Manufactured Homes
Check out the options for a car garage you can avail of with your home.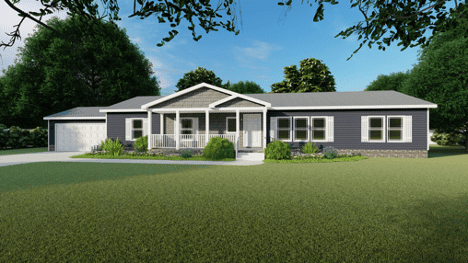 Attached Garage
These are permanently connected to your home. Therefore this requires more time as it entails planning at the design stage for the foundation, doors and walls to be coordinated. It also takes a larger initial capital to build the home that is harder to build out later on.
An "integrated garage" gives more focus to the exterior seamlessly blending  with the main house's design and shares a foundation and wall with the main home. Meanwhile, an "adjacent garage" is more seen as an add-on, having a completely separate structure. (2,3)  
If you have an existing home and still want this type of garage, have an engineer check the structural requirements needed to carry the garage. It's still possible to do but much more difficult. (1)
This can be already "pre-attached", in choosing a model with a garage already built in the floor plan or choosing models that can readily have a garage as an "add on" (3)
Detached Garage
These are free-standing structures built separately from the home. This means this can be added later on, should you want to grow your budget first or want to wait and see if you need it and expand your existing home. The downside would be being exposed to the weather to get to your garage. Perhaps you could have a covered walkway from the home's backdoor to the garage like below. (1)
If this is something you want for the future, make sure your home is situated in your lot to give space, in that it can still accommodate the future garage.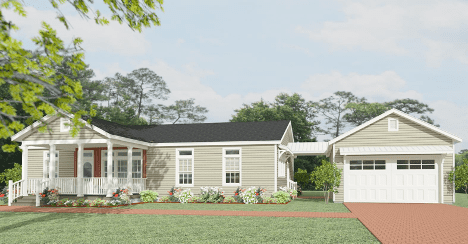 Carport
This is a semi-open space that may not have walls. A carport is an awning canopy placed over your driveway or yard, giving your car some protection from the weather. (3)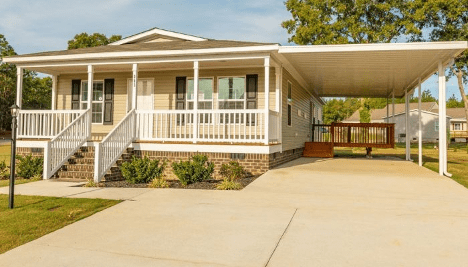 Maximize Building your Garage
Check the local rules and regulations on basements in your area. They usually need to be placed on a concrete slab and solid foundation. Basements stillneed their own paperwork, so work with a licensed contractor to make sure you're abiding by all zoning and local building regulations. (2)
Also check your land and lease agreement and community rules like from your subdivision or home park. Whichever type of garage you choose, you need a building permit and solid foundation so be sure to ask your contractor for assistance there.
A garage space can be used for much more than storage. It can be a guest house, kids playroom, workshop, man cave or decked out home office!
Let your imagination run wild with another space with a great door, well ventilated and is weather protected. (2)
It is best to go about adding a garage through the manufacturer you bought it from. They'll also notify you if you'll be breaching any warranties (especially if a third party attaches your garage).
(3)
Know that with the new HUD Code for mobile/manufactured homes, at least two exit doors to the outdoors are required for all homes. This does not include an exit door going in an attached garage, therefore in this premise one would need a third door. More tips on problems to encounter with garages at this site, Attractive Garage Additions for Manufactured Homes – Do It Right – manufacturedhomelivingnews.com (4)
References: