Approximately, you need six to eight 10 and 20 foot size containers, or two to three 40 foot size containers for a large three to four bedroom house. This makes the size more comparable to a traditional, stick built home. The combined width of two containers side by side gives a wider feel, farther from that of a narrow container home. Should one opt to downsize, several go for a moderate home size of two to three containers.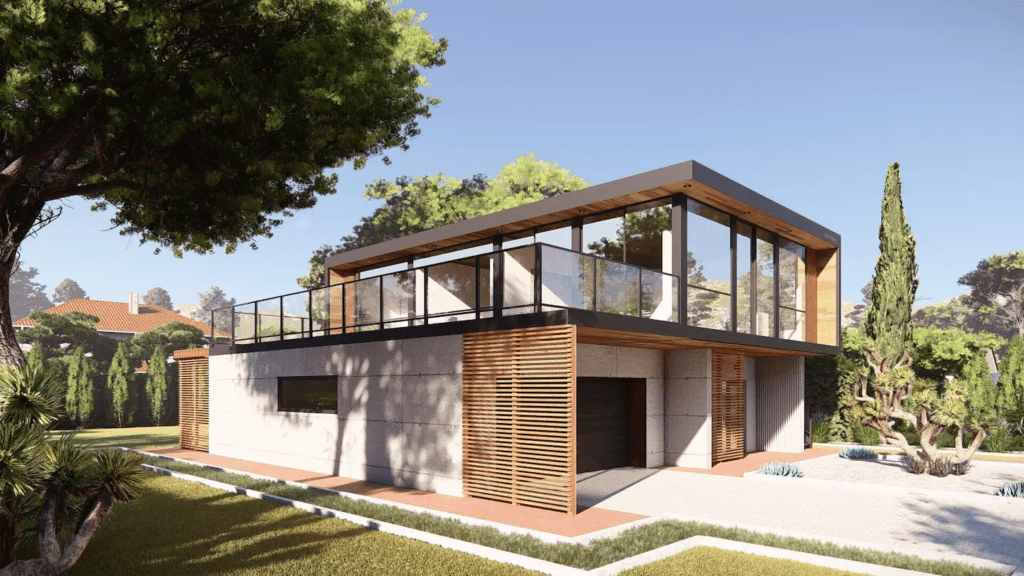 Your typical shipping containers come eight feet wide, by either 10 feet, 20 feet or 40 feet long. This generates an area of 80 square feet, 160 square feet and 320 square feet respectively. To put that into context, traditional, stick-built homes meant for families of three to five range from 980 square feet to 1,900 square feet.
Say you plan for a typical two storey home with eight containers of varied lengths, can easily get you a floor area of 1,000 to 2,000 square feet. (1)
If you're looking into the tiny house movement, a single container can comfortably fit you a studio or one bedroom home. This might look like the sample below.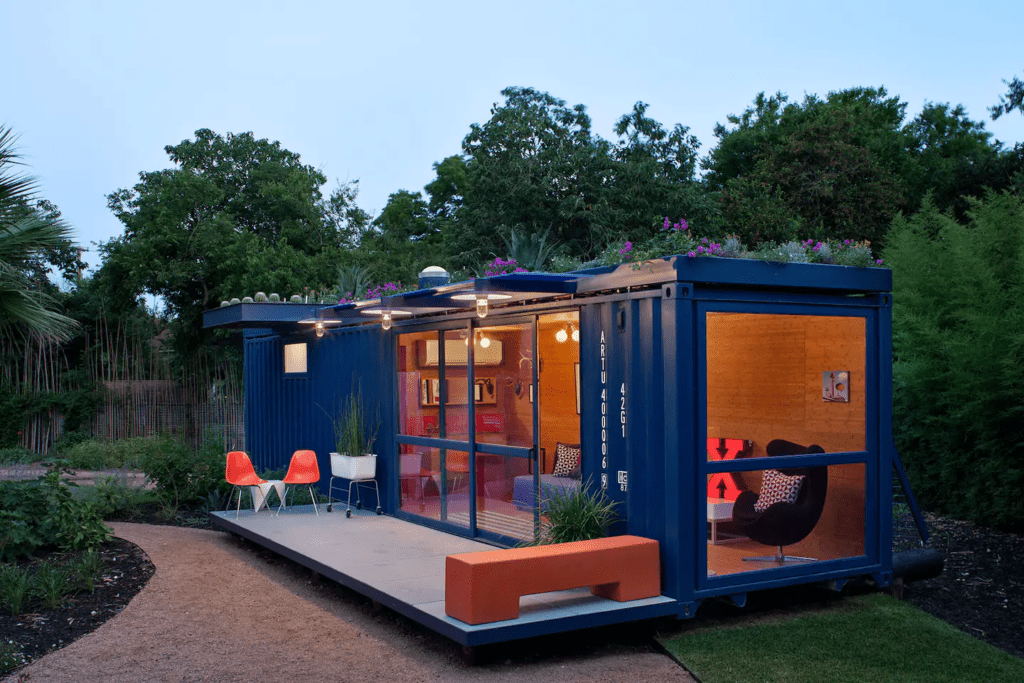 In this piece, we'll continue to compare the floor plans and exterior look of different shipping container homes. This will help get a better sense of what the space may feel like.
Several well designed container homes only make use of two containers. Some fantastical ones though have also used up to 14! Check out some of these designs here. Top 20 Shipping Container Home Designs and their Costs in 2022 (24hplans.com)
See also how, just because your home is built primarily with shipping containers, it doesn't have to give that industrial, corrugated look.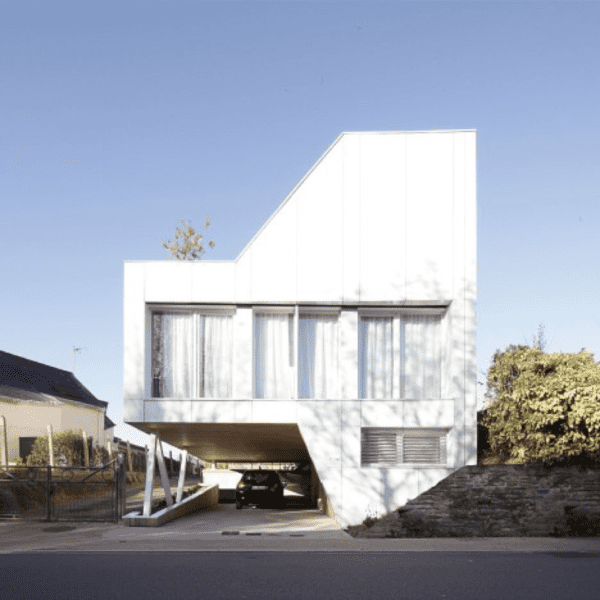 So if we're being moderate on the space and budget, having two to three 40 foot containers can already generate a good three bedroom home. However, a lot of the space feel will highly depend on the layout and how you manipulate combining the containers. (2)
The plan below shows a combination of containers without combining any widths. This creates a big floor area, but narrow spaces.
To get a better idea, compare this now to how it may feel like if you opt to combine the containers' width side by side. This is definitely a more boxy layout, but is practical in that it makes for wider rooms.
The example below is SG Blocks' Bluebell Cottage, a two bedroom unit using 40 foot shipping containers. (3)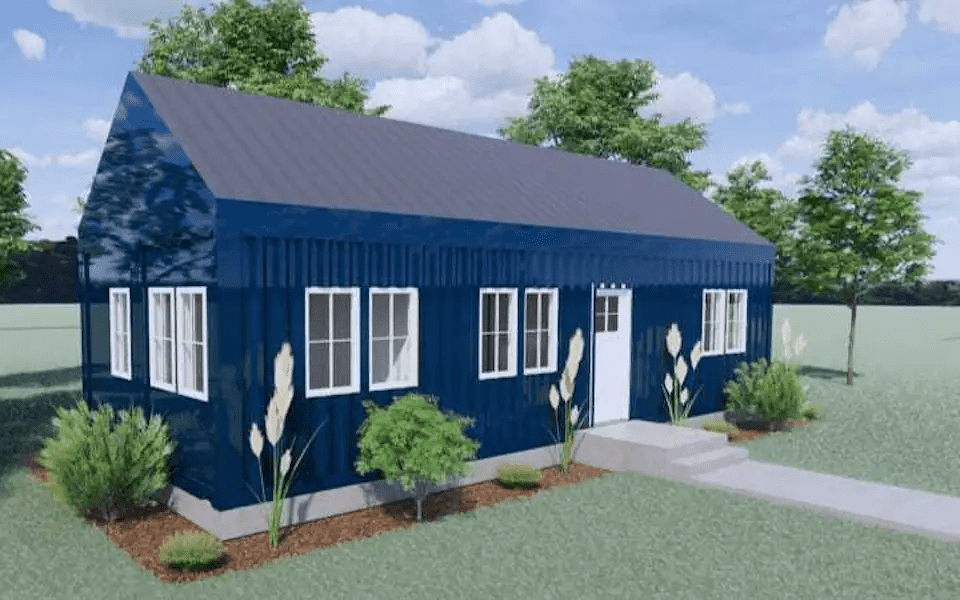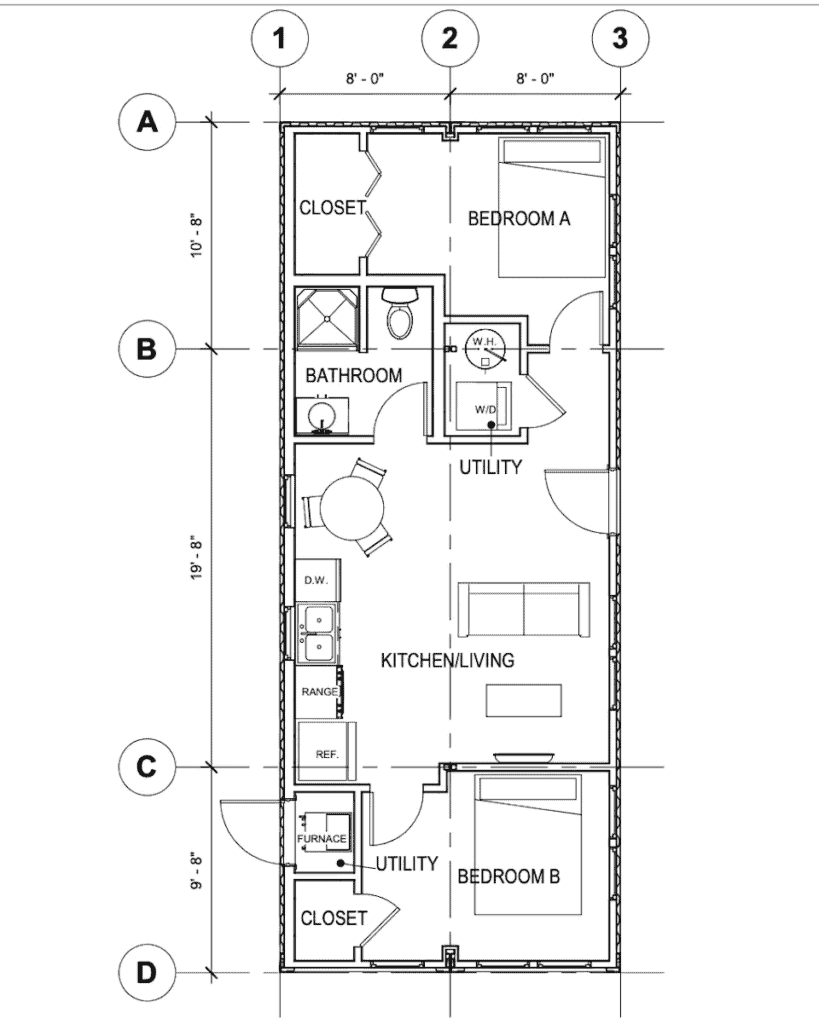 Take a look at this container home below by Backcountry Containers. It also uses two 40 foot shipping containers, but combines it with a connecting space (built probably with another material). This mediating space is to give off the feel of a traditional stick built home. It totals to a three bedroom unit. However, should you want to go for a home entirely made out of containers, the "great room" space in the middle can also be build with one to two containers shorter in length.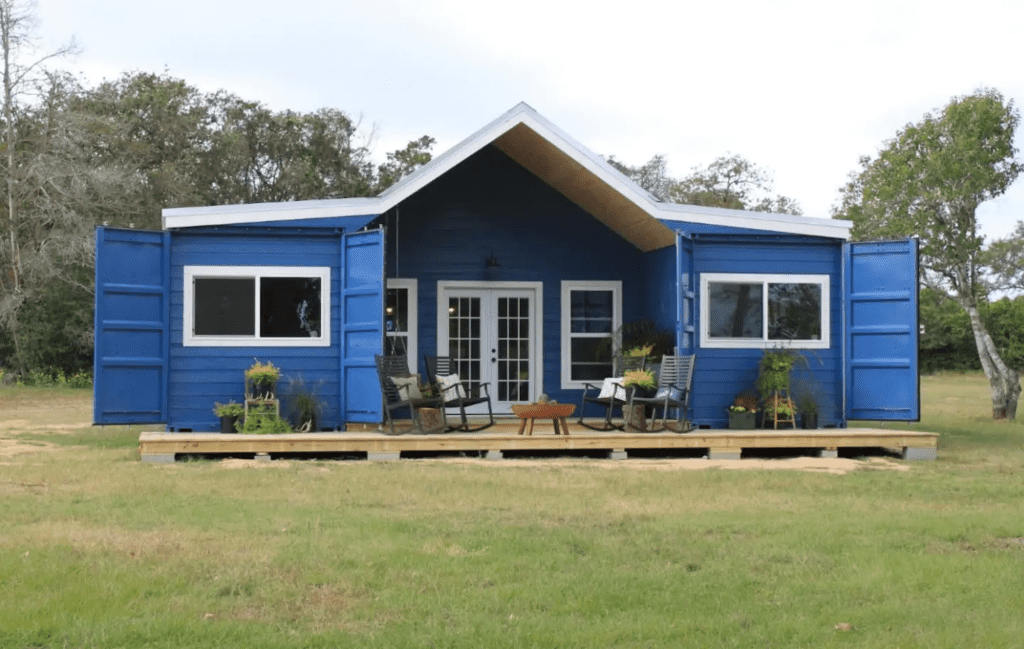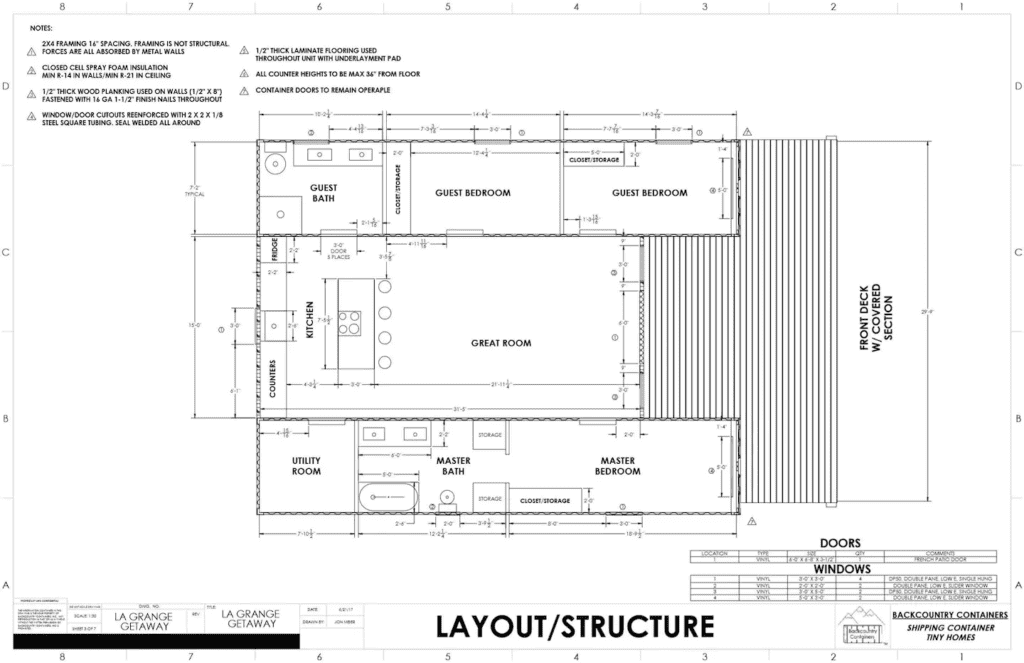 Below is another example to get an idea of how a two storey, eight container home may look like. This home is the HO8 by Honomobo, based in Canada. It is their largest unit having over 1,4000 square feet. (1)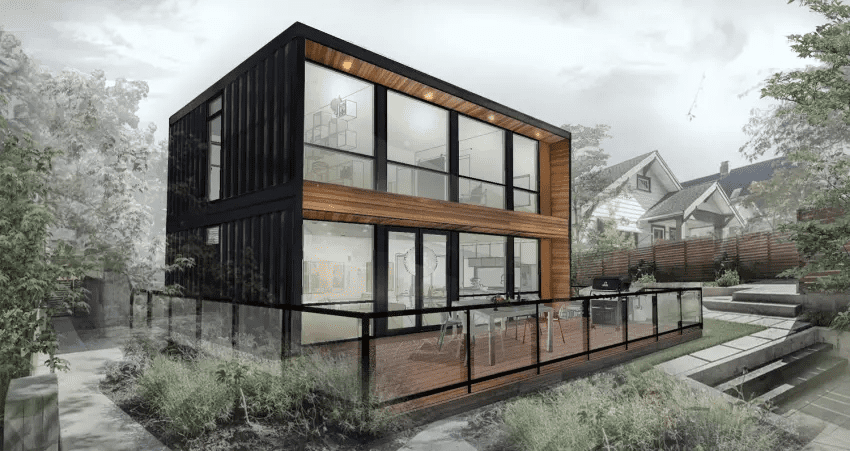 If you don't double up the width in combining two containers side by side, you'll definitely retain the feel of a tiny home or container home. A room with a container's width will either be having the bed length filling the entire width of the room, or, one will need to scale to a smaller sized bed to retain some walking space around it. 
Do not be deceived by several "floor plans for container homes" online. The drawing depicts that it can fit a bed with hallways on either side, but take any tape measurer or google "size of a queen bed" and keep in mind you only have eight feet to fill.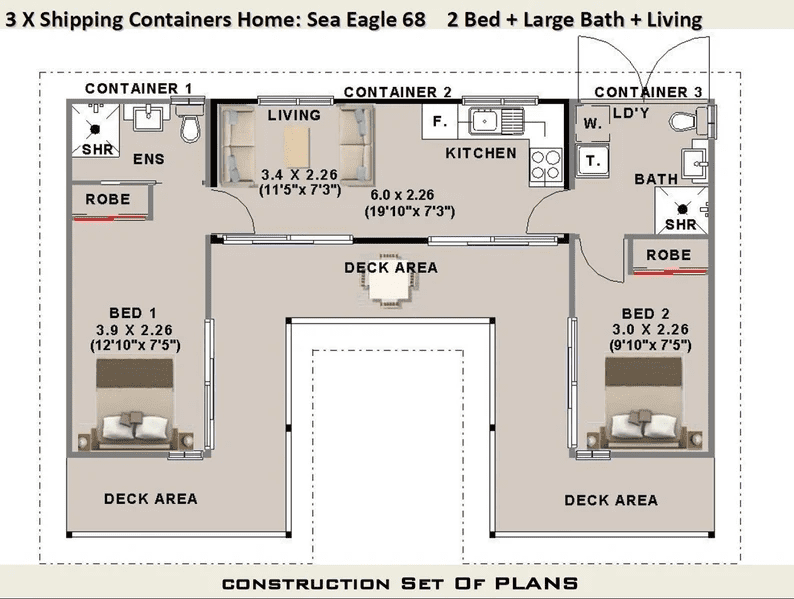 To get ideas on how containers can be configured, check out this website for floor plan ideas! 3 Bed Shipping Container Home Floor Plans (containerhomehub.com) 
Do note though that it is still highly recommended you get an architect to cross check these plans with your site's context, local rules and regulations, as well as space and budget requirements.
As the design possibilities are endless, do engage your building professionals! They can propose ideas that will work well within your situation, locational and price wise. Perhaps they'll use design strategies to open up views to the outdoors to make the room feel more spacious. Or, it might be better in your case to utilize a hybrid form of construction, part container and part concrete or wood, only for the spaces you need wider.
References