Shipping containers have to undergo a process to convert into a home. First, go check out the container you plan to purchase for yourself. Know its existing condition and what it went through or carried to protect your structural safety and health. Then you'll have to consult building professionals, architects and structural engineers to fit out your container. This involves planning the openings, foundation, plumbing, electrical, watertightness and insulation. They'll also aid in the planning of your permits and ensuring your container will abide by building regulations.
First, Check the Container Yourself
It's good not to just take their word for it. If you can go check it out, see the container you're purchasing.
Know the container you're buying. Ask where it has been, when it was made, what it carried and for how long. This could have undergone several heavy trips and carried toxic materials. Also see for yourself if there's a lot of damage or not. One trip containers are the safest bet. It may cost a little more, but it's still reusing a container while knowing it's in good enough shape. (1)
Also know your options in what kind of container sizes are out there. There are a lot of sizes available! The typical will be your 20 foot and 40 foot containers, with a standard height. However there are a few rare sized ones out there and you can combine them any way you want!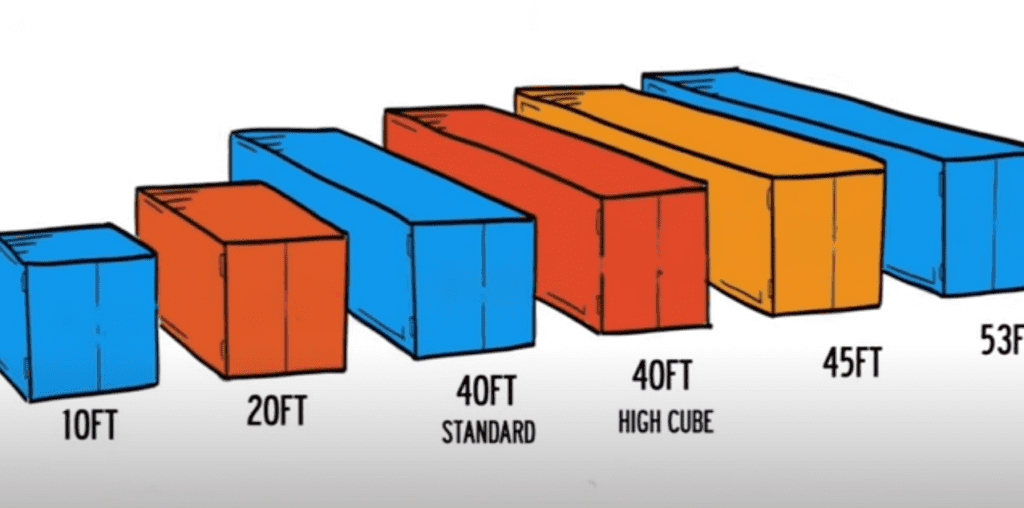 Before any Planning, Check Your Land and Permit Preparation
Know that every situation is heavily reliant on context. The site's climate and local code regulations can greatly change how going about designing the container is done. (1)
Undergoing all this change structurally and legally can shoot up the price of your once modest home. Collate all the local regulations, national codes and rules of your homeowner's association to make absolutely sure they'll allow a container home on your land. Your building professionals will also ensure it will pass the building inspections when it's time. (2)
Route going to site
Equally, one must pay attention to the route going to your homesite. Can a long truck maneuver all the way there? Does a crane have enough space to pick up and situate your container onto your site? Try your best to accommodate a crane as this is a quicker and smoother job. An alternative option would be renting a forklift, which would take longer.
Your building professionals will also determine the foundation system you need. This will be based on the overall size of your container and how much weight your soil can carry. It can be either piers, a concrete slab or raft foundation. They'll also situate the foundation in a way to protect and elevate the container from moisture damage. (2)
Next, Ensure You're Treating the Container Properly
Converting a container's purpose from shipping into a home is no easy task. If you're spending all this money and time, it's best to make sure it's done right.
Firstly, the container needs doors and windows. This means cutting through the weathering steel with either a grinder, plasma cutter, torch, depending on how complicated the openings are, or if you plan to take out a whole wall.
Make it watertight
After you're done with all the cutting changes, ensure your house is watertight. This means that all holes that were made need to be made ready for internal works to silicone or metal filler and seal off any gaps. Anything that was cut needs to be sealed properly from any moisture. Remember to add water barriers above doors and windows and seal off all openings.
Structural reinforcement
After making the container watertight, framing and insulation are the next steps. By creating openings for doors and windows, this weakens the steel container's walls. Therefore it needs structural reinforcement along its walls (and a lot of consultation from your building professionals on how to go about this). Make sure any stud system has a thermal break in between it and the metal walls. Being a metal container, this will easily get hot and make it incredibly inhabitable. Insulating all home's metal surfaces will make living conditions more comfortable and turn your container house into a home. (2)
Insulate, insulate, insulate
Insulate the interiors with spray foam or rockwool. If you want to change up the facade's look, you can also treat the exteriors with a cedar, vinyl or log siding as well. The type of insulation will vary according to your budget, container size and climate of your site. Just note you may lose the container corrugation look with the side you insulate. (3)
You can check out our piece on insulating your container home!
Consult a professional
With all these components, consult a building professional. Your architects and structural engineers will properly plan your container home to fit your needs, local climate and regulations. Getting a contractor that can do it all will also greatly ease off your stress. Find one with comprehensive services from renovating the container into a home to fitting out the interiors. They'll also analyze the structure and site to insulate the metal home from noise, withstand strong winds, flooding, tornadoes, etc. (1)
If you're torn between choosing between professionals, find those who have had experience working with container homes or metal structures before as it's a whole new ballpark from wooden homes. While you've hired a professional planner, have them give input in designing what's outside and around the container. Perhaps you'd like an outdoor deck, garden, pool area, utilize it! (2)
Minimize the welding and openings to reduce the need for sealing and reinforcement. Note welding is also expensive and makes the building process longer.
HVAC
Have a plan on your plumbing and electrical systems in your container. It comes out cleaner and cheaper when you plan this ahead of time. This also avoids any afterthought unsightly pipes sticking out. Include your HVAC system and if also know by this point if you'd want solar panel systems. Take into consideration the size of the piping and machine dimensions if it can fit in the container's tight interior.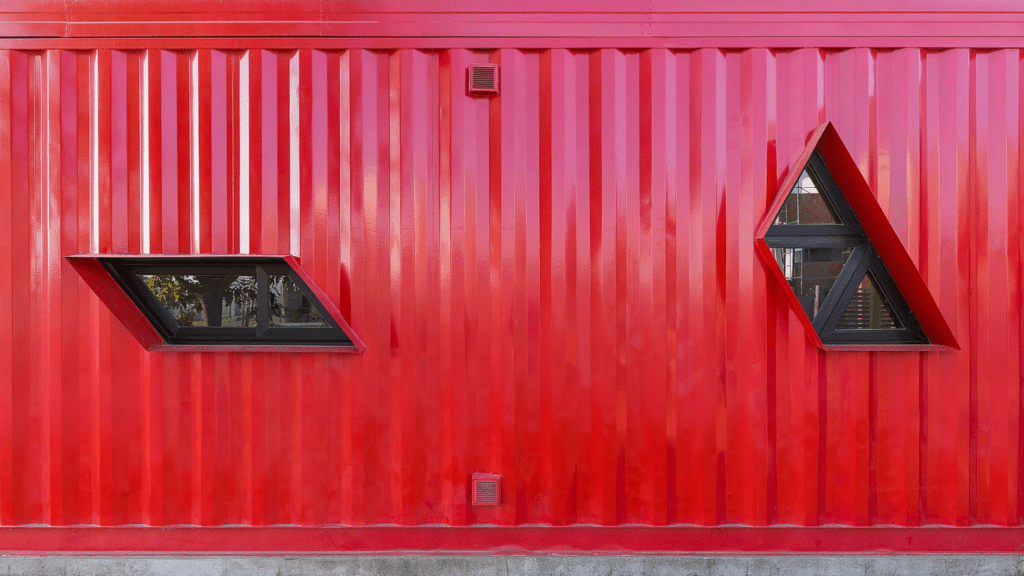 Final Tips to Note
Base the manufacturer you select and the warranties needed on past customer's reviews. First hand feedback from people with a similar situation is always the best reference to what you'll be expecting when handling them.
If this all seems like a lot of work to do it yourself… Check out our list on "Where to Buy Shipping Containers!"
Determined to build your own container home?
Check this inspiring video, He built a 3-story container home out of 5 X 40ft containers – YouTube. It's a total of 1,850 square feet, with the top two levels dedicated to being rented out as an airbnb.It's also a great example of hybrid construction with containers. Just look at the double volume living area below! (3)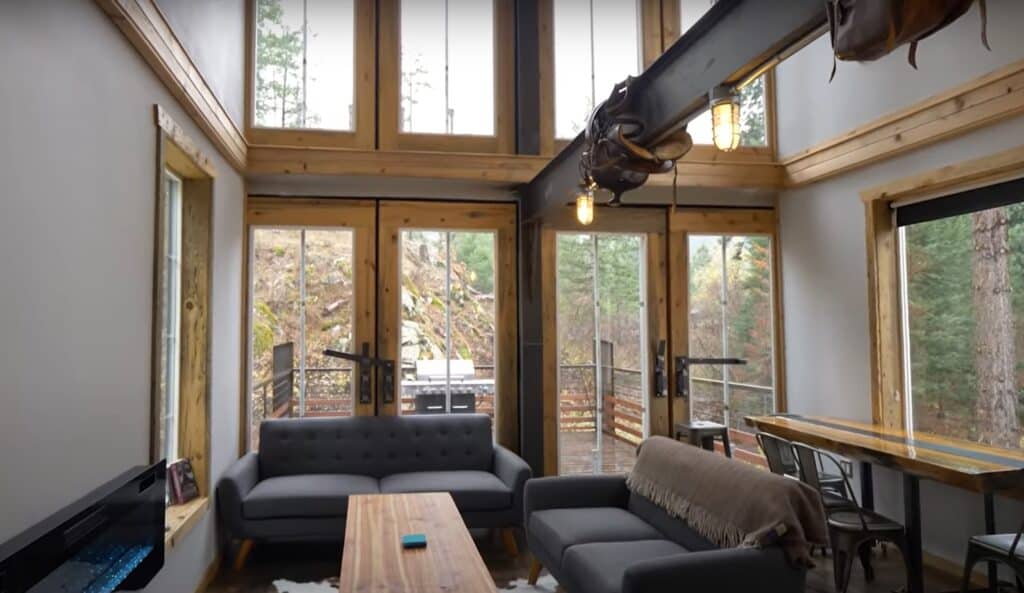 References: