Manufactured homes can accommodate several types of fireplaces, from a built-in to standalone, in a variety of styles. This can add aesthetic value and economical heating to your home, however, it must also be installed properly to be effective and not a safety hazard in smoke, ventilation, soot, etc. One must consult the home center's professional builder or engineer on whether your manufactured home can structurally withstand adding the fireplace's weight.
A safer option would be opting for standalone or electric fireplaces over the conventional stone and brick ones. Again these would need a professional opinion as to the weight and load the home can carry as well as the proper ventilation systems needed for safety.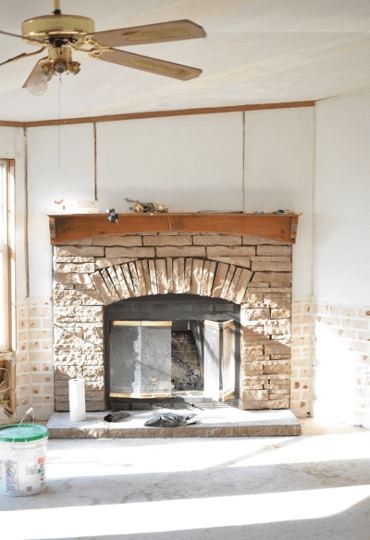 A Few Safety & Health Considerations
A nice fire always gives a sense of warmth, gathering, comfort and refuge. A fireplace can give a great aesthetic to your home, which may come in handy when selling it later on. (1)
The type of fireplace you can have is highly dependent on the build of your manufactured home. Assess your chimney and air intake system, this will dictate if you're up for a vent or ventless (standalone) fireplace. Think of them as a masonry brick built-in fireplace versus the prefabricated metal one bought from the hardware. (2)
Built-in or vented fireplaces tend to be safer in terms of air quality, as the chimney will render better control of the air containment. The installation will also be well integrated in the construction. You can opt for a wood burning or gas fireplace. (2)
One needs to watch out for the indoor air quality with standalone or ventless fireplaces. The harmful particles and gasses released can pose a health risk for long term damage in the lungs.
If done well, fireplaces can be a reliable source of warmth and light, even when the electricity goes out! They'll also help lower the energy bill a bit, heating a large area effectively while being its own source of power. (2)
Though warm, cost efficient and natural, fireplaces aren't considered environmentally friendly. Seeing as the heat and gasses produced only render 20% efficient while the rest of the 80% shoots out of the chimney. Therefore, several opt for more modern ones that are EPA-approved and burn cleaner energy.
More damaging than the flames themselves are mold damage and soot (more commonly found in the ventless type). Soot can easily create a mess indoors and poses a risk in small combustion.
Of course, the biggest concern will always be fire spreading throughout the home, damaging the furniture or property itself. A chimney, or any air system attached helps avoid smoke damage that can not only ruin your fabrics and electronics, but your health.
Lastly, some argue fireplaces don't give a great return on investment, financially and time wise. If regularly used, weekly to daily maintenance is needed in checking and cleaning. (1,2)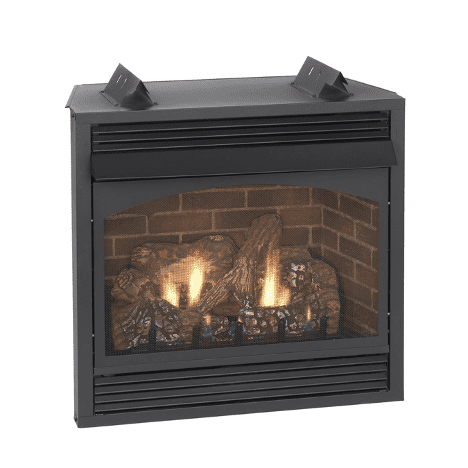 The Different Styles
If after knowing all of the above, you're convinced the fireplace is for you. The fun part of picking your design comes in!
See what your home centers have to offer for a fireplace in your manufactured home. (3)
Units w/ Storage : Wooden cabinets as a console with storage or built into the wall with some shelves, give your fireplace a dual purpose while maximizing space.
Classic Stone/Brick: Typically a floor to ceiling centerpiece or accent wall is a classic look that stems from the family gathering by hearth.
Sleek and Modern: These newer ones can be electronic or modern materials with black and clear glass, accented with lighting.
Rustic: Usually your standalone ones can come in metal and take up less space. Think of your farmhouse/cabin/ranch look, like the one below.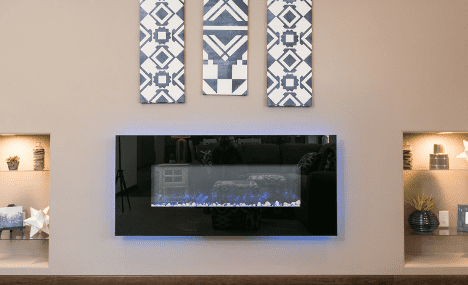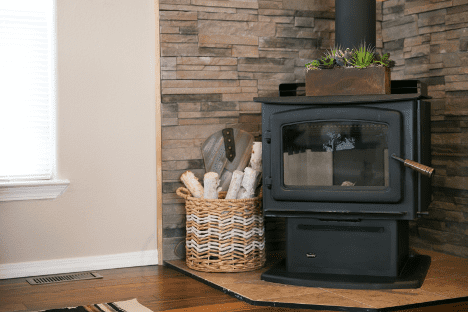 Installing it Yourself?
First go through extensive consultation with your home manufacturer, insurance agent and supplier for the fireplace.
Since fireplaces are usually of brick or stone, your home dealer will help advise how much load your manufactured home can withstand. The key points to ask for here are the thickness of your subflooring and spacing between beams. Afterwards, take this information to your home hardware to consult for the best for your space. (1)
Have your fireplace away from any combustible wall like wood or anything paper based. If your space doesn't allow it, add on a non-combustible wall protector. Install a stovepipe from the top of your fireplace up and out through the roof.
You'll also need to have an air inlet behind your fireplace. You can consider opting for an electric fireplace instead wherein it can still provide the same ambiance. (1)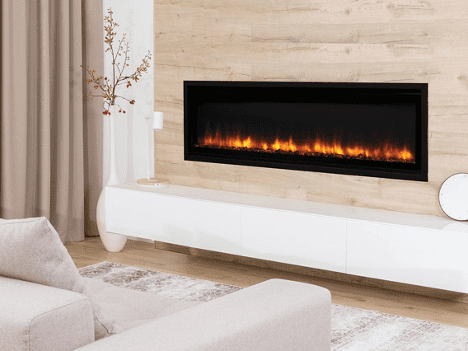 References:
Heinzer, H. (2021, November 20). How to put a fireplace in a mobile home. HomeSteady. Retrieved June 2022, from https://homesteady.com/12384675/how-to-put-a-fireplace-in-a-mobile-home
Tyler. (2021, September 9). Can manufactured homes have fireplaces? Fireplace Tips. Retrieved June 2022, from https://fireplacetips.com/can-manufactured-homes-have-fireplaces/
D, M. (2020, October 19). Beautiful modular homes with fireplaces. Modular Homes with Fireplaces | Clayton Studio. Retrieved June 2022, from https://www.claytonhomes.com/studio/modular-home-fireplace-designs/